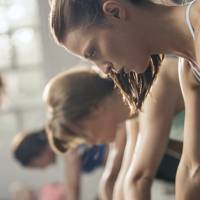 GLAMOUR gets fit: We try the 12-week fitness plan that's taking the UK by storm
If you've ever tried to change your lifestyle, you'll know there are a million and one plans out there that claim to help you get fit and healthy. With busy work lives, home lives and more social events than we can keep up with, it can be tough to fit everything in - and you're especially vulnerable to the 4 o'clock oh-my-God-are-those-Krispy-Kremes-in-the-kitchen moment if you work in an office.
As a team, we've tried everything. Gymming before the sun's up, lunchtime classes, only having healthy snacks in the office and even some weird health smoothies and shakes, but still many of us are left feeling sluggish, bloated and definitely don't feel like we're treating our bodies the way they should be treated. Reaching for easy, carb-loaded food and only doing 3,000 steps a day is a lot more appealing than eating like a rabbit and dragging yourself into the gym every morning when you feel that your free time is limited - but long-term, it's not good for us at all.
Like most people, we want being healthy to be easy (because we're really lazy, if you hadn't already guessed), so when we were offered the chance to take a 12-week course which has people up and down the country raving about it, we jumped at the chance.
What is ?
Created by Darren Glenister, is a plan that focuses on making small changes in your lifestyle and training your body to fuel and burn. After leaving the military, Darren worked in the fitness industry for over 20 years so he knows a thing or two about creating food plans that work. Darren believes that eating the right food groups relative to the time we need to use it as energy is the key, along with getting your body moving more in simple ways that can be easily added into your day.
What does it involve?
It's really quite simple: tick off everything in the list each day and you'll start to have more energy, feel less bloated, your fitness will improve and you'll lose fat and gain muscle. The 7 key factors include things like drinking 2/3 litres of water, drinking 3 cups of green tea, walking 12,500 steps and completing specially designed circuits. And the best part? Unlike many lifestyle plans, there's no cutting out carbs - you just tweak when you eat them so your body starts burning fat. After all, your body needs all food groups to function. Sounds simple, right? And to always feel supported, there's a huge group chat with everyone who's doing the plan with you (and Darren, too) which you can turn to for advice, tips and motivation.
We're all about body positivity at GLAMOUR and feeling happy in your own skin, so in a bid to get off our bums and feel better in our bodies, we put it to the test.
Who's taking part?
Camilla Newman, Publishing Director
About me: "As a working mum, I am very time poor and haven't found a way to get sustainable exercise into my lifestyle. I'm a gym and exercise-phobe, apart from my beloved netball which I play weekly, but this has been part of my routine for 5 years now and so won't help me lose weight. Over the past year, my work/life balance has been incredibly very stressful with starting a new role at work, both children starting new schools and moving house as well as losing my nana. I just ate my way through the stress and misery and I'm at the heaviest I have ever been."
Goals/Concerns: "It's time to take control back and look for a long-term solution and something that will fit into my crazy schedule. My concerns are caring enough about my appearance to make the necessary changes, I'll often fail a diet because I don't care enough, and chocolate tastes so gooood."
Nish O'Connor, Account Manager
About me: "Fitness has been a priority for me ever since my third year of Uni, when I decided that the "fresher's 15" needed to go and that the boy I fancied, who also conveniently went to the gym I joined, would fall in love with me and we would have beautiful athletic babies (side note: this didn't happen). My current routine includes around 3 HIIT classes a week with a yoga sesh thrown in for good measure. Food-wise, I'm pretty health conscious and eat well most of the time but I have a massive appetite, often eating as much as my 6"5 boyfriends, and I do also love a night out."
Goals/Concerns: "I would love to be more mindful of what and how much I'm putting in to my body. I'm only small, but my eyes are definitely bigger than my mouth! I want to be the happiest, healthiest version of myself and am hoping that this challenge can help me to achieve that."
Jade Moscrop, Social Editor
About me: "I used to be very healthy and active but I've stopped prioritising it over the past couple of years and I don't feel good for doing so. I go to the gym a few times most weeks and eat reasonably well, but I definitely don't do as much activity as I used to and I've fallen into a carb-only-meals hole which I desperately need help with."
Goals/Concerns: "I want to feel fit again and not get out of breath going up a few flights of stairs! It'd be great to lose a few inches to get into some of my old favourite outfits, get more organised with my food prep to avoid the last minute carb-grab and have more energy to get me through my long commute without feeling the need to nap every day."
Jen Garside, Engagement Executive
About me: "I am terrible at committing myself to any kind of fitness or gym routine, and without fail always resort to potentially lazy at-home practice. I'm lucky to be naturally quite slim, so have developed some extremely bad snacking habits and a mild office-based sugar addiction (I am ALWAYS up and down getting snacks, this is my main exercise in life). Whilst I eat relatively healthily for my meals, I LOVE going out for dinner and splurging, and convince myself that this is a healthy balance. I have been told by a series of doctors that I have NO MUSCLE – that's right, none."
Goals/Concerns: "Now that I'm in my mid-twenties my bad habits are all beginning to catch up with me, and I have problem areas where I never had them before. It's really time that I got my act together fitness-wise and started moderating my so-called 'balanced' diet to reduce processed sugar snacks."
Lottie Winter, Beauty Editor
About me: "I have slipped into an almost entirely sedentary life. I sit on a train to work, then sit at my desk, then get home and sit on the sofa. It's not good – and although I eat relatively healthily (bar the odd bag of chocolate buttons and my daily Diet Coke) I've noticed my fitness and energy levels have taken a severe hit because of my lack of movement."
Goals/Concerns: "I'm hoping A Fitter Me will provide long-term lifestyle changes, enabling me to move more and form positive healthy habits - without having to ever set foot in a gym. Plus, I have a big beach holiday coming up in December that I would love to feel more confident for."
Laura Saleh, Senior Advertising Manager
About me: "I have a healthy relationship with my body (I have not always). I am a well-balanced and health conscious individual. I exercise regularly and eat really fresh and wholesome food, most of which I prepare. I still go out on the weekends to eat and drink and I never deprive myself of anything I have earned."
Goals/Concerns: "For me 'A fitter Me' is about taking my body that extra mile. Every now and then I like to push my body out of its comfort zone and really test its ability to respond to different forms of exercise and eating habits. In doing so, over time I have been able to make small tweaks here and there to ensure that I continue to positively manage my overall wellbeing."
Week 1
Our journey to becoming fitness influencers has begun, and we're all feeling enthusiastic about the plan, and trying our hardest.
Camilla:
"I went gung-ho into the programme and made my husband join up too, so we will either get divorced because of competing over targets or encourage each other to stay on track. The main struggle was fitting 12,500 steps into my day. I drive to work, get the lift up to the 6th floor, sit at my desk, drive home and was averaging under 3,000 steps a day. I had to look at my work diary and find days where I could take the train to work, get out a stop early and do my steps as part of my commute rather than as an extra thing, which would happen. I managed 4 days out of the 7, just under the 5 day a week target. My mindset is determined and enthusiastic, I'm loving the FB messenger group for constant updates of how the rest of the community is doing, albeit on mute and being a bit of a "lurker" rather than joining in. I'm energetic and enjoying it."
Nish:
"Adjusting to the programme was hard initially, as my favourite carb-heavy breakfast of overnight oats were an immediate no-go. However, after finding an alternative in the form of full-fat yoghurt with all of the same (naturally sweet) toppings and peanut butter that I was used to, I soon settled into it. Then came the 4pm slump where I swapped my usual oatcakes/Nakd bar for fresh fruit and nuts. I was determined and having a community of people working towards the same goal made it easier. By day 6, I felt energised, my jeans felt a little looser and my bank a little fuller (bringing in lunch every day is a win-win). One week down and feeling great."
Jade:
"The first week was tough for me as I was off work unwell with a lovely infection - not how I'd planned to start, boo! Despite being unable to leave the house much, I did still manage to eat healthily and quite liked the designated carb window (it feels like a treat, but every day). I did do the circuits most nights, which was tough while low in energy. Majorly upping my water intake has done wonders for my skin and I'm feeling much more alert and in a much better mood in the evenings. Come the weekend, I could feel that my jeans were a little looser, but I can't be sure if it was from the plan, or from throwing up all week. Excited for the next week to give it my all!"
Jen:
"As I used to be vegan and eat a lot of vegetarian meals, I've found myself eating a lot more meat where I would normally have a vegetable and carb based dinner. Swapping my usual lunchtime salad for nighttime and prepping longer meals for lunch has proved tricky in time schedule this week, so I've ended up buying out a couple of times but hoping to do food prep for week 2! Doing this whilst going through a break-up was both the best and worst idea possible. I desperately wanted to seek comfort in refined sugars (mostly in the form of ice cream), but instead, I helpfully channelled my energies into using the program as something to focus on and control. Getting up in the mornings for circuits proved NOT to be a thing, so I do them when I get in. I usually only do 8,000 steps on a good day so adapting has meant getting off a tube stop earlier, and also included a couple of night time walks. My body was very tired and craving sugar for days 4-7, but I went ahead and filled it with green tea instead."
Lottie:
"My key learning from the first week is that it's all relative. Before Monday, my average daily step count was around 7000 and bumping it up an extra 5,500 felt like an uphill struggle – for about three days. Now I fly through my 12,500 steps and have normally hit 6000 before lunchtime, simply due to small lifestyle changes. My other main takeaway was that my energy levels didn't suddenly plummet at 4pm, most likely thanks to cutting out most sugars and drinking green tea throughout the day, offering a smoother supply of caffeine than my usual black morning coffee."
Laura:
"The hardest challenge was finding a balance between the good habits I already have in place and those of that underpin the program. The level of training I already do is quite extensive and I had been given an even tougher goal of doing 14,000 steps a day. I managed to hit all five days but I did feel quite exhausted by the end of the week as I was layering both my usual intensive training with that of Afitterme."
Week 2
Camilla:
"I'm a bit bloated and tired but still committed to achieving my 5/7 day targets. I've found that circuits are best done first thing in the morning to get them out of the way and I'm enjoying exploring new breakfast ideas which don't contain carbs: smoked salmon, avo and a boiled egg is the current favourite. It was my son's 13th birthday this week so I did sneak a glass or two of Malbec and a piece of birthday cake outside of the 11-2 "carb window" (although, on this course, nothing is off-limits), but everything in moderation hey? Also, I'd walked over 15,000 steps that day so figured I'd earned it."
Nish:
"This week has been much harder for me. I've found I'm checking packages for their carb % outside of the 11am-2pm carb window, but my jeans are slightly tight again. I am also eating way too much 85% dark chocolate to satisfy my sweet tooth. However, I have been ill this week which has thrown me off, so it's probably less down to the plan and more down to being run down in general. I've been sticking to it as best I can, but am fully aware that I've slipped up a few too many times. One positive though... the circuits are definitely getting easier and I am able to lift heavier than week one!"
Jade:
"I'll be honest, I'm struggling with some parts of the plan this week, but other parts I find so easy. I've been housesitting for my parents this week which means I haven't been getting in my usual commute steps, and my parents' house is full of naughty treats which I've partaken in once or twice and I haven't really done enough burning to warrant the fuel. I'm still loving the circuits (they're so quick, feel like a real workout and you can do them anywhere) and I think I'm actually obsessed with drinking water - my skin has never been fresher and I have much more energy. I'm not a huge fan of green tea but I've been trying to get it in - really need to focus, knuckle down and hopefully, I'll see some results come weigh in day next week."
Jen:
"I'm feeling much more stable this week, though had a couple of meals out with friends where it was difficult to choose just protein and veg. I meal prepped at the weekend, so lunches are sorted which helps make sure I don't snack or slip up when buying a lunch. Bonus cookies baked for Bake Off celebrations proved difficult to resist, but I didn't tuck in until 11.01am! I'm finding most of the steps manageable apart from the circuits – which are still hard for my muscle-less body at 2 sets, so the thought of 4 as of next week is intimidating, to say the least! I'm feeling more energized this week and my body is better adapting to the lack of quick energy bursts from sugar."
Lottie:
"Upping the circuits is super hard. I've already found doing two circuits a day pretty tough! Also... I'm starting to really miss my chocolate buttons, which I've personally decided to cut out to maximise my results."
Laura:
"I dialled back ever so slightly on my usual training program week and felt much better for it. I am struggling with snack options at the moment not to mention I am drinking so much water and tea that I am in the bathroom more than I am at my desk. Part-time worker over here..."
Darren's Comments:
"You're doing amazing ladies well done! Remember, small changes regularly will bring results that are sustainable. You're two weeks in to a lifestyle change, not a quick fad diet. Things that are worthwhile having take time. It's all about balance. If you choose not to have chocolate or sweet stuff that's your decision - not the program's. As long as you are making changes and fuel & burn, there is no reason not to have anything. Just be accountable for your choices. Great start, stay positive."
Week 3 - Weigh In Week
Camilla:
"This week, I've stuck to the 7 daily rules and haven't deviated once. I've found a way to fit the 12,500 steps into my daily routine and started to enjoy them. I was ready for the first weigh in and confident I would hit the target set of 5-7lbs off. However, when I saw that I'd only lost 4.5lbs in 3 weeks, instead of being elated I felt really disappointed and a bit demotivated. Darren explained there were loads of reasons our weight fluctuates, and actually I was only half a pound off target. He then asked me, before I was weighed, how was I feeling? In truth I felt fitter, brighter, more alert, had slept better and had clearer skin than I had seen in years. So feeling re-energised, I'm trying not to think about the results on the scales but concentrate on how the programme is making me feel and the change in lifestyle it's showing me. I am learning that even a full time working mum with a demanding job and even more demanding kids I can still find time for exercise and work towards a healthier me. I don't need a fancy gym or personal trainer, I can do this myself, with the support of the messenger group and my GLAMOUR Squad! I'm going to need to stay focused and dig deep as now the circuits double and the steps increase- gulp!"
Nish:
"I was off to a slow start this week after two of my best friends left London to travel South America and I decided that the only way to deal with it was through a few too many wines and a 2am double serving of Maccy Ds (yes, yes, I ordered two of everything). However, the looming three week weigh in gave me a new sense of determination and I found myself jumping out of bed 3 out of 4 days before weigh day to complete the 4 rounds of circuits which were definitely a step up from the 2 rounds that were set weeks 1-2. I was really surprised when I found out I'd lost 4lbs in 3 weeks, as I haven't ever let myself be hungry and thought I'd still been overeating! It's definitely given me the motivation to smash the next few weeks!"
Jade:
"I'm still struggling to get my steps in each day but all other elements of the plan are coming together nicely. I'm full of energy and in such a better mood - it's amazing what adding more vegetables, water and movement are doing to my mood. I'm definitely making healthier choices too - when knackered and on my long commute, I'd often reach for crisps and fizzy pop, but now I'm craving healthier things like boiled eggs and apples - a real change for me and I am *very* smug about that. I was a little disappointed at weigh in to see I'd only lost 1.5lbs, but in order for the plan to work, I need to burn what I'm consuming, and I know I'm not doing that as I'm lacking in steps. This was the kick up the bum I needed to really go full throttle into it and give it my all. No more excuses!"
Jen:
"Week three has come with a drop in my motivation levels from sadly not losing any weight in the first two weeks. I've been more 'fitter me aware' this week when compared to my previous weeks of dedication, and have found the circuits very hard (I'm still doing 2 circuits instead of the recommended 4, and exercising in the form of my normal yoga outside of this, when I can, to still keep my fitness levels up). I have refrained from carb-y dinners on 3 birthday occasions, cut my drinking on nights out right down and then danced it away. I'm taking regular walks to get my steps up, both around Oxford Street at lunch (hellish) and evening and weekend walks in Victoria Park (a dream life, but it's getting dark). Next week I hope to up my exercise and push myself a little further."
Lottie:
"Oh. Dear. It's all gone a bit t*ts up, I'm afraid. I've been travelling non-stop for work and between the on-the-go snacking for energy (jet lag is the worst, right?) and having back-to-back dinner events where you don't get to decide what you eat, it's been very tricky to stick to the 11am-2pm carb window rule. Plus, it's virtually impossible to get 12,500 steps when you've spent a big chunk of the day at 25,000 feet. On my land-based days, I endeavour to get in all my steps, and I feel so much better for doing so. I now feel cooped up when I'm not able to walk around, both in body and mind. The circuits, however, have been entirely jettisoned. I will get back on it. I will."
Laura:
"The positive news is I hit my 3.5lbs weight loss target which was without a doubt extremely satisfying and motivating! The best part is that throughout the first three weeks I managed to stay true to myself in ensuring my approach was balanced and not obsessive. My goal is to build muscle definition so I think I went a little too hard on the training this week. Despite having proper meals I have been quite hungry and most probably over snacking on things such as nuts. My energy levels have been low and my walks have been slightly less frequent than I had hoped but the dialled up exercise might quite possibly explain both the drop in energy and excess hunger.
Key learnings for this week are to plan a little better come next week. I had a busy week with guests in town and plenty of work meetings which unfortunately derailed my progress. I will take the time to better consider my snack options and make sure I get all my walks in. I definitely miss the therapeutic walks so that alone will help improve my energy levels. I'd probably give myself a 7/10 for effort."
Week 4
Camilla:
"With my son's birthday over the weekend I had a slow start to this week as party/birthday plans and cake galore put the brakes on my weekend focus, but once Monday rolled around I smashed those steps out of the park! Darren said going into week four that we had to try to overachieve on the step count and try to up our overall weekly count by 10% - I didn't do this but I did get back up to my enthusiastic first two weeks start and banked over 82,000 steps for the week. I'm finding it hard not to weigh myself, and as the scales have only dropped 1lb it feels like a lot of work for little reward, however when I stay off of the "naughty step" and stick to the new lifestyle habits I've learned, I feel energised and upbeat about being fitter."
Nish:
"Ah, the highs and lows of that time of the month... That, coupled with an impromptu long weekend in Ibiza only meant one thing for me this week. Carbs, carbs and more carbs outside of the sacred carb window. I still got my steps in the first half of the week, but only managed to fit in the 4 rounds of circuits 2 out of the mandatory 5 days, and gave in to my sugar cravings a few too many times. It's not all doom and gloom as the 3 green teas a day have become habit, as have my Greek yoghurt with berries and nuts breakfasts. I don't think I've had carbs before 11am since I started the plan! I know I haven't put in 100% this week, but who can say no to freshly baked bread and Spanish vino at dinner on the Idyllic Island of Ibiza? Life's all about balance and the great thing about this plan is you can do just that. Back on it this week and ready to take on the 5X circuits!"
Jade:
"This sounds so vain, but I literally can't stop looking at how my body is changing at the moment. My legs are more shapely than they have been in years and the muscle that I built up years ago is coming back - it feels great. I find I'm much more awake and in such a better mood without relying on carbs all day every day - I've made some really great eating and exercising changes and can still have a treat every now and then. I'm counting down the days to the second weigh in..."
Jen:
"I've well and truly fallen off the wagon this week due to illness, but I'm determined to kickstart again on Monday. Stay tuned."
Lottie:
"It's been a busy week with lots of video shoots to go to (which means delicious and often carb-based catering) but I made sure to stick within my carb window - it can be done! Now that I'm back from my New York trip, my steps are back up again at target and I'm feeling good."
Laura:
"I had 4-day break in Malta and it happened to be raining so minimal walking and plenty of wining and dining. That said, my choices were quite considered so despite the wine and the sneaky piece of bread at dinner I managed to maintain my weight whilst over there. The three days I was in London, I ramped up my walking, managed my food intake and trained every day.

I've learnt a couple of things this week that I'll work to improve-on come week 5. First off, The carb window is not free rein. I believe my choice of meals during my 'carb window' has to some extent caused my excess hunger. I always opt for sandwiches, rice or pasta rather than a wholesome starchy veg (more often than not they are larger portions than I'd normally have) which I believe has subsequently caused my plateau and increased my appetite and need for excess afternoon snacking. Secondly, I tried to get on without the Facebook messenger group, but I now feel that might not be the best idea. It can be a little disruptive whilst I am at work so I opted for the mute button, but I need to make a conscious effort of checking in once or twice a day and adding a tick when I have completed my goals at the end of each. There is definitely a level of camaraderie within the group and the achievements of others go a long way in helping motivate me to keep pushing."
Darren's comments:
"Well done ladies, you will always have ups and downs - that's life. Continue to make small changes more frequently and remember to fuel & burn, you will win. Be patient, remember the number on the naughty step is irrelevant, the other things are far more important. Increased energy levels, less cravings and a general feeling of being the best version of you, you can be. You've got this GLAMOUE Girls. Enjoy your well earned rest days."
Tune in next week to see how we're getting on...
Want to get involved? Visit the website .