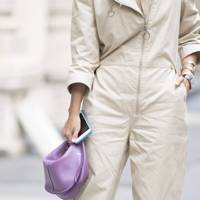 The GLAMOUR team take on the '30 wears challenge' and here's how we've got on so far...
Rewind to Fashion Revolution Week, at the end of April. GLAMOUR decided to make a conscious effort to wear our clothes more. In memory of the Rana Plaza charity that threw light on the morally barren ethics of some cheap clothes production methods, we all started to question our own shopping habits.
Although some of the team could be described as certified shopaholics, we wanted to stand by our quest for a slower rate of consumption in every area of our lives and make the most of the clothes we already own. Saving money is a bonus when you're not getting packages of *New In!* goodies twice a week (we know it's not just us) but saving the planet and not being involved in potential exploitation of workers around the globe is even more of an incentive to shop mindfully.
The GLAMOUR team take on the '30 wears challenge' in support of Fashion Revolution Week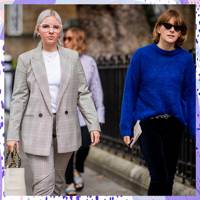 Sustainability
The GLAMOUR team take on the '30 wears challenge' in support of Fashion Revolution Week
So, we decided to double the amount of times we each wear a chosen item. In the UK, the average amount of wears, before we get bored and either leave things gathering dust in our closets or send them to landfill, is a shocking 14 times. In comparison, the French average is 30 times and the #30wears hashtag has nearly 50,000 mentions on Instagram since Livia Firth posed the pertinent question, directed to every shopper hovering over the 'buy now' button, "Will I wear this a minimum of 30 times." It's a phenomenon that GLAMOUR wants to support. You can still love shopping and be mindful of your habits - as well as getting some practise at styling your clothes in fresh ways. Read on to see how the team is - or isn't managing the task…
Charlie Teather/ Fashion Editor
Chosen piece: A powder blue boilersuit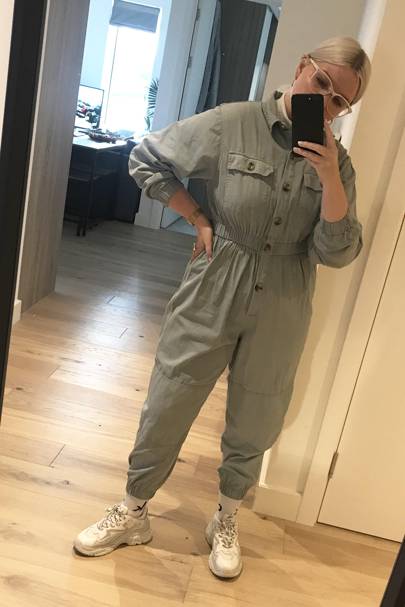 "Okay, I'll admit it. A long-sleeved, full-length, starchy boilersuit was a brave piece to pledge wearing 30 times during three of the calendar's hottest months. Even if I was told, as Fashion Editor, to challenge myself... But while I'll always admit a rogue choice, I'll never admit defeat. I've had to be creative on more than one occasion this first month - and have only managed to wear it seven times as opposed to my target 10 - but thankfully there was one particularly breezy week during which I could experiment with my chosen piece without passing out on the Tube into work. My favourite way to wear it so far has been with a roll-neck vest beneath and chunky trainers, but I also like it with layered necklaces and an open-toe mule. My least favourite was with the arms tied at the waist and a slim white t-shirt like an *actual* mechanic, but it was 25-degrees."
Jenna Rak/ Senior Strategist
Chosen piece: My classic skinny jeans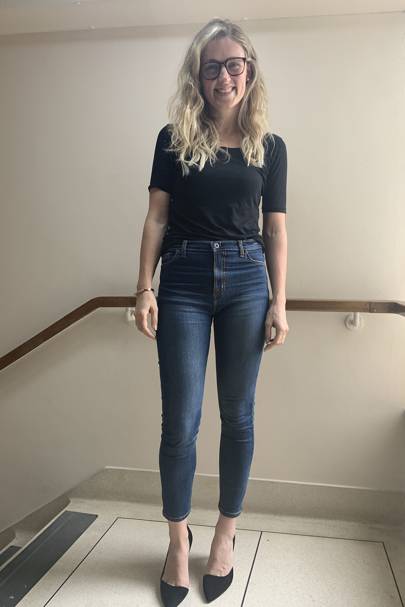 "This challenge has been so much fun so far. I mean, denim isn't hard to style, but it's been great for just changing my mindset and forcing me to think about how to style the same pair of jeans for different situations. Instead of throwing on a pair of leggings on the weekend, I've swapped them for jeans and a tee and converses (yes, they're that comfortable). During the week, I've been wearing them to work with heels and an oversized jumper or a blouse. I'm slightly ahead of target so far, having worn them 12 times already with a couple of repeat outfits. The next couple of months will be more difficult though as the weather gets warmer!"
Chloe Laws/ Social Media Editor
Chosen piece: My camel duster coat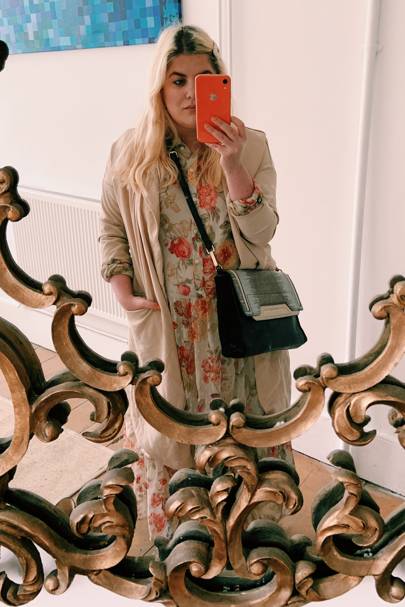 "The weather has not been my friend this month, let's put it that way. It's either been far too warm for a duster coat or too cold; in hindsight, I wish I'd picked a handbag for this challenge. That being said, I've given it a good stab, with about nine wears under my belt - granted, on many of these days I ended up taking the coat off by lunchtime. To get maximum wears, I've been throwing my duster over outfits I wouldn't usually put with it; like my maxi floral H&M dress (pictured.) This coat is usually something I wear in spring with jeans and strappy sandals, but this challenge has made me realise it's a great throw-over-my-shoulders coat with dresses and evening looks too."
Alexandra Fullerton/ Fashion Director at Large
Chosen piece: A printed midi skirt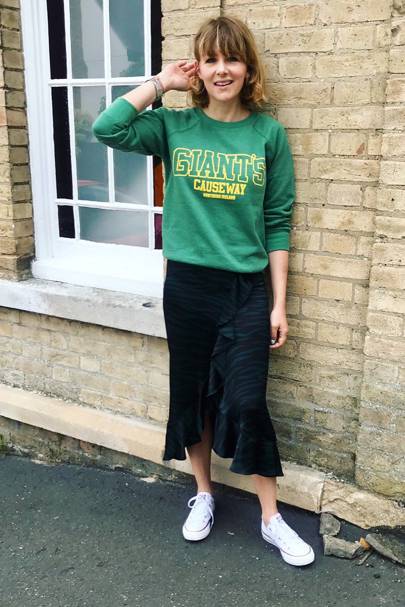 Every time I look at this beautiful, blameless skirt I come up with a reason not to wear it. I can't cite the weather - midis are perfect for this in-between season. I bought a new pair of knickers to go under it so don't have the excuse of not having the right underwear (a major factor in why many items go unworn.) I can easily think of a dozen ways to style it… Although with only two wears since we started the challenge, I know what the problem is. It just isn't 'me'. I usually shop with the mantra of 'Sixties, denim, tomboy' in mind. If a prospective purchase doesn't fit those words (which describe my signature style) I leave it on the rail. Except this time I was seduced… by the exotic print… silky finish… flirty ruffles… Usually I hate looking overdressed but this is a glamorous piece. Hence why I teamed it with a sweatshirt and Converse to dial down the boujee. But unless I want to be mocked by an embarrassing cost per wear coupled with the shame of over-shopping when I try to live sustainably in every other aspect of my life, and failing this challenge, I vow to make it to thirty wears. Perhaps by 2046.