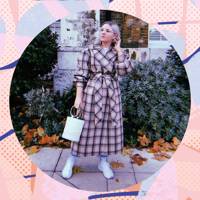 Charlie Chooses: The 7 high street buys you should add to your shopping list this week, according to our Fashion Editor
It's not true when they say Fashion Editors only wear designer labels. If only it were...
The devil may well wear Prada, but the rest of us are relentless bargain hunters at heart (can you blame us, when our job requires us to wear a fresh outfit for every show, every party, every season?).
And while that may break down the fourth wall illusion that I'm sat at my desk right now with my hooves parked in some new season Stella sneakers, it does mean that I know our Great British high street like the back of my hand.
The spring boot (and 9 other high street pieces) on everyone's shopping list thanks to Instagram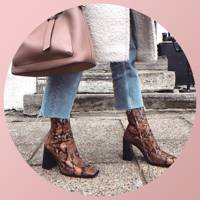 Instagram
The spring boot (and 9 other high street pieces) on everyone's shopping list thanks to Instagram
Here's what I'm buying and wearing this week...
1. The rope tote bag
Bags will forever be my weakness, and while I continue to contemplate the new Chloé tote (and plan how to explain the 'missing' funds to my landlord), this candy pink rope number is keeping my spirits up. A nod to brighter days ahead, it's setting both my wardrobe and mindset up for spring. I'll also be getting it in yellow.
Buy it now, £27,
2. The peach ribbed wrap
With winter's biting temperatures determined to stick around, it's no longer an option to risk an outfit that's anything other than practical. But despite its connotations, practicality doesn't necessarily mean fleeces and anoraks. I'm wearing this cosy wrap over a white ribbed roll neck, turn-up jeans and cream ankle boots.
Buy it now, £24.99,
3. The sheer lilac blouse
Dry January is over, and while I absolutely did not take part, I'm using everyone else's refreshed interest in nights out as the perfect excuse for a minor wardrobe update. Sheer blouses are everywhere right now, and the puffed sleeve and high neck of this one balance out the sexiness of the shimmery see-through fabric.
Buy it now, £25.99,
4. The one-shoulder swimsuit
I debated including this one because, well, it's -2°C, but I've found shopping for scorching climes is a sure-fire way to warm you up. Even if it is only fleetingly. There's also something about animal-print that feels particularly tropical, but with leopard officially 'last season' I'm opting for snakier options this year.
Buy it now, £29.99,
5. The geometric-heeled mule
Surprise surprise, there's an oddly-heeled shoe that I didn't yet own. And while sandle season is still horribly far away, with any luck we'll soon be able to swap our boots for a little mule action. I can't get enough of this pair, and will be wearing them with bleached blue jeans and thick cream knits as soon as the snow melts.
Buy them now, £79.99,
6. The embroidered blue midi
This week's love letter to the mid-length dress comes via this embroidered powder blue number. Gently flared and subtly flouncy, the tiered skirt provides a wide, modern silhouette without drowning. I'm wearing it atop a thin polo-neck and chunky boots in the day, before swapping to a slimmer, heeled boot of an evening.
Buy it now, £39.99,
7. The emerald zipper turtleneck
Surprisingly tour-de-France of me, this slim-fit zippered turtleneck is the perfect staple to layer beneath all manner of looks. A navy pinafore slip will elevate it to workwear realms, while tucked into loose-fit jeans renders it a weekend option whatever your plans. I also like it paired with wide-leg tailored troos for a day of meetings.
Buy it now, £29,
The 10 things we'll *all* be wearing next season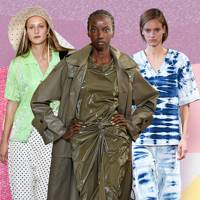 Fashion Week
The 10 things we'll *all* be wearing next season