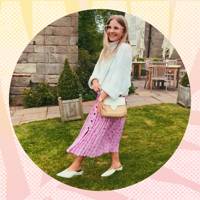 Charlie Chooses: The 7 high street buys you should add to your shopping list this week, according to our Fashion Editor
It's not true when they say Fashion Editors only wear designer labels. If only it were...
The devil may well wear Prada, but the rest of us are relentless bargain hunters at heart (can you blame us, when our job requires us to wear a fresh outfit for every show, every party, every season?).
And while that may break down the fourth wall illusion that I'm sat at my desk right now with my hooves parked in some new season Stella sneakers, it does mean that I know our Great British high street like the back of my hand.
Here's what I'm buying, wearing or wanting this week...
1. The croc-embossed boots
I've been looking for the perfect pair of cowboy boots for about a year now, but too many are just a slightly western take on the regular ankle boot. The mid-calf height of these, fused with the curved upper, pointed toe and sloped block heel render them 100% legitimate, and I'll be wearing them with midi dresses all season.
Buy them now, £205, & Other Stories
2. The wool-blend cardigan
Much like legging shorts and kitten heels, cardigans were one of those trends that I vowed to never revisit. Alas, here we are. In fact, I'd very happily wear this wool-blend one *with* black legging shorts and kitten heel sandals. If I weren't allergic to wool, that is. Unfortunately this cardigan has to stay firmly on the wish list.
Buy it now, £59.99, H&M
3. The square-toe sandals
Disclaimer: I haven't worn a heel much taller than an inch in well over a year. And these are almost 3... nevertheless, the slouchy folded bow and blunt square toe meant they're too Bottega-esque for me to ignore. I'll be wearing them with super wide-leg turn-up jeans (likely those from last week's selection) and a vest.
Buy them now, £19.99, Reserved
4. The beaded shoulder bag
I hate to brag, but I'm heading back to Greece in a couple of weeks and, naturally, that requires a whole new wardrobe. Just kidding. But I do have my eye on this woven, beaded shoulder bag as a bit of a chameleon beach bag that'll look just as good out for dinner as it will strewn across the sand or even by my side in the airplane cabin.
Buy it now, £28, Ellen & James
5. The cream flounce mini
The perfect between-season piece (I find the word 'transitional' grating), this dress looks just as great on holiday with a pair of flat white sandals as it would come autumn with a pair of knee-high, loose-fit boots and a roll-neck layered beneath. Just be sure to stay alert in high winds, because that flounce could be dangerous.
Buy it now, £130, Uterqüe
6. The knotted floral skirt
Not my usual style, this midi skirt appealed for a few different reasons; one being the knotted wrap-front which renders it endlessly flattering - unusual for such a slinky piece. The muted, burnt orange hue also gives it real versatility - casual enough to be paired with high-top converse but chic enough to work with heeled sandals.
Buy it now, £95, Topshop
7. The kitten-heel mules
A slingback, kitten-heel mule is almost unbeatable when it comes to hard-working footwear - with the only thing to top them being those that come in black. Comfortable, flattering and almost always on-trend, I'd wear these with midi dresses at weddings, trouser suits in the office and cropped jeans for date night.
Buy them now, £39.99, Zara
The 10 things we'll all be wearing this season now that summer has *finally* arrived (touch wood)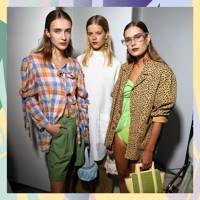 Fashion Trends
The 10 things we'll all be wearing this season now that summer has *finally* arrived (touch wood)