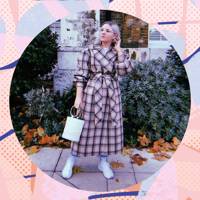 Charlie Chooses: What's on our Fashion Editor's high street shopping list this week?
It's not true when they say Fashion Editors only wear designer labels. If only it were...
The devil may well wear Prada, but the rest of us are relentless bargain hunters at heart (can you blame us, when our job requires us to wear a fresh outfit for every show, every party, every season?).
And while that may break down the fourth wall illusion that I'm sat at my desk right now with my hooves parked in some new season Stella sandals, it does mean that I know our Great British high street like the back of my hand.
The fierce flares (and 9 other high street pieces) on our shopping list thanks to Instagram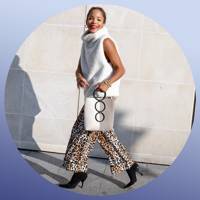 Instagram
The fierce flares (and 9 other high street pieces) on our shopping list thanks to Instagram
Here's what I'm buying and wearing this week...
1. The winter halter-dress
Summer may well be a distant memory, but that's no reason to wave goodbye to the humble floral midi. To ensure they work for the festive season I'm opting for ones with a deeper base hue such as this example of silky deliciousness. I'll be wearing it with heels of an evening, and a white roll-neck and chunky boots in the office.
Buy it now, £99,
2. The tortoiseshell beaded bag
Two of 2018's biggest handbag trends came in the form of beaded totes and those adorned with tortoiseshell. So when December rolled in - the month in which nothing is *too* much - I decided fusing the two wouldn't be the world's worst idea. In fact, it's one of the best. Saving so much time not swapping to and fro.
Buy it now, £29.99,
3. The subtle festive earrings
As I said - nothing is *too* much in December. Not even Christmas-carol-adorned, dangling slogan earrings in glitter and gold (I'm serious). Admittedly, they're not a terribly wise investment and will likely find themselves strewn at the bottom of my bag come January, but they're a flippin' bargain and well worth it for the 'gram.
Buy them now, £6,
4. The toe-print western boots
Another overriding trend this year was the cowboy boot, and while white incarnations dominated the footwear scene throughout summer, it's darker hues that take centre stage this season. And, seeing as I'm rinsing the year's best trends, I couldn't be more excited about the snake-print detail on this pair.
Buy them now, £89,
5. The pastel two-tone midi
Thanks to the horribly tumultuous weather right now, my wardrobe is in danger of getting a tad drab. To counteract the endless navies/blacks/greys I'm experimenting with a little winter pastel action - namely this button-down midi skirt. Worn with an oversized white roll-neck and dad trainers it's a real #lewk.
Buy it now, £89,
6. The golden almond hair slide
If you follow me on you may have picked up on my current utter obsession with hair accessories. And while much of my repertoire consists of heavily-embellished festive pieces adorned with countless pearls and sequins, this simple and chic golden number will last me long into the new year.
Buy it now, £6,
7. The belted patent trench
Having discovered the magic of a patent trench a few winters ago, I'm finding it hard to jump off the bandwagon. Flattering, timeless, and - crucially - waterproof, they truly are a need as much as they are a want. This black knee-length number is fast-becoming a staple in my wardrobe.
Buy it now, £215,
The perfect boot (and 9 other designer items!) that are worth splashing the cash on this autumn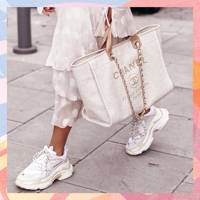 Shopping
The perfect boot (and 9 other designer items!) that are worth splashing the cash on this autumn