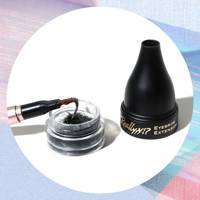 This Japanese brow product is literally hairs in a jar and people are freaking out
We all know that your eyebrows can make or break a makeup look (or a career - we're looking at you, Cara!)
Done well, they can enhance and lift, add shape and pump up the drama. But if they're over-plucked, badly filled or shakily-stencilled, they can turn heads for all the wrong reasons.
We know what you're thinking, if only there was a way to magically grow more brow hairs without having to fork out for a full-on transplant! WELL, one Japanese brand has given it a red hot go with a product called: .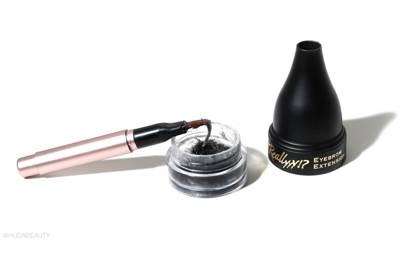 The product is packaged similarly to Benefit's Ka-Brow!, but instead of a pomade being found inside the pot, a gel-like substance filled with large fibres that look like 'hairs' can be found.
We first spotted it on Vogue Korea's Instagram, where it looked pretty promising...
But since then, many Youtuber's have tried their luck with the glue-on brows and haven't quite had the same effect...
If you have a steady hand and a hell of a lot of patience, this could be exactly what you're looking for.
But for now we'll be sticking to our top picks of precise pencils, gels, and pomades...
Looking for more tips? Check out our handy guide on how to boost your eyebrows at home, how to thread your eyebrows, tinting your eyebrows and trying microblading.
Arch Brow Sculpting Pencil, £29,
The slanted tip of this pencil is ideal for creating hair-like strokes, particularly if you're lacking fullness at the front or tail-end of your brows. If the price is putting you off, be rest assured it lasts for ages.

Brow Build, £19,
Wraps around brow hairs, thickening them while giving a subtle tint and brushing them into shape at the same time.

Boy Brow, £14, Glossier
We can't think of any product - brows or otherwise - that has become a cult classic quicker than this bad boy. When it's so easy to use, so reasonably priced, and creates such perfectly un-done brows, we can see why. A makeup bag staple.

Brow kit, £38.00,
In an age where the gel formula rules the roost, this proves a powder can brow-build with the best of them. Not only does this give a soft, natural look but it also comes with mini tweezers. Take THAT gels.

Brow Wiz, £22,
This clever tool has become a firm favourite of celebrities and beauty bloggers alike, and for good reason. The waxy, thin nib means even a novice can draw on the more convincing of brows.

Brow Quickie, £17,
A go-to product for a flawless finish in seconds. The brush's base was specially developed to mimic hair. Very clever.

Gimme Brow gel, £20,
Award winning, market leading, game changing, and so good it keeps selling out. Buy it when you can to create volumized brows in seconds.

Brow Satin pencil, £6.99,
With a pencil on one end and a powder on the other, this is super handy for touch-ups on the go. Comes in 6 shades too (which is impressive for a brow product).

Brow fantasy pencil and gel, £7.99,
A more affordable dupe for some of the pricier brow pencils, this has a waxy pencil and a coloured gel to set the brows. In other words, BOGOF.