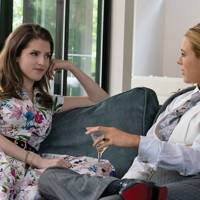 The best chick flicks to watch with your gals
Chick flicks are the best. Honestly, don't judge us. A night in with the girls wouldn't be the same without a '90s rom com, or a sad movie to sniffle through. Yes, the chick flick isn't cool, and it's probably not an Oscar contender for best movie, but it'll bring a smile to your face no matter what.
So, if you haven't got any dates lined up this weekend, call in the girls, switch on netflix, because it's time for a chick flick marathon...
A Simple Favour

Who: Blake Lively, Anna Kendrick
What: New to Netflix, A Simple Favour follows an unlikely friendship between a mother who runs a parenting vlog and a fiesty upper-class woman who suddenly goes missing...
Defining Moment: Stephanie's fantastic one-liners - we can't get enough of them.

Late Night

Who: Emma Thompson, Mindy Kaling
What: Ah, entertainment industry satire about a late night talk show host who hires her first and only female staff writer. The result is a series of hilarious consequences.
Defining Moment: Mindy Kaling's 10/10 script

Someone Great

Who: Gina Rodriguez, Brittany Snow, DeWanda Wise
What: After a tough breakup from her long-term boyfriend, a music journalist recruits her two best friends for one last outrageous adventure before she moves away. Funny and relatable, this is the perfect movie for a girls night-in.
Best Bit: Too many to count but drinking bourbon from a pretzel straw was definitely a highlight.

What A Girl Wants

Who: Amanda Bynes, Colin Firth
What: Daphne boards a plane from New York to London to find her long-lost father Lord Dashwood who is running for prime minister. It's what you would describe as "an oldie but a goodie."
Best Bit: When Daphne mistakenly walks onto the catwalk of a charity fashion show and unleashes her full sass. Yes gurrrrl!

Booksmart

Who: Kaitlyn Dever, Beanie Feldstein, Jessica Williams
What: Two know-it-all, studious teens have a wild night out on the eve of their graduation.
Best Bit: Not only is the dialogue hilarious but it's unapolegetically feminist. We're sold.

Wine Country

Who: Maya Erskine, Amy Poehler, Maya Rudolph
What: The ultimate girl-gang unite for a weekend in Napa Valley.
Best Bit: The vineyard scenes are priceless

Pitch Perfect 3

Who: Anna Kendrick, Rebel Wilson, Brittany Snow
What: The Bellas head to Europe in this epic third-instalment of Pitch Perfect
Best Bit: Rebel Wilson, duh.

How To Be Single

Who: Dakota Johnson, Rebel Wilson, Leslie Mann
What: Four best friends navigate single life in New York.
The Best Bit: Prepare for some epic dancefloor moments from Rebel Wilson.

The Sweetest Thing

Who: Cameron Diaz, Thomas Jane, Christina Applegate
What: The ultimate girl-gang go on a wild road trip in search of 'Mr Right'
The Best Bit: "Don't go looking for Mr Right. Look for Mr Right Now". Word.

Mamma Mia! Here We Go Again

Who: Amanda Seyfried, Lily James, Meryl Streep
What: Five years after the original film came out, Mamma Mia is back with another extravaganza of Abba-fuelled, feel-good fun as Sophie prepares to open Hotel Bella Donna. True to its name, we'll be watching it again and again and again.
The Best Bit: One word: Cher

Confessions of a Shopaholic

Who: Isla Fisher, Hugh Dancy, Krysten Ritter
What: A college graduate lands a job as a financial journalist to support her shopping addiction.
The best bit: As expected, the clothes are pretty epic.

Wild Child

Who: Emma Roberts, Natasha Richardson
What: A spoilt American teen is sent to an English boarding school by her father.
The best bit: When Poppy and her gal pals debut their new makeovers at the school social.

To All The Boys I've Loved Before

Who: Lana or, Noah Centineo, Israel Broussard, Janel Parrish, John Corbett.
What: A teenage rom-com to fall head over heels with. Shy Lara-Jean is forced to come out of her shell when private letters she writes to her crushes are posted directly to them. Needless to say, there are laughs, wholesome tears and romantic moments to follow.
The best bit: John Corbett's amazing open relationship with his children and their loving sisterly bond that outweighs everything.

Coyote Ugly

Who: Piper Perabo, Trya Banks and LeAnn Rimes
What: No doubt one of the coolest bars we've ever seen. Full of singing, dancing and just a right ol' good time. Plus all the girls are kick-ass. And did we mention the soundtrack? Guaranteed to have you singing arm in arm with your girlfriends all the way to the bar.
The best bit: Every.Single.Dancing.Scene.