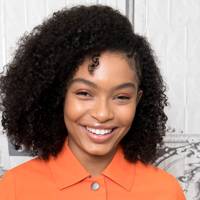 Incredible afro styles to inspire your bouncy hair goals
Looking for inspo on how to style your afro? We have it all here in one place for all your afro hair inspo needs.
More and more women embracing their natural hair texture and with campaigns like Project Embrace, which aims to give women with afro hair more exposure, featuring black women wearing their afro hair in natural, unapologetic styles.
We've delved into the archives to curate the best celebrity afro hair inspiration, hairstyles and colourways. From the 60s to now, here's our round-up of the most iconic afro hairstyles.
Who? Yara Shahidi
When? 2018
The Look: Yara's curls are defined and full of bounce, with a statement side-parting created using a braid. Her dark hair pops even more in contrast with her orange shirt. Love!

Who? Clara Amfo
When? 2016
The Look: We love how Clara rocks her afro to the side. Gives it a bit of an edge, don't you think?

Who? Fleur East
When? 2016
The Look: We love the highlights that run through Fleur's afro. Summer perfection.

Who? Lupita Nyong'o
When? 2016
The Look: Lupita opts for a gorgeous, more structured afro, with two side partings for some sectioned-sass.

Who? Fleur East
When? 2016
The Look: Want to make a statement? Go neon red like Fleur.

Who? Amandla Stenberg
When? 2016
The Look: Amandla's face says it all; this look is badass.

Who? Willow Smith
When? 2014
The Look: Voluminous and gorgeous, this is the statement afro we can't get enough of.

Who? Solange Knowles
When? 2013
The Look: Solange shows us how to rock a shorter style.

Who? Corinne Bailey Rae
When? 2012
The Look: Corinne's side-parted, shoulder-grazing style is perfectly-preened with just a few feminine flyaway strands to soften the look.

Who? Halle Berry
When? 2012
The Look: Loose, luscious curls with hints of auburn and copper. We love.

Who? Kelly Rowland
When? 2012
The Look: Kelly's shoulder-length spiral curls are perfection. Girl, we need to know what you used for that shine.

Who? Solange Knowles
When? 2012
The Look: Wild, carefree perfection. Our modern-day afro icon: nobody works this full-fat voluminous look quite like Solange.

Who? Rihanna
When? 2011
The Look: Hair chameleon RiRi has tried every style going: and this hot red, fully-loaded 'fro is a winner on the Bajan beauty.

Who? Beyoncé Knowles
When? 2011
The Look: She can do no wrong when it comes to hair and beauty, but we love Beyoncé best with wild, fully-loaded curls, especially in this sunny golden hue.

Who? Kelis
When? 2010
The Look: Closely-cropped copper curls: Kelis has rocked dozens of fabulous styles in her time, but this is one of our faves.

Who? Lauryn Hill
When? 2010
The Look: Lauryn's got a colourful hair history, from close curls to dreadlocks, but this is our favourite look from the singer.

Who? Shingai Shoniwa
When? 2009
The Look: One of our top girl crushes: Shingai's high-rise statement hairstyle is ultra-sleek.

Who? Erykah Badu
When? 2003
The Look: Wild and wonderful: Erykah's voluminous 'fro is fabulous.