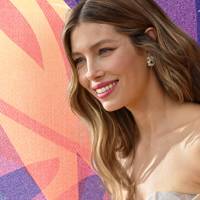 All the summer balayage inspiration you need to see before your next salon visit
Balayage is hotter than ever and is set to be the ultimate summer update for your hair. The colouring technique, which involves sweeping sections of hair lightly with colour, has been a celebrity favourite for a while now, but if the recent awards season is anything to go by, the trend is only getting more popular - and more interesting as pro stylists experiment with new colour combinations and application techniques.
So you might as well get on board the balayage train. Here's everything you need to know...
What is Balayage?
Balayage is a technique, not a look. It's French for "sweep". The idea is to create light and shade through the hair by applying colour with a brush and paddle board. The visual colouring method creates a chic, easy to maintain hairstyle, which offers a more subtle approach to ombre. From blonde hair colours to brunette shades, there's something for everyone.
What is the colouring technique behind the look?
The idea is that you don't see where the highs or lows start. The transition from the base colour to the lighter ends is seamless and fluid.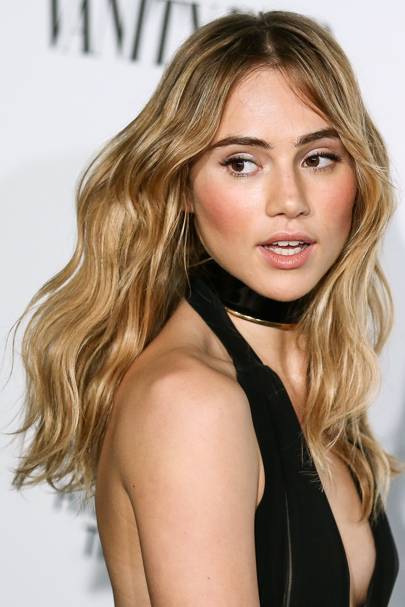 How often should you top up your colour?
The good thing about balayage is that it's low maintenance. You can go months without a salon visit to top it up, but in between, try gloss treatments every 4-6 weeks and a regular wash with a purple shampoo to keep the tone in check.
What is the difference between ombre / dip dye / balayage?
Ombré - Ombre hair gives light and shade. The idea is you see a seamless, gradual colour change from darker to lighter. Think lived-in, beachy hair.
Dip Dye - a much more edgy look. Two toned colouring... imagine dipping the ends of your hair into a pot of paint.
Balayage - Colour that is painted on with a brush and paddle board to create natural, sun-kissed looking highs and lows - giving the hair beautiful dimension.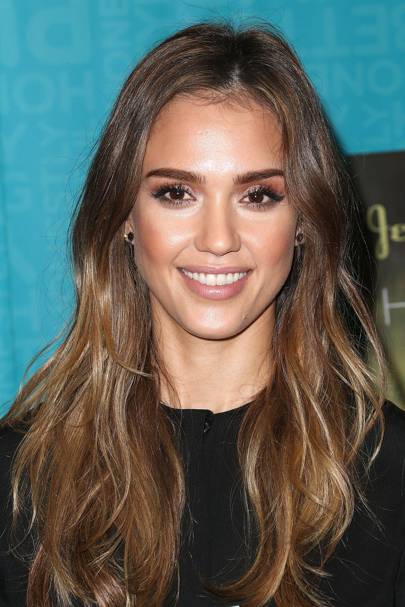 Can you balayage your own hair at home?
Balayage is an in-salon treatment, and we recommend having it done in a salon. If you are going to try it yourself, Jason Potter, hair colourist at Hershesons, suggests the following for at-home care for balayage:
"Home hair care is really important. There is no point spending hours (and lots of money!) in the salon, if you don't look after the condition of your hair with quality shampoos, conditioners and regular hair treatments. If you swim, use Phillip Kingsley's Swim Cap. It protects your hair from the damaging effects of the sun, harsh chlorine and salt water, the last thing you want is hair that is dry, damaged and colour fading."
Ready to be inspired by the A-listers that wear balayage so well? Keep scrolling for the ultimate queens of swept colour...
And don't forget to swap your shampoo for a sulphate-free version to keep your colour vibrant for longer!
Bow down to the new queen of balayage. Jessica Biel's glossy waves at the Emmy's made us want to book a salon appointment asap. If only we could get in with her colourist, Tracey Cunningham, who revealed her secret weapon to be Redken's Shades Eq Hair Gloss. She used at least six shades(!) to get this colour bang on, and finished with a good dose of Olaplex, too.

If you were to say you've never googled 'Jessica Alba hair' before, you'd be lying. The girl has never stepped a strand wrong. Her honey balayage is super flattering and is the kind of colour that will suit everyone.

Nobody does golden goddess quite like Gigi Hadid. And although she's sporting darker roots than usual, she's kept some highlights to frame her face and add warmth.

If you love having blonde hair but hate regrowth, Nicole Richie's balayage might be your match. Her caramel base with blonde tones is a lighter take on the hair trend, with seamless blending that will help to disguise darker roots for longer.

If you're looking to get a subtle balayage on your dark hair, take this photo of Olivia Munn's chestnut highlighted strands to your hairdresser.

Kate Mara's balayage could be mistaken for an ombre when the light hits her locks, the full colour is a beautiful choice.

Jasmine Tooks is also a fan! Her lighter strands are basically golden and so pretty for a wavy 'do.

If hair goals could be defined by one picture, it would be this one: Cindy Crawford (and her gorge balayaged strands) at the Chanel SS18 FROW.

Our girl crush Brie Larson does balayage with an edge.

Gina Rodriguez showing brunettes how it's done.

Rose Byrne's romantic look, with tousled locks and soft balayage.

Ciara with a more drastic 'do of the trend, and yet gorgeous.