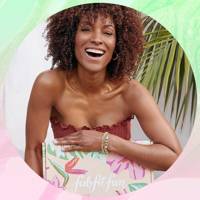 The very best under-the-radar beauty subscription boxes to keep your stash on top form
It's a tough world out there, which is why we all need a treat now and then. For some, it might be a daily coffee, for others it might be a fancy bottle of red – or, it could well be diving head-first into a hand-picked edit of beauty discoveries. If the latter sounds like your kind of party, it may be worth considering the burgeoning world of beauty subscription boxes.
There's loads to choose from, with each delivering a stash of hair, skin, body or makeup goodness to your door (or desk). We've rounded up a list of the best under-the-radar boxes, which we reckon will save you time, help you to unearth new favourites and offer up a well-deserved pick-me-up. You are most welcome.
Our pick of the best under-the-radar subscription boxes
FabFitFun

Price: $49.99 (which works out at roughly £39.65) from FabFitFun.

Regularity: One per season, so four per year and you can cancel your membership at any time.

Who it's best for: Ultra-chic wellness warriors

Why you need it: Variety is the spice of life, and this certainly offers that. Covering off beauty, wellness and lifestyle, each box of 8-10 full-sized, premium products, contains everything from luxe skincare, to beach towels, to sun hats, eyeshadow palettes, lip masks, water bottles, skipping ropes and more, which means you're covered whether you fancy a beach day, a trip to the gym or an evening pamper.

Friction Free Shaving

Price: From £9 Friction Free Shaving.

Regularity: Monthly and you can cancel at any time.

Who it's best for: Frequent shavers

Why you need it: This is a brand who are putting comfort and convenience at the forefront. No more hacking at your shins with blunt razors, this promises an ultra smooth shave every time. To begin with, you're sent a metal razor (which you can engrave, should you fancy, for an extra £6) alongside a pack of 4 blades. You can add on extras such as Shave Cream, Pre-Shave Scrub or Post Shave Balm (each £6). Then, each month after that, you're sent a set of 4 blade refills to replace on your razor. And, because they're all about fighting the patriarchy, their blades cost £1 less than other leading brands, to counter the pink tax – which means, you can say so, long to razor rash and extra costs and hello to wonderfully smooth legs, pits and bits.

Mintd

Price: £70 from MintdBox.

Regularity: Monthly or bi-monthly and you can sign up to 3, 6 or 9 month plans.

Who it's best for: Luxury seekers

Why you need it: This is a whopper spend, but if you regularly invest in luxury skin, hair and body care anyway, this could save you money in the long-run, since the contents of each box is around £280. Expect to see 4-5 full sized products from prestige brands like Oskia, Votary, Aromatherapy Associates, Oribe and Sunday Riley. Plus you create a personalised profile so that the products in your box are tailored to you.

The Perfume Society

Price: £19 (or £15 for VIP members) from The Perfume Society.

Regularity: No subscription necessary. Buy them when you want

Who it's best for: Perfume hoarders

Why you need it: This is not technically a subscription box because each box is priced individually at £19 and you can pick it up there and then with no strings attached. Choose from the Launches We Love Discovery Box which contains 13 new perfume testers, two scented body washes and a full-sized Nails Inc nail polish or a range of other discovery boxes ticking off men, feel good factor, day and night and niche scents.

Roccabox

Price: £10 from Roccabox.

Regularity: Monthly and you can cancel at any time.

What it's best for: A cheap treat

Why you need it: An affordable way to dip your toe into the world of subscription boxes, Roccabox is a brilliant way to discover new brands and treat yourself to 5-7 new products each month, including beauty sponges and tools, moisturisers, exfoliators, dry shampoos and lipsticks from brands like Nip + Fab, Living Proof and Huda Beauty. The best bit? They're themed, with previous categories like GRLPWR (products by kick-ass female entrepreneurs), Vegan Love and Get The Glow showcasing the best in each sector.