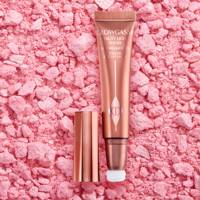 Flushed, wholesome cheeks are the look of this season, so here are the best blushers to achieve it
Blusher feels a bit left behind against sheeny highlighters and skin-warming bronzers. But if you're after healthy-looking cheeks – short of doing a quick jog round the block – blusher is the single quickest way to infuse a bit of life into your face.
"Windswept and interesting" really comes into its own in autumn. Given it's pretty inevitable that we'll come in from the cold looking flustered and slightly dishevelled, why not play into it and freshen up cheeks with a ruddy, wholesome glow.

Whether it be a subtle hint of pink, a bold flash of face-awakening colour, a natural, dewy tint, swipe of berry or cheek-sculpting neutral, the right blusher for your skin tone (and preference) can instantly lift and make all the difference.
The fact that blush is having a major moment on the red carpet and the catwalk, graduating from makeup bag staple to a starring role in almost every look certainly doesn't hurt.
Undeniably, it's been getting more experimental. The avant-garde blush worn by Rihanna at the 2017 Met Gala and swept across eyes and cheeks, has trickled down from the runway to our own makeup bags where, when downplayed, it looks delicate, romantic and surprisingly wearable.
On the runway (Aigner AW19, Milan)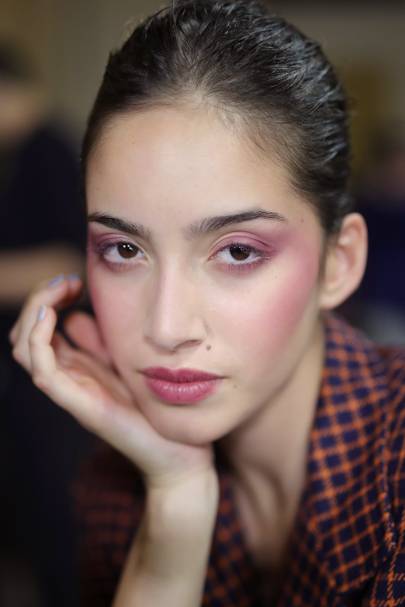 At home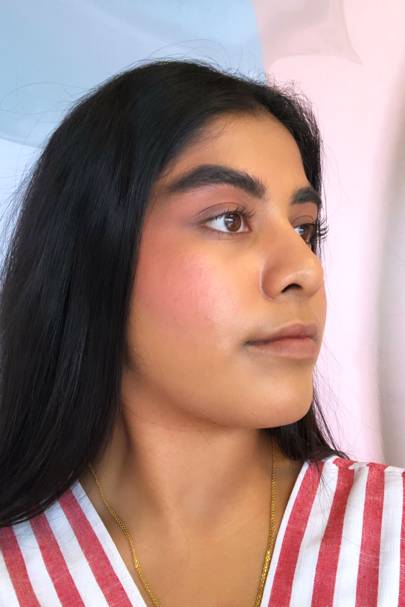 We tried the 6 beauty looks of the season from the catwalk and here's what happened...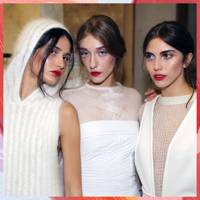 Makeup
We tried the 6 beauty looks of the season from the catwalk and here's what happened...
From draping to peach cheeks, there's so much more the humble rouge can do and we urge you to experiment this autumn.
So, how do you find the perfect formula for you? A key rule to go by if you've got oily skin, is to use a powder. If you're dry, opt for a gel or cream. When it comes to colour, rose and peach hues tend to suit lighter skin tones and deep plums and bright tangerines will complement darker skin. If you like to stick to the bronzed look, don't fret - an apricot coloured blush will only add to your look. Here, we've tried and tested a range of blushers to suit all kinds of skin types and tones. Shop the edit below to find which one is right for you...
Need the perfect foundation to go with your blusher? Read our pick of the best foundations as well as our dry skin, oily skin and dark skin edits.
Glowgasm Beauty Light Wand, £29, Charlotte Tilbury
Portable, easy to apply (just swipe on using the sponge tip, then blend with fingers) and stunning on cheeks, this luminous blusher comes in several shades including pink and peach and is the epitome of fresh faced.

Colour Veil, £20, Illamasqua
This jelly-like formula is unlike any blusher you've ever tried before. Watch it wibble wobble in the pan and then swipe across your apples for a seamless wash of colour with a fresh and glowing finish.

Baked Blush, £10, Milani
A favourite of Kylie Jenner's makeup artist, Ariel Tejada, this baked blush has quite the cult following. It has an extremely luminous, shimmer finish that will leave the skin looking fresh and dewy.

Convertible Color Dual Lip & Cheek Cream, £16, Stila
Extremely dewy with a beautiful sheen, we like the shade 'Lilium' for an everyday flush and 'Camellia' for a sunkissed bronze.

Cloud Paint in Dusk, £15, Glossier
A suits-all shade in the lightweight gel-cream blush that gives a natural flush of colour as it also hydrates skin.

Love Flush blusher, £26, Too Faced
Too Faced's Love Flush blusher is light on the skin and straddles both a blush and a highlighter due to its slightly iridescent formula. Long-lasting, if you like the glowy look, this is a great option.

L.A. Lights Blendable Lip and Cheek Colour, £26, Smashbox
This range is brilliant for darker skin tones and the compact, ready-to-use stick is brilliant for travelling or on-the-go. Super blendable, you can build this up depending on your desired intensity. It also doubles up as a lip stain, too.

Blush, £24, NARS
NARS' blushers achieve cult status many moons ago (who hasn't heard of Orgasm?) and the brand isn't showing any signs of losing it. Pigment-rich, the formula blends seamlessly onto the skin and delivers glowing colour every time. The colour range for this product is worth noting: you'll find anything from bright tangerines to deep berries and poppy pinks.

Dandelion Brightening Blush, £25.50, Benefit
An oldie but a goodie, Benefit's Dandelion blusher gives a delicate natural flush with rose tones and a little shimmer. Best used on pale skin tones.

Shade & Illuminate, £59, Tom Ford Beauty
A duo-blusher, Tom Ford's Shade & Illuminate contains a highlighting cream as well as a shading cream meaning you can contour the face. You can create a subtle sheen or a full-on flush and with its creamy formula, it's an ideal alternative to powder for those with dry skin. For lighter skin tones opt for Scintillate and for darker go for Sublimate.

Cellularose Blush Glace, £19, By Terry
By Terry's Cellularose Blush Glace provides a healthy flush which is long-lasting - especially for a gel-based product. It gives one of the most natural finishes we've found.

Cream Blusher, £14, Rosie For Autograph
Rosie Huntington-Whiteley's cream blushers are really great for a range of skin types but Blush Pink (pictured) is particularly good if you have an olive skin tone. Warming the complexion, it works really well with green undertones typical of this skin colour.

Cheek Gelée, £33, Chantecaille
Chantecaille's Cheek Gelée combines a gel with a stain meaning the formula is delicate but the colour delivers. Feather-light, it makes you feel like you've got fresh makeup on all day.

Cheek to Chic, £30, Charlotte Tilbury
If you're more into the matte makeup look rather than dewy, a powder blusher is what to purchase. Charlotte Tilbury's Cheek to Chic Swish & Pop Blusher is a two tone product meaning you can create depth to your blush and "pop" the apples of your cheek for added lift. Major bonus: it's made to suit all skin types.

Joues Contraste in Rouge Profound, £35, Chanel
This deep pink blusher from Chanel has a silky texture and glides effortlessly onto the skin. Use on top of the cheekbones, rather than the apple, for a bigger impact.