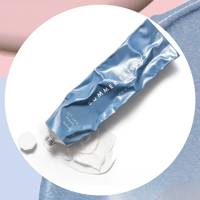 These are the best face masks for some serious skin satisfaction
Who doesn't love a face mask? No one - that's who. And if, like us, your skin is crying out for a bit of extra TLC as the weather flips, a mask is the ultimate way to give it some lovin'.
Whether you have dry, sensitive, oily or congested skin, have 3 minutes or the whole night, prefer a wash-off jelly texture or a dry sheet mask jobby, we've got the perfect mask for your next self-care Sunday (or any day of the week, for that matter).
And if you're not sure what the hell it is your skin needs, we've thrown in some all-rounders for good measure, too...
Resurfacing Mask, £54,
When you hear 100% natural, you may think this skin tin wont pack a punch, but you'd be wrong. Thanks to exfoliating BHAs drawn from white willow bark and pomegranate enzymes, this 20-minute mask brings out the glow that lies under dull, congested, or rough skin. And that's not all - with nourishing beet extract and soothing aloe vera, skin is left soft and comforted, as well as brilliantly bright.

Jet Lag Mask, £42,
This blue tube has been all over our Instagram and after gaining the tick of approval from Kim Kardashian-West and Jessica Alba we were so keen to try it ourselves. And woah mama, it's a super hydrator alright. Instantly cooling on the skin, it soothes in seconds and plumps in a minute. It's not often you'll find a skincare product that has instantaneous results, but after 10 minutes we were able to notice an actual difference. We're talking brighter, firmer, smoother skin. Plus, you don't have to wash this off if you cbf. It's an overnight mask, so you can sleep while your skin soaks up the magic. Yes, it's a bit spenny, but it's totally worth it.

Rose Gold Brightening Facial Treatment Mask, £85 (for 5 pack),
Margot Robbie and Priyanka Chopra don't just have amazing skin in common, they also share makeup artist Pati Dubroff, who introduced and converted them to the power of 111SKIN face masks. Margot's favourite is the Bio Cellulose Facial Treatment Mask, whereas Priyanka used the Rose Gold Brightening Facial Treatment Mask to prep her skin for her wedding day.

Brilliant Skin Purifying Pink Clay Mask, £39.50,

The pore shrinking prowess of this pink clay mask saw it go completely viral and out of stock in a matter of minutes. Originally from Australia, it's now widely available in the UK (Cult Beauty, Harvey Nichols, Boots etc) and is well worth your pennies for a fast working brightening treatment you can actually see.

Lotus Youth Preserve Rescue Mask, £52,
Need a radiance boost but only have five minutes? This mask has your back. Antioxidant lotus-flower extract and smoothing kombu seaweed work together for one fast treatment that leaves your skin feeling fresh AF.

Instant Renewal Concentrate Mask, £44 for 4 x sheet masks,
This mango-looking sheet mask is a total dry skin soother. It instantly cools an irritated or wind-chapped complexion and is covered in slippery hydrating goodness to quench dryness. Simply massage in the leftover residue – no sink required!

Supermud Clearing Treatment, £42,
Watch as this mud dries and your pores shrink before your very eyes. Leaves skin satisfyingly super clean.

Glow Mud Mask, £18,
If time and money means a facial is out of the question, try this instead: all you need is 15 minutes, a sink and, um, a face.

Instant Detox Mask, £34,
Perhaps more famous for their makeup than skincare, Bobbi Brown know the perfect look requires a perfect base. This detoxifying mask will leave the smoothest of canvases, ready for action.

Moisturizing Moon Mask, £18,
Wallet friendly, Insta worthy, and super moisturizing. What's not to like? Your face will love it as much as your followers do.

Renaissance Mask, £51,
Whip this balmy formula into a cream and leave it to nourish and quench your skin. Leaves it baby-bottom soft, and smells mega too (that'll be the chamomile).

Pumpkin Enzyme Mask, £55.50,
We love a product you can feel working, like this mask. Don't be scared when it gets a bit tingly, that's the enzymes nibbling at the dead skin cells. A tiny bit goes a long way too (we got two used just from the lid) so it's worth the investment.

Flavanone Mud, £29,
Great for oily skin that needs a good old clean, this clears away the grime and leaves you feeling pleasantly tight.

Radiant Glow Express Mask, £81,
Leave this on for a mere 3-5 minutes before unveiling your skin: but better. Sisley's mask, complete with red clay, leaves a noticeable glow to the complexion - we love it.

Deep Exfoliating Mask, £59,
Responsible for keeping many a famous face looking forever young, you don't have to go under the knife or needle with Dr Sebagh to get a taste of his results. This hard-working mask with unveil glowing, smooth skin without a pin-prick in sight.

Parsley Seed Cleansing Masque, £33,
Purifying, yes, but also pleasantly skin-quenching. If you find some clay based masks leave skin uncomfortably tight, this is the one.

Instant Detox Mask, £22,
Perfect for a city dweller with skin that needs a refresh. The natural clays deeply cleanse whilst still leaving your face smooth and complexion even.

Original Skin Retexturizing Mask with Rose Clay, £26.50,
Perfect for shrinking unsightly pores, this refining mask reveals a bright, smooth, photo-ready face. Use it before a date, wedding, first day, or when you just want to smash the skin game. You won't regret it.

Transformer Instant Renewal Mask, £95,
Created by Dr Marko Lens - famous for his "red carpet" facials - this mask hydrates skin and helps prevent signs of ageing.

3D Moisture Infusion masks, £43 for 4,

Aside from the face this mask promises to reduce redness and plump skin, we're more interested in the fact it's created by Meghan Markle's facialist. Use it to refresh skin, and possibly bag a Prince.

Detoxifying Clay Mask, £45,
Ideal for congested or acne-prone skin. Think of it as a weekly detox for your pores, to deeply clean them and regulate the skin's oil production to prevent breakouts.

Younger Revealing Mask Intense, £210,
Containing four doses (so, at £50 a pop, it's a pricey one), this iron-based mask mask is removed by hovering a magnet over your face. For real. Aside from being incredibly satisfying to use, it's also super effective. The magnet draws the iron away, taking dirt and grime with it. Better than some facials we've had (which would set you back a tad more than £50).