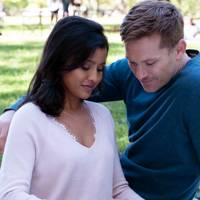 These feel-good movies will totally boost your mood
Sometimes, when the world seems like a grim old place and your week feels so long you're certain retirement must be approaching, you need a fast-action mood-booster. Sure, you could go for a run and get those endorphins flowing. Or, you could grab your favourite person, your comfiest loungewear, and stick on a bloody good film.
And no, we don't mean a Best Original Screenplay-winning, energy-sapping, emotionally-battering film to make you cry. We mean an easygoing flick – something to make us laugh, inspire us, help us chill out, and generally restore our faith in humanity. Just grab your best friends, a bottle (or five) of wine and some snacks, and feel your rubbish mood disappear before your very screens...
Good Sam

Who: Tiya Sircar, Chad Connell, Marco Grazzini
What: A news reporter investigates a mysterious character who leaves large bags of cash on random doorsteps in New York
Feel-Good Rating: 8. Who doesn't love a good old fashioned soppy rom-com?

Late Night

Who: Emma Thompson, Mindy Kaling
What: Legendary talk show host Katherine Newbury (Emma Thompson) ratings plummet. In fear of being replaced by a younger male host, she hires Molly Patel, her first and only female writer, to make her more funny. A funny and lighthearted movie about transformation and the power of diversity.
Feel-Good Rating: Emma Thompson and Mindy Kaling...it's an instant 10 from us.

Step Up

Who: Channing Tatum and Jenna Dewan
What: Big news: Step Up has landed on Netflix and we have fallen in love with it all over again. Tyler & Nora 4evs.
Feel-Good Rating: You'll be dancing your way through from start to finish.

Wine Country

Who: Maya Erskine, Amy Poehler, Maya Rudolph
What: The ultimate girl-gang unite for a weekend in Napa Valley.
Feel-Good Rating: 8/10. Expect all the pinot grigio, all the lols and Amy Poehler at her finest.

Mamma Mia: Here We Go Again

Who: Lily James, Amanda Seyfried, Meryl Streep
What: The second instalment of the nation's favourite sing-a-long film.
Feel-Good Factor: Nothing defines feel-good fun like Mamma Mia and we're going to go as far as to say the second film trumps the first.

Isle of Dogs

Who: Bryan Cranston, Koyu Rankin, Edward Norton
What: It's all in the name – literally an island of dogs. Heaven.
Feel-Good Factor: What could have better feel-good factor than a Wes Anderson film about dogs? A Wes Anderson film about dogs with a large bottle of vino. You're welcome.

La La Land

Who: Emma Stone, Ryan Gosling
What: A pianist and actress are drawn to each other over their mutual desire to achieve their dreams.
Feel-Good Rating: The catchy soundtrack, vibrant sets and dreamy outfits give this film the serious feel good factor.

Hairspray, 2007

Who: John Travolta, Queen Latifah, Nikki Blonsky
What: In 1960s Baltimore, teenager Tracy Turnblad lands a position on a local TV dance show where she preaches the importance of racial integration.
Feel-good rating: All the feels. You'll be singing and dancing along the whole way.

When Harry Met Sally… (1989)

Who: Billy Crystal, Meg Ryan, Carrie Fisher.
What: Harry and Sally form a close friendship over 10 years. But can they just be friends, without sex ruining the relationship?
Feel-good rating: 10/10. If you don't laugh all the way through this universally-adorned rom-com, you have no soul.

Some Kind of Wonderful (1987)

Who: Eric Stoltz, Mary Stuart Masterson, Lea Thompson.
What: A classic high school movie full of teen angst and romance, Some Kind of Wonderful is one of those films that restores your faith in the human race.
Feel-good rating: 7/10. Girl power ✓ Fab soundtrack ✓ Romantic escapism ✓

Lady Bird (2017)

Who: Saoirse Ronan, Laurie Metcalf, Tracy Letts.
What: A moving, relatable coming-of-age film, focused on a mother-daughter relationship and a Catholic schoolgirl navigating her way through the terrifying thing that is adolescence.
Feel-good rating: 7/10. Ideal if you're in the mood to be swept up in a gripping story and forget your woes for 1 hour 34 minutes. You'll laugh, you'll cry, you'll be touched.

Pride and Prejudice (2005)

Who: Keira Knightley, Matthew MacFadyen, Brenda Blethyn.
What: Guys, it's Pride and Prejudice. Darcy's an awkward snob, Elizabeth is a top girl. You know the rest.
Feel-good rating: 7/10. You know those rainy, miserable days, when only a hot chocolate, a cosy blanket, your fave PJs and a film about Georgian England will do? Yep, that.

Magic Mike (2012)

Who: Channing Tatum, Matthew McConaughey, Alex Pettyfer, Matt Bomer, Joe Manganiello, Olivia Munn, Cody Horn.
What: A male stripper teaches a young recruit the ways of the stripping world. There is, of course, a storyline to this film, but here's the most important thing: there's a lot of hot men stripping. Your ovaries will do somersaults.
Feel-good rating: 25/10. No explanation needed.

The Emperor's New Groove (2000)

Who: David Spade, John Goodman, Eartha Kitt, Patrick Warburton (voices).
What: This LOL-a-minute Disney film follows a self-obsessed emperor who gets turned into a llama by his evil ex-administrator, and must regain the throne with the help of a kind, local llama herder (we would've loved to be in the pitching meeting for this one).
Feel-good rating: 10/10. This film has all the joyful feels: a bad-guy-turned-good storyline, cracking music (nominated for an Oscar, don't you know), and a sassy squirrel. Because Disney.