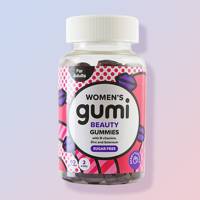 These supplements will give you the glossiest hair of your life
The nearing summer months have us dreaming of cascading beach waves, long boxer braids, and chic chignons. But there's just one problem - our hair. Just. Will. Not. Grow. The hairs either start splitting and breaking off at a certain length, or else start looking so ratty at the ends that a trip to the salon becomes inescapable.
While an invisitrim (cutting only the minimum length necessary to get rid of split or dried out ends) is always advisable, there are an array of specialist vitamins and nutritional supplements to promote healthy hair growth and keep each strand strong and silky.
We round up the GLAMOUR team's go-to hair supplements for your glossiest hair yet...
Thinking of switching up your colour for summer? Check out the latest hair colour trends fresh from the experts.
And why stop there? Get your hands on this season'shottest hair accessoriesfor every occasion.
MSM Bio Plus, £60, Oskia
Calling upon MSM, a naturally occurring sulphur compound to strengthen the cell matrix combined with a patented black pepper extract to strengthen.

Collagen Inner Beauty Boost, £29, The Beauty Chef
A spoonful of this beauty concentrate delivers a rich blend of prebiotics and probiotics, as well as certified organic Maqui Berry, Açaí, Papaya, Blueberry, Goji Berry and Pomegranate powders with Grape Seed extract, Zinc and Vitamin C to support hair growth.

Healthy Hair Growth Supplements, £49.99, Viviscal
Viviscal has always been at the forefront of hair health, and these daily supplements have been formulated with Biotin and Zinc to provide the crucial building blocks hair needs to flourish.

Skin + Hair + Nails, £50, Dr David Jack
Renowned aesthetic doctor, Dr David Jack, knows what it takes to look great, which is what makes his supplements stand out from the crowd. They contain optimised doses of potent antioxidants, as well as biotin, zinc, magnesium, hyaluronic acid and vitamins C and E, to support hair (and skin and nails) in every possible way.

Oily Hair Supplements, £26, The Ouai
If anyone knows the secrets to great hair, it's GLAMOUR columnist and celebrity hair stylist, Jen Atkin. Not only is she the go-to for the Kardashian clan and top models worldwide, but her line of supplements also helps to alleviate common hair and scalp woes - from oiliness to thinning.

Lyma Life Starter Kit, £199, Lyma Life
Backed by Oxford University professors, these rose gold capsules are the product of rigorous research and testing. They provide the most bio-available versions of all the nutrition the body needs, making it a great place to start in the search for healthy hair.

Women's Beauty Berry Flavour Gummies, £12.99, Gumi
Don't like swallowing pills? No, nor do we, which is why we love these chewable alternatives that deliver a daily dose of zinc, Biotin and vitamin B12 in one delicious gummy.

Phytonutrient Capsules, £29.95, The Organic Pharmacy
You'd be hard pressed to find a beauty editor who doesn't swear by these - they're jam-packed full of vitamins derived from superfoods (think alfafa sprouts, barley, reishi mushrooms and linseed) meaning you don't actually have to eat them! Great!