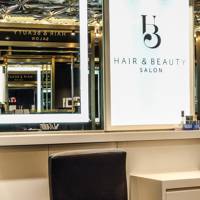 The best hairdressers in London to bring your #hairgoals to life
In need of new hairstyle inspo but have no idea where to go? Wanting to brave the chop to a shorter hairstyle or maybe try the new fallayage trend?
You're in luck, because we've rounded up the best hairdressers in London where you can get a cut or colour (will you go for golden blonde, a brunette hue or dare to go grey?) by one of the A-lister's favourite experts. You're welcome.
Fifth Floor, Harrods, 87-135 Brompton Road, Knightsbridge, London, SW1X 7XL

The Hair & Beauty salon, formerly Urban Retreat, is situated on the fifth floor of the famous Harrods department store. In the heart of Knightsbridge, the hair extension specialist salon offers a relaxing retreat for every hustling Londoner. They use , which is ethically sourced diamond virgin hair. If you're looking to get a full-head makeover we'd recommend for tape extensions and Moe for the best balayage in the business.

As one of the most welcoming, slick and trend-first salons in London, it's little wonder that Cara Delevingne counts this as her go-to hairdressing haunt. As well as being a super friendly bunch, the team at Windle & Moodie are at the forefront of trends in fashion, beauty and popular culture. They are dab hands at translating catwalk trends into everyday, wearable styles. One of the salon's best bits? The incredibly zen shampooing room. Think candles, relaxing music and brilliant scalp massages. You'll also leave brimming with information on the latest hair trends, treatment recommendations and at-home hair washing hacks. Hey, we found out that using an oil before shampooing is the key to healthy hair. You can read more about that here.

84 Westbourne Park Rd, Notting Hill, London W11 1EH

Beautiful balayage and beach waves are the order of the day at this boutique Insta-salon of dreams. Think: tropical wallpaper, neon signs, Mermaid Martinis and cute bulldog, Sid. Inspired by their clients, not trends, owner Sam (who, FYI, learnt to balayage via YouTube) and her talented team of colour specialists are passionate about bringing your #hairgoals to life, while making it actually wearable outside the 'gram, too. Well, if it's good enough for former GLAMOUR coverstars Zoella and Tanya Burr…

6 Lansdowne Mews, London W11 3AN.
Home to the colour king, Josh Wood, and his band of super stylists, this is the hair destination for the colour aficionados and seriously-in-the-hair-know. With clients including Saoirse Ronan, Laura Bailey and Alice Liveing, you'll be in good hands.

1 Fournier Street London, E1 6QE
The duo's eastern outpost in Spitalfields features contemporary comforts and retro styling with 50s Danish cutting stations and a vintage TV. Book in for their signature services that combine cutting-edge style with everyday wearability. Instant Highlights, offering six levels of lift in half the time, is also new on the menu.

58-59 Margaret Street, London, W1
Nicola's flattering way with colour has earned her an enviable roster of A-list clients including Kate Winslet, Kate Moss and Cate Blanchett. Her newly-opened salon under the John Frieda umbrella boasts a stellar squad. You can even book in with global hair icon Sam McKnight, the mastermind behind many of the most amazing catwalk looks. We'll see you in the queue.

34-36 Harrington Road, London, SW7 3ND
It's not often you can have a session stylist cut your hair, but when not on shoots for uber-clients such as Pixie Lott, Neelam Gill or Estee Lalonde, you can book in with Larry at his cool salon hang-out. He's also a specialist in male grooming, so you can take your boyfriend with you.

28 Market Place, London W1W 8AW.
This super 'grammable' salon is the place to hang with friends. Take your pick from their signature blow-dries and up-dos; think loose waves and next-level braids. Or, if you fancy a tipple, book in with the girls on a Thursday evening for bottomless Prosecco along with your blowdry, £43.

89 High Street, Wimbledon, London SW19 5EG
First things first, don't EVER say no to an optional head massage - especially at Andy's. It will have you nodding off in the chair. This salon, located in South London's leafy Wimbledon Village, is teeming with stars like the Federers during the tennis fortnight. They are brilliant at 'normal' hair - nothing weird, or wacky, and you won't walk out looking like a My Little Pony extra. Blowdries - done with big round brushes and a lot of arm work - leave hair looking thick, full and soooo shiny: like your own hair, but on a really good day. For a cut, founder Andy Sharma is your man. He'll snip where you need it, layer if you want it and never get carried away.