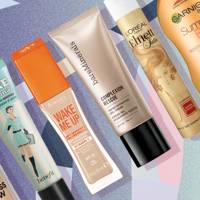 These are the 100 best high street beauty heroes - and they all cost under £30
Everyone has a favourite product. One that, despite all the tests and trials, clear outs and culls, has secured its spot in your beauty cabinet.
Maybe you like the way it glides on, the supreme staying power, or perhaps, quite simply, it doesn't make you break out. But one thing is certain, that pot, tub, tube or stick is an absolute steal!
How do we know? Because your beloved beauty bargain is not alone. In fact, it's one of many that prove a product's worth lies in what it does, not what it costs (the fact it can be replaced without a bank loan is just a bonus). However, here at GLAMOUR, we are picky. That's why we went on a scrupulous search, scouring shops and investigating all those thrifty-yet-fabulous finds to create a definitive list. We're talking the 100 greatest high street products, all under £30!
"I've never tried plastic surgery… it's a very slippery slope": Meet GLAMOUR's January digital cover star, Drew Barrymore
Drew Barrymore
"I've never tried plastic surgery… it's a very slippery slope": Meet GLAMOUR's January digital cover star, Drew Barrymore
Finalists include beauty secrets that have been passed down through generations, cult creations that sparked success overnight, and praise-worthy newbies that actually live up to the hype.
In celebration of our January digital issue, The High Street Beauty Issue starring Drew Barrymore, we've rounded up the best beauty buys on the high street. Want to meet this high street elite? Well, get ready for some serious saving and scroll on down.
With just a dusting of this finely-milled, reflective powder, you can knock back the shine and glow, all at once. Plus, the bestseller is now available in 10 shades!

Dippy eyeliners are great and all, but this ready-to-draw alternative is the only option for lining eyes on a crowded commute.

Who knew a nappy rash cream would be the spot shrinker we've all been searching for? Sudocrem, that's who.

34 shades. Need we say more? Probably not, but we're gonna - this creamy lipgloss glides on, lasts for hours, and puts its sticky (and pricey) peers to shame.

These handy little wipes from our favourite girl band cleanse your face easily, remove impurities, whilst removing all makeup (even tough-to-budge waterproof mascara).

Different looks call for varying levels of blush, and this colourful quad covers them all. Blend, mix or isolate to create your perfect tone.

This little desk-side savour has protected our paws against ever-changing office temperatures for many, many years. Keep calm, apply hand balm, and type on.

Fake the no-makeup look with this lightweight CC cream. Not matte, not glowy, just a skin-like satin finish that doesn't gather in fine lines. Plus, UV rays bounce straight off it.

Caution - this dry oil creates a serious sheen! Probably something to do with the diamond dust (yes, seriously). Splash it onto limbs and prepare to dazzle.

A fail-safe favourite among smoky-eye fanatics, this blacker than black liner won't smudge, fade, melt off, or dent the wallet when it comes to replacing it.

Struggling for space in your clutch? Agonising between a matte or gloss lip? Drew Barrymore has heard your grumbles and created a clever lip duo that flexes to your needs.

Cheat your way to eight-hour-sleep skin with this luminous foundation. Glides on like a dream and never ever goes cakey.

No Clumps. No Lumps. Just full, fluttery lashes that leave a trail of suspicion (yes, they are real).

Never fear fuzzy pits again. Our trusty Venus Gillette has been restyled into travel-sized mini with a snap-shut pebble case that's perfect for popping in your handbag.

Soap & Glory Junk The Gunk Deep Cleansing Shampoo, £7.50

Searching for a vegan shampoo that actually works? This spangly new product uses a powerhouse of charcoal and apricot seeds to exfoliate the scalp and lavish hair with goodness.

So much more than a grease dissolver, this beauty cabinet favourite adds volume and grip, but most importantly, facilitates an extra 30 minutes in bed.

If a fragrance costs less than £20, be very skeptical. Unless said fragrance is a citrus-aromatic blend of splashy fresh fruit accords, white flowers and vetiver.

Over 20 shades of lightweight, long lasting, high-pigment lip colour that looks great and feels even better.

All skin types need hydration, but when it comes to sensitive, that becomes somewhat of a challenge. Luckily E45 can put concerns of flare-ups and reactions to bed.

Can't get a salon appointment until next week? This handy touch-up will tide you over until then. Simply brush the dye onto the roots of dry or damp hair and style as usual.

Schwarzkopf Live Precious Metals Spray, £6.99

Wild moments call for this amazing metallic spray for hair. Pick a colour, shake, spritz and sparkle. Then wash it out when you change your mind.

Your body is the only outfit that lasts a lifetime, so put down that top and buy this instead. You won't regret it.

Sorry – what? £2.99. Who cares if it doesn't last 100 hours, this little liner will let you work that winged look six days a week (Sunday is a day of rest, people).

Fragrance free = great. Hypoallergenic = fab. Non-comedogenic (doesn't block pores) = essential. Add in a skin-drenching splash of hyaluronic acid and our sensitive, dry skin is in love.

Keen to become more eco conscious? This vegan and cruelty-free shampoo bar is a good place to start. It trades in traditional packaging for a simple mesh bag, but most importantly, it works.

Some swear by gel, others prefer acrylics, but if you want your nails to constantly match your outfit, a good varnish selection and this remover is all you need.

If you're going to use micellar water (and you definitely should) this is the one. A favourite among makeup artists, the liquid cleanser dissolves makeup and impurities without the need for a tap.

Answering the question, 'what primer do you recommend?', this weightless one-stop wonder blurs imperfections, grabs hold of foundation, and is loved by all who try it.

A concealer under £5 that doubles up as a clever contouring wand (just go darker), comes in over 10 shades and doesn't collect in creases? HELLO!

Your best friend during a breakup. Sore, irritated skin around the eyes is instantly calmed and nourished with just one blob of this paraben-free product.

Feel good inside and out when you dip into this rich and creamy body moisturiser. Skin is softened, the scent is amazing, and each tub supports communities in Ghana.

Does a lipbalm even work if it doesn't tingle? Absolutely not. That's our theory and we're sticking to it.

Gentle on the scalp thanks to the absence of ammonia, silicone and alcohol, loaded with natural ingredients and it still packs a colour punch.

You know that subborn strand of eyeliner? The one left from a smokey eye look you rocked five days ago? We know how to make it disappear.

Makeup sponges became extinct the moment this applicator was created. And then we discovered its powers when damp! Our glowy skin is forever grateful.

When a product smoothes, hydrates and renews skin as you sleep, it's easy to get on board. Add in the fact that it's 100% vegan and we're out of excuses.

Olay Total Effects 7-in-one Moisturiser SPF30, £14

Searching for a daily SPF that won't make you break out? Look no further. Packed with vitamins and UV protection, this oil-free formula helps you on the way to youthful (but not adolescent) skin.

If you haven't already tried Hoola, maybe you've been living under a rock, or perhaps the bronzer was just a touch too dark. Cue Hoola Lite – complexion warmer for the fair-skinned and protestor of pasty faces.

Oh, macadamia nut. Thank you for your nourishing oil, your heavenly scent, and for gracing our showers in an affordable bottle of shampoo.

This amazing product lives up to the hype! Expect smoother, brighter skin with minimised pores and pigmentation *adds to basket*.

Sticky suncream be gone! This hypoallergenic SPF30 water *Yep, that's right - water* creates a light, refreshing veil of heavy-duty protection.

To flood skin with moisture, simply lay back, drape one of these over your face and pop a warning on the door for anyone who spooks easily.

The makeup artist duo behind Pixiwoo have developed 100% cruelty-free makeup brushes for every single beauty need. Already obsessed? Join the club.

A cuelty-free 100% vegan makeup remover that dissolves even waterproof mascara and smells like cucumber. What's not to love?

Great for those who suffer from shine, this balmy primer helps to mattify skin and stops foundation from sliding off. If the oil returns, simply dab over your t-zone and watch the magic happen.

Dry, thirsty skin will be flooded with moisture the moment you add this hyaluronic acid-loaded serum into your skincare regime.

Calming calendula, rosemary leaf and chamomile extracts are captured in sweet almond oil to create this rich, creamy balm for dry and rough skin.

Fail to prepare, prepare to fail. Once or twice a week with this gradual tan and you'll welcome the opportunity to bare flesh *wink wink*.

If you want your natural curls to bounce (sans frizz), you're going to need a whole heap of hydration. The incredible coconutty scent is just a bonus.

Blend to your heart's content with an eye shadow palette filled with no less than 15 shimmering earth tones.

Just 60 seconds after applying, you get to wash it off again (hurrah!). What's left behind is gorgeous, bronze glow without the biscuity pong.

Strong nails start with soothed, nourished cuticles, and this lemony balm is loaded with almond oil, cocoa seed butter and vitamin E to do just that.

Treating locks to this weekly masque is a must, especially during cooler months when central heating and the chilly outdoors spell disaster for our hair.

Maybe it's the soft, power-fresh scent. Maybe it's because we don't like change, or maybe it's the fact that this one actually works. Whatever the reason, this is the deodorant we keep going back to.

Transition through the seasons flawlessly with this tinted moisturiser. Wear it solo or mix with your favourite foundation for extra coverage with a glow.

So long, microbeads. There are tonnes of natural exfoliants that can keep us smooth and silky - like crushed macadamia nuts, which have been harnessed in this nourishing body scrub.

Does waxing make you wince? One swipe of this (pain free) beauty cabinet classic, and dark hair will all but vanish.

Gorgeous, glowy skin requires a sulphate-free, purifying face wash, packed with natural ingredients.

Bid farewell to chipped manicures, courtesy of this hard wearing, gel top coat. Plus, you won't need a salon appointment to take it off.

Sharpen your brow game with this dual-ended highlighter crayon. All it takes is an expertly drawn outline. Steady hands at the ready.

For an instant power brow, this teeny tiny brow mascara contains microfibers that create the illusion of thicker, fuller eye framers.

Despite the name, this brush can (nay, must!) be used on dry hair as well as wet. Its clever, flexible bristles are also gentle enough for extensions, wigs, and little sisters.

Irritated skin on your face and body is soothed, nourished and repaired. It's great for adding a glow under foundation, too.

No more will we have to choose between high-shine lips that last all of 3 seconds, or a lasting matte pout with a side of dehydration. This is the luminous lipstick that lasts.

All-in-one cleansers don't get much better than this. Dissolve all traces of makeup (even mascara), with the help of a humble cotton pad.

Even those who restrict body moisturising to just a few weeks in summer *must stop tan from peeling* know about the stretch-mark preventing powers of this cult lotion.

Macadamia, jojoba-seed and avocado oil team together to treat, nourish and add shine to lacklustre locks, but we're more interested in the scent – divine!

So lightweight and silky, you'll struggle to believe this fluid is infused with SPF50 protection. Just you try, premature wrinkles.

Hate heavy sticky creams? How about a light refreshing mousse? It works with dessert, so why not for your body? This one will satisfy the skin for 48 hours.

Some things just can't be improved, and this cult hairspray is one of them. You nan swears by it to keep her perm in place, and we ask you this…have you ever seen it move? Thought not.

Every now and again, a skincare switch up is essential. This light, refreshing moisturiser with SPF15 is designed to survive the cull.

Anything that allows us to blow dry, straighten, curl and crimp our hair without feeling guilty about the resulting damage is worth every single penny.

Some despise sea hair. Others can't get enough of it. This product is for the latter - a texturising salt spray to recreate those beachy waves, any time of year.

Smoothes on, washes off (taking all kinds of sins with it), and leaves behind plump, hydrated skin that looks fresher than ever.

Every nail enthusiast needs one of these. At one end, a cuticle pushy, at the other, a nail cleaner - both essential for keeping nails on point.

La Roche Posay? Love. Micellar water? Love. The two combined? We're in heaven. Especially when it means we can take off our makeup and lie down at the same time.

Ole Henriksen Transforming Walnut Scrub, £22
Available in Boots from 1st February 2019

Pimp your Sunday scrub with a gentle blend of ginseng, chamomile and walnut powder. The exfoliating, purifying and cleansing trio are nature's ticket to smooth, glowy skin.

Stray hairs? NEVER! Not with Tweezerman's weapon of plucking precision. One pair lasts a lifetime, but this rose gold version may just convince us to upgrade.

If we're going to get up on the first alarm, there needs to be some sort of incentive. Like a silky foaming shower gel that smells of freshly-picked fruit. Yep, that'll do it.

Don't be fooled by its modest appearance. This magical concealer stick literally erases everything. No joke. Spots vanish, dark circles fade, even tattoos can disappear. #nofilter, here we come!

Guilt-free laziness is welcomed with these biodegradable face wipes.
As well as having a minimal impact of the environment (if thrown in the bin - never flush!), they're also oil-free, non-comedogenic and hypoallergenic.

Love the oil-absorbing benefits of clay masks but suffer from dry skin? This hypoallergenic mask still lifts those impurities, but is oh-so creamy and soothing.

If you want plump, hydrated skin, serum before moisturiser. Always. Oh, and look out for hyalurounic acid, which this high-street skin quencher is bursting with.

Channel Lady Gaga at this year's Golden Globes and match your hair colour to your outfit. Now, where to find a powder blue Valentino gown...

Traveller's guide to makeup on the move - find a product that instantly brightens eyes, throws cheekbones into the light and takes all of three seconds to apply.

This angled brush and spoolie combo is just the tool our brow kit needs. Load with your favourite powder, cream or gel, and get ready to arch.

Live your best lash life, courtesy of this clever double-ended mascara. First, a sweep of ultra-plumping primer, then a coat of lengthening fibres, and finally - flutter.

Lipstick first, gloss second. That was the old rule. Thanks to this layerable lipgloss, high shine, high pigment colour is just one step away.

Our lives have been changed forever. And all it took was discovering a simple, ergonomic brush that doesn't rip our out hair when it meets a knot.

This illuminating, smoothing primer that counteracts redness while giving skin an antiseptic dose of honey, is quite simply the bees knees.

You should always shave in the direction of hair growth. No - wait, in the opposite direction, except around the ankles which...oh screw it, just use this razor to sweep back and forth to your heart's content.

For head-to-toe smooth, soft, exfoliated skin, all you need is a shower, these fancy gloves, and the ability to reach your back *starts stretching*.

The joy of makeup lies in the chance to get creative. Cue Revolution Pro and this technicolour eyeshadow palette of dreams.