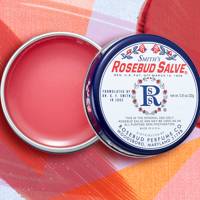 This is why you should never share lip balm, no matter how much your mate begs you
"Does anyone have any lip balm?"
Too many times have we heard this question. And to be honest, no. We don't. Not for you. Because it is not hygenic, aaaand we-don't-want-to-risk-getting-cold-sores. There, we said it.
It's baffling how often this beauty bag essential gets left behind. With options to tint, prime, scent, and even protect lips, lip balms are not just humble hydrators.
So, whether you've reached the final twist of your favourite lip balm, you're looking for a formula that puts chapped lips to bed once and for all, or if you, yourself are a beastly, balm borrower, it's time to treat those lips.
Crusty lip tip: Winter got your pout peeling non-stop? Give it a quick scrub-a-dub before layering your favourite balm on top. Just a light back and forth with a toothbrush will do, to clear the pathway for hydration penetration.
Here are our favourite balmy finds for 2018.
Balm Dotcom, £10,

This balm is the bomb.com, and Glossier knows it. Slather it on your lips, dry elbows, cuticles... hell, we'd bathe in it if we could. If you like a little tint from your tube, go for Rose or Cherry.

Smith's Rosebud Salve, £8,

This mini moisturising miracle has been kicking around since 1895 and is still one of the most popular multi-purpose balms in the UK, nay the PLANET. Use it to banish your chapped lips, but don't dismiss it when it comes to treating burns and rashes, too. It's currently out of stock on ASOS, but you're in luck on Amazon.

Sugar Petal Tinted Lip Treatment SPF15, £19.50, Fresh

Some days you just need a product to deliver. This does just that. With its super-hydrating blend of botanical oils, lips feel nourished and plumped. Meanwhile, the popular petal shade gives a subtle wash of colour that lasts. Oh, and did we mention it contains SPF15 protection, too? Actual balm goals.

Cellular Performance Total Lip Treatment, £75, Sensai

Now, we know this isn't cheap, but thanks to its extra-sized design and intensely rich formula, a little goes a long way. Seriously. This is the lip treatment that lasts. From the brand's Cellular Performance line of anti-aging products, the super-sized balm is designed to plump out vertical lines and help lips to reclaim their youthful definition.

£6.50 Eos

Eos have always been known for their colourful, playfully packaged and flavoursome balms. However, the latest release is a low-flavour balm (in fact, we don't think it smells or tastes like anything at all) and it's quickly become a desk drawer favourite. You can apply the sphere-like balm directly to the lips, or pat it over your lipstick with your fingers when it starts to crack. Works a treat!

£7.50 Be
If you're looking for a lip balm that's scientifically proven to not only banish dry lips but to prevent cold sores, Base is the one for you. As well as containing shea butter, the product is also made with liquorice root extract, which during a recent study, was found to reduce the severity and duration of cold sores for 73% of people tested. It has SPF30 protection, reduces inflammation and is all natural. What's not to like?

£20 Erborian
Erborian's balm is technically a mask as it's ultra moisturising, making it perfect for super dehydrated lips. Apply it before bedtime to wake up with a gorgeously nourished pout. We adore the non-shiny matte appearance of the balm too; perfect for applying over matte lipstick.

£8.99 Lanolips
The organic lemon oil in this treatment naturally exfoliates while the lanolin sinks into the new skin and fully hydrates. If that isn't enough of a sell, it smells (and tastes!) like lemons. Pucker up?

£40 Hourglass
A deeply nourishing serum of 14 essential oils & vitamins A, B5, C & E, this treatment improves both the aesthetic and health of your lips. It is conditioning and cooling (thanks to the gold applicator), making it the perfect pocket product.

£49.50 Sisley
Sisley never gets a product wrong and that winning streak is certainly not broken with this balm. The formula melts beautifully on the lips, its supple blend of oils and butters the perfect way to rehydrate and plump.

£39 By Terry
As huge fans of the Baume De Rose Hand Cream, it is no surprise we reach straight for the Lip Care when things get rough. Soothing & hydrating thanks to a mixture of shea butter, cermaides & vitamin E, it fortifies against any aging. A top tip is to smear this around the mouth as well, helping to prevent any fine lines.

£52 Crème de la Mer
One of the most luxurious lip balms on the market, and also one of the most effective, a light coat of Crème de la Mer's Lip Balm will keep lips hydrated and smooth for hours. This little piece of luxury will make you feel special every time you use it, too.

£3.99 Burt's Bees
We'd recommend just about every one of Burt's Bees' brilliant lip balms. We have at least a dozen scattered in every useful place, from coat pockets to desk drawers. This fruity flavour contains vitamin C and E from pink grapefruit seed oil.

Cocoa Butter £1.95 Vaseline
Your favourite little pot of smoothing, lubricating Vaseline has an added hint of cocoa butter for conditioning lips, leaving them even softer.

£19.50 Clarins
Containing essential rose wax and shea butter, this balm with a hint of pink is one of our absolute all-season must-haves. Whether you're stranded in a storm or sunning yourself on a beach, Clarins' lip balm will keep lips soft and kissable.

£10 Kiehl's
If fruity balms are your thing, this one is undoubtedly for you. Smelling strongly of tropical pears, the salve sinks into lips like a dream and keeps them feeling smooth all day long.

SPF15 £2.69 Blistex
We can't talk balms without mentioning Blistex. If your lips are red and sore, the Medplus is especially good because it has an instant soothing effect. It's the one the men in our lives are always stealing!

£2.55 Carmex
Pop a little pot of Carmex in your pocket to save lips from a dry, chapped fate. You just know your lips are happy from that tingly feeling.

£4.50 The Body Shop
If you're already addicted to The Body Shop's brilliant body butters, you'll love their lip butters. Melting into lips for instant hydration, lips are left smooth and silky. We're particularly partial to the Chocomania flavour. Just don't eat it, no matter how tempted you are…