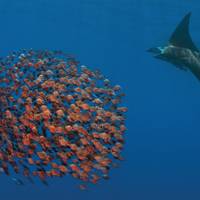 The best documentaries to watch on Netflix right now
True crime and documentaries were once the hallmark of 'boring', watched by those who were either too dull or too unimaginative to cope with anything other than non-fiction (way harsh, but back then, true). But Netflix, AKA the documentary powerhouse, put a stop to that.
First came Making a Murderer, then 13th and Amanda Knox, and now Netflix's documentary offering is so vast that it's proving one of the most popular genres for viewers. In 2016, Netflix stats revealed that almost three-quarters (73%) of its subscribers watched at least one documentary. That's over 68 million people. That's a lot of love for the real-life dramz.
We gave you the list of best Netflix date night movies, and keep you up to date with what'snew on Netflix, and now we're just spoiling you...
With a whole host of documentaries dropping every month, here are the best documentaries to watch on Netflix right now. Consider your documentary fix sorted with surprise encounters with Lady Gaga to the tragic story behind Whitney Houston's success...
Blue Planet

A classic David Attenborough series, guiding you through the wonders of nature; exploring the deep depths of the marine world to the unknown, this educating series lets you explore the diverse natural beauties of the world.

The Disappearance of Madeline McCann

Another absorbing documentary all about the case of Madeline McCann's disappearance! I can assure you for 8 hours you are glued to the tv, watching back to back episodes, wanting to know more. This gripping series leaves you bringing your inner detective to the surface…. What happened? How did it happen? Why did it happen?

Ted Bundy Tapes

This engrossing series is all about the notorious killer Ted Bundy. This includes archival footage and audio recordings made on death row and present-day interviews… this leaves you with all over body shivers and every hair standing upright! Prepare to hear the most unheard of actions.

Knock Down The House

Your weekend viewing is sorted by way of Knock Down The House, a compelling feature-length film about four remarkable women who ran primary campaigns in the 2018 midterm elections. Alexandria Ocasio-Cortez – the youngest woman in history to be elected into Congress at 29 – stands out as the star of the show.

Street Food

Street Food takes you on a tour of the world's best street food - a true foodie's dream.

Delhi Crime

The shocking real-life story about a young women who was gang raped on a bus in Delhi.

Abducted in Plain Sight

Literally everyone is talking about this mind-blowing documentary about an Idaho family whose sociopathic neighbour becomes fixated on their 12-year-old daughter. Prepare to have your mind blown.

Fyre Festival

Directed by Chris Smith, this mind-blowing investigative documentary tracks the infamous story of 'the greatest party that never happended'. Prepare to be gripped, entertained and horrified in one 90 minute sitting.

Dogs

A documentary series that celebrates the deep bonds between humans and their canine companions. Heaven!

Joan Didion: The Centre Will Not Hold

This intimate documentary, directed by Griffin Dunne, charts the illustrious career of Joan Didion, whose literary work helped record pivotal moments in America such as the Charles Manson murders.

Three Wives, One Husband

In this fascinating Netflix documentary, filmakers spend one year in the Mormon community of Rockland Ranch where it is tradition for men to have more than one wife. While it will leave the feminist in you raging, it is SO addictive. We challenge you to not binge the whole series in one sitting.

Wild Wild Country

You've probably heard of Wild Wild Country as it's been storming our social media feeds since its worldwide release on 16 March. The six-part documentary follows Bhagwan Shree Rajneesh, an Indian spiritual guru and alleged sex cult leader, who created a 'utopian city' in the desert in 1980s Oregon. It's a story 'full of unbelievable twists', so it's no wonder the series has already received a 100% rating on review site Rotten Tomatoes.

Tig

Do you ever find yourself laughing uncomfortably when the universe is against you? Those times where, when everything seems so bleak, you find yourself saying "You've just got to laugh!". That's exactly what comic Tig Notaro did, and her legendary stand-up set is the basis for this documentary. The set where, in 2012, she announced her breast cancer diagnosis, shortly after being diagnosed with a severe bacterial infection, and the death of her mother. Her search for humour in the midst of devastation is unforgettable.

Bobby Sands: 66 Days

In 1981, Bobby Sands – an imprisoned Provisional Irish Republication (IRA) soldier – lead a hunger strike at HM Prison Maze in Northern Ireland. He, along with nine other hunger strikers, lost his life after 66 days, aged 27. This documentary gives us an insight into Bobby's beliefs – and his final journey.