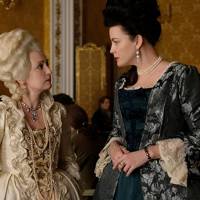 30 of the best period dramas ever
We love a good costume drama. And with season two of ITV's Victoria hitting ours screens this week starring the brilliant Jenna Coleman as the young Queen Vic (and Tom Hughes as her devastatingly handsome Prince Albert), we've rounded up the best period dramas ever made, from Poldark to Pride and Prejudice.
Little Drummer Girl

Who: Daniel Litman, Florence Pugh, Michael Shannon
What: An English actress is recruited by the Israelis to infiltrate a Palestinian assassin's terrorist cell.
USP: It is brilliant, beautiful and has a killer script - literally.

Harlots

Who: Samantha Morton, Lesley Manville, Jessica Brown Findlay
What: Brothel owner Margaret Wells struggles to raise her daughters in London during the 18th century
USP: Aside from the excellent plot lines and dreamy costumes, this wildly successful ITV drama is created by all-female creative team. J'adore!

Victoria

Who: Jenna Coleman, Tom Hughes, Rufus Sewell
What: Sumptuous costume drama covering the diminutive teen Queen Victoria's (Colman) ascension to the throne in 1837, and her early years as the head of state.
USP: Writer Daisy Godwin has based the show on Victoria's diaries and letters and the young queen is a lot racier than her dour elder years imply. Plus, it's reported that the Queen is a fan.

The Crown

Who: Claire Foy, Matt Smith, Vanessa Kirby
What: Huge, big-budget dramatisation of the life and reign of Queen Elizabeth II. Netflix have seven seasons planned, each spanning a decade of the Queen's life. Watch the trailer for season two here.
USP: It really delves into the (imagined) personal struggles and sacrifices of the Queen and her family; it's juicy and addictive without being trashy.

Poldark

Who: Aidan Turner, Heida Reed, Eleanor Tomlinson
What: Ross Poldark (Aidan Turner) returns to Cornwall from war and promptly gets caught in a love triangle between his childhood sweetheart Elizabeth (Reed) and his former kitchen maid Demelza (Tomlinson).
USP: If you haven't even heard about the topless scything by now, where have you been?
Read our interview with the Poldark men

Downton Abbey

Who: Michelle Dockery, Dan Stevens, Joanne Froggatt, Laura Carmichael, Lily James, Dame Maggie Smith
What: The continually-changing lives, loves and losses of the upper class Crawley family, and their downstairs staff, beginning with the sinking of the Titanic in 1912 and finishing in 1925.
USP: The withering putdowns of Dame Maggie Smith's Dowager Countess of Grantham. Sample burn: "Don't be defeatist, dear, it's very middle class."

War And Peace

Who: Lily James, James Norton, Gillian Anderson, Jim Broadbent
What: Epic ensemble drama based on Leo Tolstoy's doorstopper of a novel, and following three aristocratic families' fortunes in Russia during the Napoleonic War. Romantic Natasha (James) wants to find love, awkward Pierre (Dano) has inherited huge wealth but wants to help mankind, and courageous Andrei wants to be a hero.
USP: The dance scene between Natasha (James) and Andrei (Norton) is a visually stunning piece of television.

Peaky Blinders

Who: Cillian Murphy, Sam Neill, Helen McCrory, Annabelle Wallis
What: Set post WWI in Birmingham, it concentrates on a criminal family – led by the tortured Tommy (Murphy) – as they rise through the ranks as gangsters. Gritty and violent, the title comes from the gang's chosen method of menace – concealing razor blades in the peak of their caps.
USP: An awesome soundtrack. Modern day music (Nick Cave, Radiohead, Jack White) is used to great effect against the period backdrop.

Pride And Prejudice

Who: Who: Colin Firth, Jennifer Ehle
What: The BBC's adaptation of Austen's novel may just be the best. Elizabeth Bennet (Ehle) and her unmarried sisters are encouraged to find husbands by their interfering mother. Independent Lizzie wants to marry for love and isn't impressed by snooty Mr Darcy (Firth). The feeling is mutual.
USP: Twenty years before Ross Poldark scythed topless, Fitzwilliam Darcy emerged from a lake in a sopping wet white shirt. Pre-social media, it went the 90s version of viral (everyone bought the VHS and replayed that bit over and over).

Call The Midwife

Who: Vanessa Redgrave, Miranda Hart, Helen George, Emerald Fennell
What: This beloved BBC's drama follows a team of midwives attached to a convent (some nuns, some lay nurses) as they deliver babies in 50s and 60s East London. Based on the memoir of a real life midwife of the time.

USP: Working class women's stories aren't often depicted on screen. This female-heavy cast explores the social and cultural issues of the time.

Mr Selfridge

Who: Jeremy Piven, Amanda Abbington, Katherine Kelly
What: Charismatic American businessman Harry Selfridge (Piven) sets up London's iconic store in the 1900s. Initially he fails to find success but then becomes a master of promotion. The four seasons span the next 30 years.
USP: Its soapy storylines, which are frothy in the best possible sense.

Great Expectations

Who: Gillian Anderson, Douglas Booth, Ray Winstone, Vanessa Kirby
What: Based on Charles Dickens' classic, Pip (Booth) becomes upwardly mobile after he's bequeathed money by a mystery benefactor. As he makes his way in the world, he falls in love with Estella (Kirby) and encounters her bitter adoptive mother Miss Havisham (Anderson), who has never recovered from being jilted decades ago.
USP: Burberry model Douglas Booth makes Pip a very attractive proposition.