Bob hairstyles are rumoured to be the definitive look of the season. Here's how to nail the trend...
If you're looking for a way to update your look, a bold new cut could be the way to signal new-season status. Specifically, a badass and boujee bob.
Short, universally stylish and endlessly versatile, the bob will keep you feeling current and fresh throughout the season even when other trends are changing fast. Bob hairstyles are officially the most popular request for hairdressers this season too, with more and more celebrities swapping their long hair for something choppy and chic.
Here, GLAMOUR columnist and hair stylist Larry King shares his best tips for achieving the ideal bob...
1. It's really important, as I always point out, to consider your hair texture when cutting a bob. If you've got really thick hair it's possible to end up looking like a mushroom, so make sure you ask the stylist to thin it out as much as possible. A bob on fine hair will tend to make it look thicker and fuller.

2. A bob can be styled in so many ways and can be dressed super luxe and shiny or you can get a really grungy rock chic look by adding some of my Velvet Texture clay.
3. Think about the length; shoulder-skimming will always look elegant and a cheek bone-skimming choppy French chic adds loads of character.
3. Graduation (where it dramatically slopes at the nape) can tend to look a little dated so ask your stylist to keep blunt on ends and break it up with soft texture.
4. Fringes are mega with bobs and can be the difference between it looking classic or cute and sassy. Micro fringes look great with a short French bob - think Natalie Portman in Leon.
Fringes and bangs are this season's most versatile hair accessory, so get ready to embrace the trend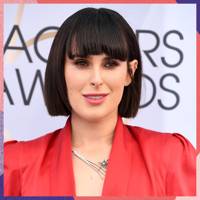 Hair
Fringes and bangs are this season's most versatile hair accessory, so get ready to embrace the trend
5. A bob is also a great length for curls and Afro hair because you can play with shapes and really tailor it to suit the curl.
As well as Larry's mantras for achieving the perfect bob, here are five reasons why bobs are GLAMOUR's go-to cut RN:
1. A bob hairstyle is a seasonal all-rounder. Spring, summer, autumn, winter - you can work this style into tousled beach waves for the sunshine and blow dry sleek and straight for party season.
2. You can make a bob work for any hair length. Short (slightly grown out) pixie cuts can be styled into pretty crops, mid-length hair looks amazing in a lob style and long hair can be worked into a short hairstyle of sexy tousled waves.
3. It works with your hair parting AND your fringe.
4. It looks good with any hair shade - from brunette to bleach blonde.
5. You can create amazing retro curls or go for a super slicked back vibe.
Irina Shayk shed her signature supermodel hair for a sleek, short bob. 'Mum hair' has never looked so good.

Emily Ratajkowski has been rocking long hair for as long as we can remember, but the 27-year-old model has switched up her look with a choppy new bob. The voluminous 'do perfectly frames her face - we are loving it!

Mila Kunis has a new haircut and we're loving the chic 'do. The actress stepped out for Cinema-Con with a side-parted wavy bob. We first spotted her new look on her hairstylist's Insta, Chad Mood. He's known for looking after her tresses as well as Oliva Munn's and Shay Mitchell's.

Dua Lipa is the undisputed queen of cool and her latest hairstyle is all the evidence we need. The singer posted this snap to her Instagram with the caption 'snip snip' and she's giving us all the inspo we need to take the chop.

Demi Lovato can do no wrong when it comes to changing up her hairstyle. As the ultimate chameleon, she's now rocking a swept over choppy bob and makes us all want to pull out the scissors. Her hairdresser, Cesar DeLeon Ramirez, confirmed he'd created this wig for Demi for when she wanted to rock a shorter look, but we think she'd suit it full time!

Beachy-wave bob

Nobody does a beach girl bob better than Chris Hemsworth's wife, Elsa Pataky. Shoulder-length and full of choppy texture it's the perfect 'wake up and go' cut.

Audrey Hepburn-bob

Vanessa Hudgens isn't afraid to try out daring new styles, and her latest cut is leaps away from the mermaid hair she used to wear. The Audrey-esque fringe is very on trend and we're betting bobs will go from chin-length to cheek-grazing in 2018.

Slicked back bob

Olivia Culpo looks like a total boss with her sleek and sharp bob. If you're sporting a similar length, straighten it, use your fingers to run through some wet-look gel and then comb into place.

Mid-length bob

This is the perfect wake-up-and-go length for those with a natural wave. Simply flick some of your shorter layers over to your favoured side and you'll create instant bedhead volume.

Mid-length bob

Jourdan Dunn knows how to style a shorter crop. The Brit beauty likes to add texture to her bob in the form of glossy undone ringlets. It gets our vote, for sure.

Mid-length bob

Eiza González recently chopped off her long hair and debuted this gorgeous lob - aka the perfect side-parted haircut. We love how the waves add dimension to layers.

Mid-length bob

Kristen Bell is our current go-to lob inspiration, her wavy strands and long fringe shape her face greatly.

Mid-length bob

Kendall Jenner's tousled mid-length bob is perfect for thick hair.

Mid-length bob

How stunning is Jenna Dewan-Tatum? The beauty overshadowed her hubby, Channing Tatum, at the premiere of Kingsman: The Golden Circle. And can we talk about her tousled bob? So on point!

Mid-length bob

Who would have guessed that a polo neck would be the best way set off a bob? Emma Roberts shows us how.

Mid length bob

We think Jemima Kirke is looking fantastic at the moment. Her peachy-pink makeup in this photo is stunning, as is her wavy bob-length locks.

Mid-length bob

Alexa Chung is our pin-up for cool girl hair. And we predict this choppy bob with a softly sweeping side-fringe is going to convince a legion of long hair fans to go for the chop.

Mid-length bob

Yes we adored Michelle Williams' elfin bob, but her sleek shoulder-length version looks pretty chic too.

Mid-length bob

We adore Leigh Lezark's choppy black texturised bob and how she has paired it with pretty pink lips.

Mid length bob

Pretty Little Liars star Lucy Hale recently debuted a new blonde hue, but it was her cut we were more excited about. Her graduated choppy lob is the stuff of short hair dreams.

Mid-length bob

Charlize Theron rocks this soft wavy bob with her effortless Hollywood edge.

Long bob

Collar-bone is a great length to shape your face, we're big fans of Jenna Coleman's haircut.

Long bob

J-Law's amazing tousled bob keeps getting more and more blonde, and we seriously approve. The star showed off her latest look at the Madrid premiere for Hunger Games: Mockingjay Part 2.

Long bob

Officially the most gorgeous lob (long-bob) in the world; Rosie Huntington-Whiteley adds plenty of texture to her wavy side-swept style at Paris Couture Week.

Long bob

We really adore Jourdan Dunn's ombre lob, which looks great when styled into subtle curls.

Long bob

Anyone else want to run to the hairdressers after seeing this pic of Anne Hathaway's glossy bob?

Long bob

Lily Collins rocks pretty much the best lob we've ever seen. Ever.

Long bob

On an initial look, Lily James' hair doesn't look like a bob. The actress indeed wears her hair in a lob - a longer bob - rather than a short choppy bob cut, and we think it seriously suits her. This is a great option if you're not quite ready to cut off lots of hair.

Long bob

Khloe Kardashian has a new short 'do, and we love it! The Keeping Up With The Kardashians star called upon celebrity hairstylist Jen Atkin and gave her permission to chop chop chop.

Straight bob

Olivia Wilde recently cut her locks and her new sleek bob is giving us all the hair-spo. Tuck yours behind your ears, just like Olivia, for sophisticated chic.

Straight bob

We love Bella Hadid's take on a straight bob - it's sleek but with added texture.

Straight bob with fringe

Bella Hadid owns the copyright on chic bob with this cut.

Straight bob

Selena Gomez wore her hair in a simple centre-parting bob for the Met Gala 2017. We love how the simplicity of her style let her bold pink eyes do the talking.

Straight bob

Jourdan Dunn looked chic and sharp on the VMAs red carpet where she debuted shoulder-length graduated bob.

Straight bob

Zendaya is scoring some major cool points at the moment not just for her style (here's seven reasons for starters) but please can we just take a moment to appreciate this excellent bob action?

Straight bob

We really liked Kylie Jenner's short icy blonde bob at the Met Gala 2017. The tucked-behind-the-ear detail is so understated yet chic.

Straight bob

Rihanna's hair was extremely on point at the BRIT awards 2016. Styled into a sleek bob with flicked-out ends, we will definitely be taking these pictures to our hair salon.

Straight bob

Celebrity hairstylist Jen Atkin revealed Khloe Kardashian's shorter bob cut on her Instagram. She had previously been sporting a lob, but these extra few inches off have made all the difference.

Straight bob

This is how you create the "power bob". Bravo, Jemima Kirke.

Straight bob

Sleek and chic, gorgeous girl-next-door Kirsten Dunst has been rocking this blonde bob for years.

Straight bob

For a super-sharp look, try a chic, short, straight bob like Alicia Keys.

Straight bob

We can't wait to play copycat with Kate Bosworth's sleek and straight side-parted long bob.

Straight bob

Rosamund Pike's Golden Globes 2015 side-swept bob is all kinds of wonderful. Take this picture to a hairdresser, stat!

Straight bob

Jennifer Aniston never gets it wrong when it comes to hair - and we love this long sun-kissed bob on the actress.

Straight bob

Bella Heathcoate looked stunning in Cannes. She proved straight locks are having a moment, as are classic red lips.

Straight bob

Kelly Rowland's sleek cut is perfectly shaped with a gorgeous glossy finish. Top marks!

Straight bob

Game of Thrones star Emilia Clarke showed off her glossy brunette bob on the red carpet. We love the flicked-out ends of the style.

Bob with tousled curls

JLaw has been making a fairly regular appearance in our bobs gallery, mainly due to the fact her 'do quite literally goes from strength to strength.

Bob with tousled curls

Hailey Baldwin's textured lob is alllll the hair-spiration we need. We'll be taking this picture to the hairdresser...

Bob with tousled curls

The 2016 GRAMMY awards saw Kaley Cuoco sporting an excellent tousled bob, complete with rock'n'roll grown-out roots.

Bob with tousled curls

Pretty Little Liars star Lucy Hale has one of the dreamiest bobs out there! Here she kept the style simple with a centre parting and tousled waves.

Bob with tousled curls

Kristen Wiig's wavy blonde lob has become our new hairstyle inspo. She looked fantastic at the premiere for Zoolander 2.

Bob with tousled curls

Sienna Miller's tousled, wavy bob had a laid-back boho feel, which we totally love.

Bob with tousled curls

Kristen Stewart's hair has been through many changes, but we think we like her best with a short wavy bob, as seen here.

Bob with tousled curls

Naomi Watts has the perfect tousled beach blonde bob - we'll be taking this pic to our hairstylist!

Bob with tousled curls

We're rather obsessed with Charlize Theron's perfect beachy blonde bob. She showed off her gorgeous locks at an event for The Huntsman.

Curly bob

We're loving Vanessa Hudgens' shorter locks. She looks so cute with perfect curls and those gorgeous smoky eyes.

Curly bob

...Katy's curled bob is reminiscent of silver-screen goddesses of the golden era. Classic, chic and oh-so stylish.
A-listers with pixie crops

Curly bob

Before Cara shaved her head for a role, she was rocking this stunning icy blonde bob cut.

Curly bob

Seriously, how does Lily Collins get that shine on her stunning wavy bob?!

Curly bob

Emma Stone showed off her cute curly bob at a press conference in Cannes for La La Land. We like her matte lip colour, too.

Curly bob

Lea Seydoux's short bob is chic, cool and extremely stylish. Especially when she pairs it with this rosy lip!

Curly bob

Blonde beauty January Jones gives us a lesson in vintage glamour with this softly curled long bob. We adore.

Curly bob

We love Jessica Chastain's short strawberry blonde bob (we don't know if it is a new 'do or simply a faux-bob), which was styled into vintage waves for the Metropolitan Opera season opening night of Verdi's "Otello" in New York. If it's simply a faux-bob for Jessica, we think it looks fab and that she should consider the chop!

Curly bob

Want to trial a bob without going for the chop? Follow Emily Blunt's lead and try a tucked under faux-bob style. Leave one longer curl forward for a super-sophisticated look.

Curly bob

Not only is Zosia pulling off the tricky grey hair colour trend with aplomb, her side swept bob is picture perfect, too.

Curly bob

Wow. Jennifer Lopez's new curled bob is so super gorgeous we've already called our stylist.

Curly bob

Style icon Tavi Gevinson has been upping her beauty game recently, too. We adore this subtly curled short bob style she's been rocking as of late.

Curly bob

Miranda Kerr recently cut her hair into a bob, and showed it off at the Vanity Fair Oscars party. We love the tight curls and glossy sheen.

Curly bob

Kate Hudson's awesome bob strikes again! The star has been taking her look shorter and shorter recently, and wore her locks in cute curls for a red carpet event.

Bob with a fringe

Stepping out on the 2014 Venice Film Festival red carpet with a brand new 'do this month, was Emma Stone. The actress debuted this rather gorgeous jaw-skimming rusty red bob which was the perfectly chic tonic to her diaphanous green gown.

Bob with a fringe

The most dramatically-debuted bob in a long while, Taylor Swift's new shorter style got us all talking following the GRAMMYs 2016.

Bob with a fringe

Italian model and actress Eva Riccobono's bob is so short it's almost a pixie crop. If you're feeling brave, a super short choppy cut is a great way to wear the trend.

Bob with a fringe

We've already fan-girled over the stunning Marion Cotillard and her gorgeous wavy bob, but we also love it when she straightens it out, like this. Major points go to the star for her excellent sweeping bangs as well.

Bob with a fringe

While growing out her famous pixie crop, Emma Watson worked a chic retro bob complete with corkscrew curls.

Bob with a fringe

Fifty Shades of Grey actress Dakota Johnson stepped out in New York City showing off a new hairstyle - a long bob. Let's just hope she'll be able to grow out her hair in time for filming Fifty Shades Darker, the second installment.

Short bob

We've been obsessed with Kate Mara's hair from day one. She's rocked a number of styles and shades, but this bleach blonde bob is one of our ultimate faves.

Bob with a fringe

It's no secret Alexa Chung has one of the best bobs in the biz. At Chanel the style icon led the way with 70s tousles and a parted fringe. Lovely.

Bob with a fringe

Add a long, choppy fringe to your bob for a seasonal update that will score you maximum style points. We love Edie Campbell's above-shoulder crop.

Bob with a fringe

Hair chameleon Rita Ora joined the bob brigade with this soft, slightly tousled blonde hairstyle with a messy fringe cut in. It's a more subtle hair hue for Ms Ora too.

Short bob

Thinking of trying a bob but not sure if it'll suit you? Pull a Claire Danes, who showed off this pretty faux-bob 'do to the 2013 Emmys. A winning look, we think you'll agree.
In case you were wondering, that gorgeous lip colour is Laura Mercier's 'Mod',

Short bob

Sweep your blond bob to one side and add volume at the roots to recreate Cameron Diaz's look.

Short bob

Keira Knightley looks effortlessly beautiful with this wavy super-short bob.

Short bob

When we finally pluck up the courage to get a killer jaw-length bob - we're going to ask our hairdresser to copy Kate Mara's gorgeously dip-dyed version. Please.

Short bob

Blimey jingles. We cannot handle how devastatingly, achingly darn cool this shaggy, choppy bob is on Clemence Poesy. Pass us the scissors – stat!

Short bob

For her appearance at the Love, Rosie film photocall at the Rome Film Festival in mid October, LilyCollins teamed a champagne hued trouser and crop top ensemble with a hot red lips and neatly tonged bob. This is sophisticated and oh-so-easy to recreate red carpet beauty look.

Short bob

The stunning Arizona Muse has one of the best curly bronde bobs in celebs-ville. We love how she recently combined her style with some nude lips and kohl-lined eyes.

Short bob

Dad's a drummer, Bob's your uncle.
Lily Collins new chop is poster-girl-worthy for shorter styles. We love the extreme side parting and gentle flick.

Short bob

Evan Rachel Wood is never shy to take a risk when it comes to her hairstyle. Long, short and everything in between, the 27-year-old beauty has tried the lot. Her latest look, a glossy cropped bob, is a striking style, and it gets even better...