This clever pillow promises to banish acne while you sleep
If you struggle with acne and have tried every lotion and potion on the market, this new invention could FINALLY help you stop spots in their tracks.
The best news? All you need to do is hanker down in bed and sleep.
A lazy girl's dream, this clever new pillow promises to alleviate acne while you snooze.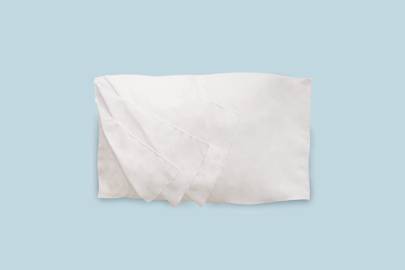 If it's starting to sound like it's too good to be true, allow us to explain ourselves.
The déjà pillowcase, £30, has "pages" of fabric, meaning you get eight nights of perfectly clean sleep on a bacteria-free pillow.
So why do you need one, we hear you ask? Let's get down to the nitty gritty.
During the night, oil from your hair, hands, and face build up on the surface of the pillowcase. Each night of rest leads to more buildup. While this oil keeps your skin healthy and moisturised in normal amounts, rubbing in old oil each night clogs pores and aggravates acne.
[image id="VE9r0VDVb4X"]
That oil makes a great breeding ground for acne-causing bacteria. Gross.
If that wasn't enough to make your skin crawl, your pillowcase collects dust from the air, and dirt from anytime someone has leaned against it wearing clothes worn outside. With this pillow, you are ALWAYS sleeping on a clean pillow.
Has achieving clear skin ever been so simple? We think not. Zzzzzzz.
Check out our guides to how to get rid of acne scars, treating hormonal acne and the best acne treatments
DermaTherapy Pillowcases

You might have heard about the glories of silk pillowcases, but this antimicrobial nylon-polyester blend has its own benefits to boast. Smoother than high thread count cotton, they absorb water 60% faster and allow you to be at optimal humidity. Say goodbye to nightsweats, this regulates your temperature perfectly throughout the night.


Deep Sleep bath soak

Yes we're banging on about ThisWorks, sorry, but it really is the gift that keeps giving. Take this bath soak, which relaxes your body and mind with therapeutic salts. Sod drying your hair, just roll straight out of the tub into bed.


'Relax' Room Fragrance

A few drops of this oil into the accompanying fragrancer (that warms it to release the scent) turns your room into a zen AF bubble of holistic heaven. MUCH safer than nodding off with a candle on too.


'Settle' Oil

Formulated to calm a restless mind, rub a bit of this into your palms and breathe it in. All the way in. Again. One more time. Asleep yet? We thought so.


Simba Hybrid Pillow

The perfect pillow doesn't just adjust to your temperature, but has options to change the firmness and height as well. We're sold.


Spacemasks

Ok so these masks do look a bit like a sanitary product, but trust us when we say: put this on your face. Individually sealed, they warm up when they come into with air and wrap your face in a cosy little cuddle. Stellar.


Sleeping Body Lotion

People went loco for this lotion last year, with claims that it knocked them out cold. Sign us up.