Should we be putting coconut oil on our faces? We ask the experts
Coconut oil is one of those things that everyone swears by. Dry hair? Coconut oil. Cooking a fancy meal? Coconut oil. Life falling to bits? Coconut oil. But are we making the mistake of relying on it too much?
Worrying articles began spreading earlier this week that coconut oil could actually be terrible if you're prone to acne - but everyone always says it's so hydrating and wonderful, so how can that be?
If, like us, you were keen to hear from a professional, look no further.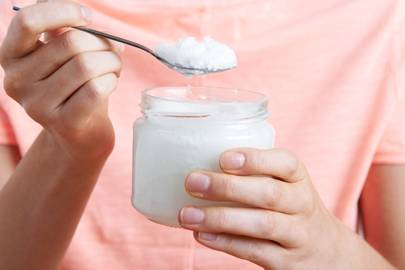 We asked Dr Yannis Alexandrides, founder of 111Skin and Head of Surgical Practice at , for his thoughts on the 'wonder oil'.
Reports have been circulating that coconut oil actually isn't very good for the skin on your face, what are your thoughts on this?
"Coconut oil does have hydrating properties and so similarly to a moisturiser, can be used to hydrate the skin without having to use any other additives such as alcohol. It's also naturally antimicrobial so it's great for killing off any surface bacteria that gathers on your face during the day."
"However, it's an occlusive moisturiser and so hydrates by trapping moisture beneath the skin and essentially clogging pores; because of this, if you suffer from or have acne-prone skin it can often do more harm than good. One of the main causes of acne is excess oil (excess sebum or skin oil can block pores and this blockage is what leads to breakouts); consequently, rubbing more oil on your skin can lead to clogging of hair follicles and, ultimately, can lead to inflammation and breakouts."
So how would coconut oil affect someone with oily skin?

"Coconut oil is comedogenic, which means that it has a tendency to block pores; this, combined with someone who already has oily skin, could easily lead to more clogging and acne lesions."
How to *actually* banish chapped lips, according to science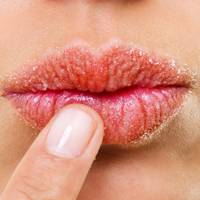 Lip Balm
How to *actually* banish chapped lips, according to science
And what about dry skin?
"Coconut oil's largest benefit comes from its hydrating properties. It creates a film on the skin that prevents water loss, and ultimately acts as a barrier function, which can be very good for dry skin. It is also made up of a unique combination of fatty acids; including lauric acid, which has a way of penetrating the skin that other oils don't have."
Is coconut oil linked to acne or more damaging to those with it?
"It really does depend, it's difficult to classify something as comedogenic as what may clog one person's pores and cause acne lesions may not affect someone else's skin at all. What's important to note is that if you suffer from oily or acne-prone skin, coconut oil could easily result in you breaking out more."
Any tips for those using coconut oil in their beauty regime?
"There are different types of coconut oil, extra virgin and fractionated. Extra virgin has undergone limited processing and tends to be higher in nutrients and antioxidants than a refined oil. It is solid at room temperature, which means that it's too heavy for oily skin types as it's more likely to clog pores."
Acid could be the answer to finally clearing up your acne scars, according to experts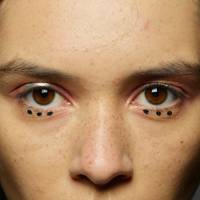 Acne
Acid could be the answer to finally clearing up your acne scars, according to experts
"Liquid or fractionated coconut oil has had most of the long-chain fatty acids removed so lacks some of the healthier fatty acids such as lauric. Nevertheless, it is still full of medium-chain fatty acids, vitamins, and antioxidants. This is a better oil to use for people with oilier skin as it absorbs quickly, which reduces risks of clogging pores."
"If you struggle with oily skin and are acne-prone, there are some other options such as hazelnut and grapeseed oil, which are also hydrating. However, like with any other oils, adding more oil to oily or acne prone skin increases the risk of clogging pores."
So there you have it. If you'd previously used coconut oil on your already acne-prone skin, you could be doing it more harm than good. If in doubt, speak to a skin professional to get some advice tailored to you.
Looking after your skin on a budget? Here are our best picks from supermarket skincare:
Nspa Expert Facial Cleansing Brush, £12,

nspa Expert brings you the latest skincare innovation to enhance the benefits of your daily cleansing routine. The light-weight hand held nspa Expert Cleansing Brush has a dual speed rotation for daily pore-refining cleansing to effectively remove light make-up, pollution and skin impurities. You can get your hands on the brand's products in Asda.

nspa Expert Nightly-Repair Cream, £10,

Reduce the appearance of wrinkles whilst improving skin firmness with this purse-friendly cream. The collection is fortified with Crocus Chrysanthus Bulb extract, proven to help reduce the appearance of ageing skin and provide a smoother, more supple complexion. Whilst you sleep your skin is busy regenerating and repairing itself. This deeply indulgent and nourishing formulation has been developed to support your skin during this natural process.

Absolute Ultimate Sleep Cream, £22,

This cream is supercharged with anti-wrinkle peptides, moisturising hyaluronic acid and skin-brightening actives, this fatigue-fighting cream transforms fine lines, pigmentation and slackening of the skin in just four weeks.

Pure Micellar Water, £2,

This micellar water is made with waterlily to help soothe and calm even the most sensitive of skin. It gently cleanses and cares for skin, lifts away make up and impurities to leave skin feeling soft, refreshed and revitalised.

Lacura Caviar Illumination Day Cream, £6.99,

The Caviar illumination Day Cream is the perfect way to start your day. Light in texture and full of luxurious ingredients, this product will keep on working throughout the day long after you have applied it. With added SPF it is a must for any skin-conscious beauty buyer.

Lacura Chamomile Face Mask, £1.99,

Who says you have to splash out to enjoy a sheet mask? These bank balance friendly masks are also kind to skin thanks to the infused hyaluronic acid for instant radiance.

Silvercrest Sheet Mask Maker, £34.99,
Alongside their range of creams and lotions, Lidl also have this revolutionary sheet mask printer. Simply add your ingredients, pop a collagen tablet in and press print.

Pure Cleansing Powder, £2.40,

This multi-tasking product is able to cleanse away the day and gently exfoliate. Plus, the powder to paste format makes the whole experience more fun.

Lacura Hot Cloth Cleanser, £3.99,

Making a thrifty alternative to other cult cleansers, this cocoa butter and chamomile-infused formula melts away makeup and daily grime. They've even thrown in a muslin cloth, too.