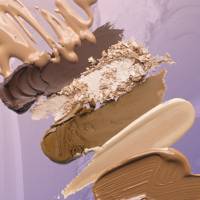 I've tried 1,500 foundations and this £13 one tops the lot
"HOLY SH*T!" The actual words that came out of my mouth as I watched my foundation turn my skin from booze-drained, post-Christmas grim to fresh-off-a-Bali-detox glow.
My editor had asked me to try out Drew Barrymore's ultra affordable Flower Beauty makeup over the holidays in celebration of our January digital issue, The High Street Beauty Issue starring Drew Barrymore herself and I'll admit there was a flash of snobby side-eye involved – I love my luxurious brands. When I picked up Light Illusion Foundation, my expectations were way low: I love Drew but what does she know about makeup formulations? Yes, she's on screen and has her face made up regularly, but just because you can make a salad doesn't make you a chef, right? WRONG. So wrong. Drew: I am shook.
"I've never tried plastic surgery… it's a very slippery slope": Meet GLAMOUR's January digital cover star, Drew Barrymore
Drew Barrymore
"I've never tried plastic surgery… it's a very slippery slope": Meet GLAMOUR's January digital cover star, Drew Barrymore
Now I don't dish out the Holy Sh*ts lightly. It's my Golden Buzzer. My Hollywood Handshake. Get one of those bad boys and you're in. Why the swears? It's my job to be tediously picky. I've tried over 1500 foundations in my twenty years as a beauty journo: liquid, BB, CC, cushion, powder, airbrush… and only three* have made it into main-feed life that I'd genuinely recommend to mates. It's also from the high street and costs £12.99; something I'd usually recoil at because cheap means that corners have been cut (usually in the clunky packaging or drying formula). Yes, the bottle is a tad clunky but even if it came in a KFC bucket I'd still slap it all over my face, it's that good. Here's why…
The finish: I'm all about the glossy, dewy, juicy skin vibe, so anyone after a matte finish can basically scroll to the end now. This has glow in spades and the moment you start applying it's like coating your face in high-shine Shellac. That plasticky, cellophane-skin effect dials down about 50% once dry and set, leaving you with a gentle reflective sheen that you'd get if you were to mix a standard foundation with a drop of highlighting fluid.
The coverage. It's medium (red blotches and imperfections are gone but freckles still come through) and when I tried building it up later in the day it blended perfectly to a fuller coverage (truth: I broke Dry January I drank red wine at Sunday lunch, and my flushed cheeks were 100% hidden).
The application. With a damp Beauty Blender, it's a breeze. I just bounce it all over and I'm done, zero buffing required. With fingers, it stretches well without streaking and gives you a more sheer, bordering-on-tinted-moisturiser look. When applied on top of Flower Beauty In Your Prime Hydrating Primer, it needs a blending brush to diffuse the edges, but the pigment stays put for longer (ace for desk-to-dinner days). My raisin-dry skin needs a ton of Hyaluronic Acid serum and facial oil, and even after all that skincare, it still sits perfectly without caking or splitting. Honestly, I was floored by how well it performs.
Now the not-so-great stuff:
1. Foundation, like perfume, is totally subjective so obviously it might not 'live' on your skin in exactly the same way as it does on mine. But having read hundreds of reviews, the consensus is super positive and echoes my Holy Sh*t.
2. If you have greasy, shine-prone skin, step away. This is JLo levels of glow. However, I did get my friend with combo-skin to try it with some setting powder and she loved it.
3. Despite it being cruelty-free, this is not for Nature girls. Light Illusion is rammed full of emulsifiers, silicones, plastic polymers and reflective powdered metals, and Drew isn't ashamed to admit it.
4. The shade range. Eeeesh. This is a major low-point. Superdrug only stocks 5 shades and they're pretty much all Caucasian. When I checked Flower Beauty's own US website, there were just 12 shades, which isn't surprising in the diverse beauty landscape. Although the rumour is that more shades are coming, darker skins should not be an afterthought, particularly as the brand's mission statement claims that "Flower empowers women by developing products that embrace individual beauty and make life easier." But only easier for some.
Back over at Superdrug, you can also find Flower Beauty concealer, lip colours, a setting spray (surprisingly delish) plus brilliant blush and highlighter palette, and hopefully the eye makeup will land soon. Until then, Light Illusion Foundation is hands down the star buy, it could even have its own DrewTube tutorial channel (why am I not making millions in marketing?). It made my knackered, grey, sleep-deprived, screen-damaged, over-indulged and late-thirties skin look fresh, rested and pinging, like I'd drenched it in a cold glass of icy vitamin water. Dry January? Not for this face.
*Of course I wouldn't leave you hanging. Here they are:
For a sheer tint: Bare Minerals Complexion Rescue Tinted Hydrating Gel Cream (14 shades)
For medium coverage: Clinique Even Better Glow Light Reflecting Makeup (30 shades)
For a full, matte finish: Estee Lauder Double Wear Stay-in-Place Makeup (61 shades)
Scroll down for GLAMOUR's favourite foundations...
Foundcealer Multi-tasking Foundation, £33,
Buildable coverage alongside hyaluronic acid, vitamin E and titular babassu, a "superbalm" with nourishing and soothing qualities, for glowing coverage. Yes please.

Giorgio Armani Luminous Silk Foundation, £42,
If you're a makeup junkie you've obviously already heard of this one. A Kardashian favourite, this Armani foundation delivers a seamless complexion with silky finish.

#FauxFilter Foundation £32,

After its launch in October 2017, Huda's foundation quickly became a full coverage favourite with Youtubers all over the globe. NikkieTutorials called it out for being particularly long-wear, saying she could go at least 12 hours without powder after applying.

Pro Filt'r Soft Matte Longwear Foundation, £26,
Rihanna blew everyone away with her new makeup line - and while beauty aficionados were eagerly waiting for the highlighter's release, they found themselves actually in love with the foundation. The coverage is full and the complexion looks air-brushed after application, with beauty vloggers calling it "Rihanna's skin in a bottle". We're particularly obsessed with the dewy finish and the selection of 40 shades. Amazing.

Skin Long-Wear Weightless Foundation SPF 15, £32,
Very smooth and blendable, this foundation offers brilliant coverage with added glow. Plus, it controls excess oil while keeping your skin moisturised.

Fluidity Full Coverage Foundation, £16,
In a rave review of Morphe Fluidity, our Deputy Beauty Editor said, "I really can't fault this foundation, it delivers on everything it claims. From the full coverage to the truly excellent shade range and long-wear (I wore it for 12 hours and it looked exactly the same at the end of the day as at the start)." A high compliment from someone who tries 50+ new products a week.

Original Foundation SPF15, £27,
As far as powder foundations go, this is one of the best buildable coverage formulas on the market. It makes skin looks airbrushed, blurring imperfections without caking and blending seamlessly with the skin. Lightweight and breathable, it's great for those who don't want to feel like they're wearing makeup and is the ideal introduction for new foundation users.

True Colour Flawless Liquid Foundation, £12,
Many who have struggled to find the perfect colour match in foundation before, have found solice in this Avon best-seller. It not only caters to different skin tones, but undertones as well, which is pretty impressive for a £12 steal. It's often in the sale for £6 so keep an eye out and buy in bulk.

Teint Idole Ultra Wear Foundation, £32,
If you're always out and about and need a long-wearing foundation that stays put comfortably, this is the one. Available in forty shades, this little bottle of Lancome gold offers medium to high coverage that's buildable and will get you from day to night.

The Soft Fluid Longwear Foundation, £90,
A weightless, creamy formula that has the most natural of finishes, La Mer's skincolour is a cult-favourite of red carpet royalty and pro-makeup artists - Kim K, Patrick Ta & our very own Alessandra Steinherr are all huge fans. It's well worth the price tag, leaving the skin ultra glowy and (most importantly) protected with SPF20.

All Hours Foundation, £35,
If you love a flawless base, this is the foundation for you. YSL's new offering is available in 22 shades and gives you the perfect complexion 24/7. The liquid foundation is waterproof and transfer-resistant,and also comes with a soft-focus finish thanks to spherical-shaped silicon resin. It's incredible, you've got to try it.

Born This Way Foundation, £29,
Drying to a matte finish with a hint of glow, this is ideal for combination skin that needs a little of both. Long-lasting and with a flawless texture, this was always bound to make the foundation hall of fame.

Estée Lauder Double Wear, £33.50,
This is a must have for anyone that loves a high coverage foundation. With its stay-all-day formula and velvet finish, this foundation will leave you with a flawless complexion whilst still being lightweight and comfortable to wear.

Les Beiges Foundation, £40,
The dreamy, light-weight formula melts into your face on application, giving a coverage that is complete but appears sheer. This, plus its super-smooth finish and glow-enhancing qualities, makes it worth the price-tag.

Charlotte Tilbury Magic Foundation, £32,
5 years in the making, this high-coverage foundation succeeds in covering anything from dark circles to unwanted blemishes. It also has a great range of shades and comes in a rather pretty bottle. Put simply, Charlotte's creation really is magic.

Makeup Forever Ultra HD Foundation, £29,
An updated formula from the original HD Foundation, Makeup Forever's bestselling base offers the best in high coverage. Perfect for oily skins, the foundation has a semi-matte finish, with a slight glow. This is one of our all-time favourites and comes in 40 shades and is a popular choice for darker skin tones. For the best finish, apply to the centre of the face and blend outwards towards your hairline.

Tom Ford Traceless Foundation Stick, £66,
If you want to look and feel of a liquid formula with the convenience of a stick application, Tom Ford's Traceless Foundation Stick is the perfect choice. Used as a concealer it completely banishes imperfections, or it can be used all over for a flawless finish. Build from medium to full coverage.

NARS Sheer Glow, £33,
If you want a foundation that will create a dewy finish with incredible luminosity, Sheer Glow is the one. The silky foundation enhances natural beauty rather than covering it which makes it the perfect all-day-every-day skin product.

Rimmel Wake Me Up Foundation, £8.99,
If you've had less than your allotted eight hours' beauty sleep, this is our secret weapon: a cover-all formula for a fresh, dewy finish, complete with SPF15 to protect your skin. Added bonus - it smells great too.

Clinique Stay-Matte Oil-Free Make-Up, £25.00,
Clinique's oil-free offering contains laminaria saccharina extract, which helps regulate sebum production, and willow bark extract, which absorbs oil from the skin's surface. The coverage is sheer to medium but feels light and keeps skin shine-free.

MAC Face & Body Foundation, £26,
Relied on by make-up artists the world round, this water-based, water-resistant foundation provides natural coverage for face and/or body (as suggested by it's does-what-it-says-on-the-tin name). It's the perfect choice for festivals and events where you need a long-lasting finish.