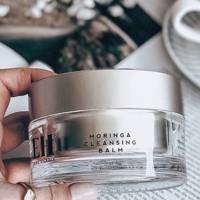 This cleanser has 100% 5-star reviews for good reason
The OG of cleansing balms, was once the preferred face wash of every Insta influencer going. But that was 2013. Since then, the formerly-cult cleanse has been lost amongst the wave of high-tech formulas, brand spankers launches and millennial pink packaging.
But ineffectual and redundant, it is not. In fact, with more choice making our purchases more difficult than ever, a return to old school favourites may be exactly what's needed. And, if the 137 users dropping five-star reviews of the product on Feel Unique are anything to go by, the buttery cleansing balm remains one of the most reliable and luxurious options to melt away every last trace of make-up at the end of the day.
In fact, among its myriad benefits, the cleanser has been credited by commenters with leaving skin feeling "smooth, supple and hydrated," declared "AMAZING!!!" and relied upon for shrinking pores, stopping breakouts and promoting glow, according to
"This is probably the most amazing thing I have ever used on my face," says one devotee in the reviews. There's "no comparison with any other cleanser. At the top of its game" said another.
Glowing praise and – presumably – glowing skin indeed.
A quick look at the ingredients list establishes it as a certifiable cocktail of skin-boosting heavyweights. Moringa seed extract, wild sea fennel and vitamin E all help to balance and purify. Orange, neroli and mandarin extract rejuvenates and jasmine, cedarwood and rose help to recondition for ultra soft, healthy-feeling skin.
Time to dust off its lid, then.
Here are some other brilliant cleansers we swear by for squeaky-clean skin...
God, aren't French women just the chicest? Famous for their low-key beauty regimes, we froth over French pharmacy brands and hallelujah, a new one is launching in the UK. Collosol Eau de Lait (from £9.50 for 100ml) is launching in February at John Bell & Croydon, according to Cosmo. The purse-friendly cleanser (the brand's only product) has three uses: makeup removal, face and body cleanser and a bath milk. Famous fans include Karl Lagerfeld, Clémence Poésy and Vanessa Paradis. Race you to snap some up, oui?

Electrogel Cleanser, £25,
Pleasing to the eye (we do love a 'Grammable brand), this cleanser isn't just a pretty face: some boffin scientists have popped negatively charged 'electrogel' in this, which will attract and pull the bad stuff (that is, generally, positively charged) out of your skin, ready to be rinsed away without drying it out in the slightest. People with combination skin have gone crazy for it, and we can see why.

Facial Cleansing Powder, £32,

As far as powder cleansers go, this is one luxe lover. Add a little water for a more granulated texture or some extra drops for a creamy lather – the power is in your hands.

Cleansing Gel, £53,
Don't be fooled by the wee-yellow colour, this gel cleanser smells absolutely dreamy. Not to mention, it's extremely gentle on the skin, but somehow manages to remove mascara with ease. A gem for dry skin.

Purifying Cleansing Mousse, £50,
This well-balanced cleanser uses lilac flower for its anti-inflammatory properties, and aloe to sooth. Use it first thing in the shower because the zingy scent is properly energy boosting.

Cleansing Bar, £9.90,
Making soap sexy again, this innocent looking bar actually contains a cocktail of lovely things like prebiotics and lactic acid to cleanse and soothe skin - AND doesn't actually contain any soap. So good it keeps selling out.

Cleanse & Polish Hot Cloth Cleanser, £16,
If you think you're into skin care and you haven't tried this, then you're a fraud. The buttery, delicious smelling cream melts away makeup, then the cloth gently exfoliates as you remove the cleanser. Some cleansers come and go, but this will always have a place on our bathroom shelf.

Milky Jelly Cleanser, £15,
You'd be forgiven to think Glossier skincare might not be up to scratch. But you'd be wrong. This cleanser leaves no trace of makeup (eye and lip included) and soft skin in its wake. Can they do no wrong?!

Gentle Skin Cleanser, £8.99,
Simple, affordable, and a celeb favourite (we're looking at you, Charlize Theron), there's nothing to dislike about this classic cleansing hero. Find a face wash as good for under a tenner, we dare you.

Amazing Face Moringa Cleansing Balm, £39,
A firm favourite of beauty editors, bloggers and celebs alike, this balm strips and soothes in equal measure. Comes with a cloth, as all good balms should.

Hydra Life Lotion to Foam Fresh Cleanser, £27,
Foam cleansers work wonders to take off heavy makeup and leave you squeaky clean, but can be a little drying. Not this one though, which - thanks to the initial lotion-y texture - injects moisture into the skin.

C.E.O. C+E Micro-dissolve Cleansing Oil, £35,
If you're looking for a light formula for your morning cleanse, this is perfect. With coconut extracts and nutrient-rich algae, skin is left feeling super soft but never stripped.

Ultra Facial Cleanser, £16.50,
An oldie but a goodie. And an absolute bloody steal. With a gorgeously rich and moisturising formula, the gel formula is great for dry skin.

Cleanser, £40,
If you've never tried a balm cleanser, start with this one. It melts away make up (including that stubborn waterproof mascara) and leaves skin happy as larry. Also smells delicious, which is very important.

Frances Prescott Tri-Balm, £36

Tri-Balm, £46,
Cleanses, exfoliates and moisturises in one sweep. Like, literally a sweep, as the formula is set in a nifty solid stick (like a deodorant) that you roll around your face. Innovative and effective.

Purifying Cleansing Lotion, £3.80,
A product that removes dirt, erases makeup and is suitable for sensitive skin for under £5 doesn't exi.... Oh. A very effective, very cheap skincare staple.

Elemis Pro-Collagen Cleansing Balm, £39.50

Pro-Collagen Cleansing Balm, £41,
Just a small slick of this balm will melt away makeup, grime, dirt and everything else you don't want lingering on your face. Feels nice and smells lush too.

Soy Face Cleanser, £11.50,
Doesn't scrub, doesn't sting, doesn't leave skin tight and tingly, just... cleans. Well. Lovely and cooling, and smells like cucumber too. The perfect everyday cleanser.

Clay-Mud Cleansing Powder, £89,
Combining the intelligence of science with the power of nature, Orveda's products are some of the most effective yet gentle on the market. This one's quite fun too: you rub the powder into a paste by adding water, then smoosh it onto your face with the accompanying Konjac sponge. You'll be bright and squeaky clean after. Worth the investment.

Superstart Probiotic Cleanser -Whip to Clay, £22,
This is clay based to draw out impurities, but also contains probiotics (the buzzword in skincare, don't you know) to feed goodness into the skin. The result is uber clean skin, but without the tightness some clay cleansers leave. Use it in the morning for an all-day-long glow.