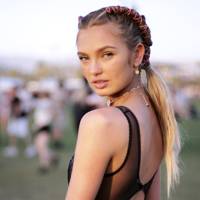 14 festival hair looks that make the flower crown seem dated
Tie-dye braids

Spotted at the Governors Ball Music Festival in New York: the most eye-catching jumbo braids we've ever seen. The best part? They're extensions so you don't actually have to colour your hair to pull it off.

Pipe braids

Romee Strijd's 2018 Coachella hair was on point, with a rubber band-like thread twisted over her pipe brides. Mosh-pit proof and super stylish.

Ombre braids

Joan Smalls was ready to whip her hair back and forth with these fiery red-dipped braids. This is how you can get away with long hair at a festival, without it becoming completely matted.

Boho chic

Go strong on the boho chic look, messy (but not that messy) hair, with tiny braids here and there to romanticise it.

Floral pins

If you still want to add some flowers to your look (RIP, flower crowns), go for tiny pins instead. A much more modern way to release your inner-hippie.

Half-up half-down

This catwalk trend transfers perfectly to the festival fields; just sweep up the top half of your locks into either a braid or loose pony to keep your hair off your face and prevent the windswept look.

The mini braid

Kate Bosworth's hairstylist Bridget Brager styled this mini parting braid for Coachella 2016, and we're still completely obsessed Check out these unicorn braids for similar inspiration.

...And yes, more braids

If your long hair is prone to forming unwanted dreadlocks after a day in the fields, take evasive action by braiding the under sections of your hair into mini braids.

Crimping. Yeah baby.

Create extra texture in a simple ponytail by crimping small sections before pulling back into a low pony. For a field-friendly version, just create mini plaits throughout your hair before bedding down for the night, which will be nicely crimped come morning.

Pastels

There's no better time to experiment with colour than for a festival; keep make-up minimal and go for an all-over wash of temporary pastel colour a la Jourdan Dunn. Hair chalks are great for experimenting, too.

Braids in ponytails

Ponytails can seem a little boring sometimes, and a festival is a perfect time to experiment. Give this fishtail look a go then check out these other cool ponytail hairstyle ideas.

Simple ribbon

Hair ribbons have been had a revival on the runway, and it's such a simple way to take your low pony from bleak to chic.

The shag

Yes, we mean of the haircut variety (!!). 70s-style cuts have never been cooler, and a summer fest is a perfect place to debut one.

Grunge

There's no better place to unleash your inner rock chick than at a festival. Keep hair messy, eyes kohl-lined and noses pierced.