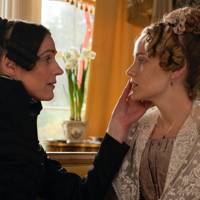 Everyone is obsessed with BBC period drama Gentleman Jack right now
A new Sunday night show on BBC is being hailed by viewers as a 'refreshing' period drama with a pretty modern story and you're going to need to watch it.
Gentleman Jack, an eight-part series on the BBC that aired its first episode last night, is written by Happy Valley's Sally Wainwright and tells the story of Anne Lister, a real-life famous 19th Century wealthy Yorkshire landowner who kept a diary detailing her lesbian affairs. Sounds ridiculously saucy for the time? It really was.
The show stars Doctor Foster's Suranne Jones as our clever, racy leading lady, Anne Lister, who defies all the conventions of a Sunday night period drama (this ain't no Downton Abbey), swapping the Austen-style frilly bonnets and constricting corsets for sharp tailoring - attagirl!
Gentleman Jack follows Lister from the age of 41, in 1832, a few years before she inherited her crumbling ancestral home Shibden Hall from her aunt. She's got a broken heart from unrequited love and has just moved back to Halifax, eventually meeting local Ann Walker (played by Sophie Rundle) who she wants to marry.
The story also follows her journey in bringing Shibden Hall back to life and turning around its fortunes. Of course, being a woman in charge of a stately home in the 19th century was hard enough, being a lesbian was another level so Lister had to her relationships under wrap.
Without giving away too many spoilers, expect some Fleabag-style talking-to-the-camera scenes, quite a bit of gore and rather a lot of VERY noisy lesbian love scenes (there was apparently an 'intimacy co-coordinator to choreograph them all).
The drama also stars Gemma Whelan as Lister's sister and Timothy West as Lister's father.

While US viewers have had a head start on the series, as it began airing on HBO in America on April 22, UK fans were sharing their delight in the new drama last night all over Twitter, praising it to be "validating" for women everywhere.
Others contrasted it to the disappointing Game of Thrones finale and for some, it sparked other feelings ...

Like we said, you're going to need to watch this one... along with all the other shows below...
Trinkets

Seasons: 1
Who: Brianna Hildebrand, Kiana Madeira, Quintessa Swindell
What: Three teenage girls - a grieving misfit, a quiet outsider and the high school queen B - find solace in each other's friendship as they battle high school dramas and identity crises. They also all share a common interest in stealing.

The Order

Seasons: 1
Who: Jake Manley, Sarah Grey, Max Martini
What: If you were a fan of Teen Wolf and Vampire Diaries then look no further. The Order follows a university student who gets thrust into a world of magic and monsters when trying to avenge his mother's death. The intriguing plot and a hilarious one-liners will have you hooked.

Jessica Jones

Seasons: 3
Who: Krysten Ritter, Rachael Taylor
What: Jessica Jones returns for its much anticipated third and final season. The marvel production will see Jessica confront an intelligent and deadly killer and psychopath all the while trying to repair a fractured relationship. Bring on the drama!
Where: Netflix, obv.

What/If

Seasons: 1
Who: Jane Levy, Blake Jenner, Keith Powers
What: A mysterious tech investor makes a lucrative but suspect offer to a pair of cash-strapped newlyweds.
Where: Netflix, where else?

Years & Years

Seasons: 1
Where: BBC1
Who: Jade Alleyne, Maxim Baldry, Sharon Duncan-Brewster
What: On one crucial night in 2019, the lives of the Lyons family is accelerated into the future.

Gentleman Jack

Seasons: 1
Who: Sophie Rundle, Stephanie Cole, Thomas Howes
What: The story of Anne Lister, a real-life famous 19th Century wealthy Yorkshire landowner who kept a diary detailing her lesbian affairs.
Where: BBC1

Euphoria

Seasons: 1
Who: Zendaya, Austin Abrams, Alexa Demie, Jacob Elordi
What: A group of high school students navigate love, drugs and friendship in today's social media driven world. It's essentially a modern day Skins that we all need in our lives.
Where: Netflix

Gentleman Jack

Seasons: 1
Who: Joe Armstrong, Jessica Baglow, Amelia Bullmore
What: Suranne Jones returns to our screens as Anne Lister in BBC1's highly-anticipated period drama. The series tells the story of the formidable Yorkshire landowner who challenged 19th century standards in attempt to save her ancestral home.
Where: BBC 1

The Spanish Princess

The story of Catherine of Aragon, a Spanish princess navigating the royal lineage of England. Aside from it's all-star cast including Charlotte Hope and Aaron Cobham, the show shares the same costume designer as Killing Eve so prepare yourselves for serious wardrobe envy.

Dead To Me

Netflix's dark new comedy about a woman trying to solve the hit-and-run murder of her husband. She befriends Judy who appears to be perfectly normal until her dark secrets are revealed. Prepare for epic suspense and the mother of all cliffhangers.