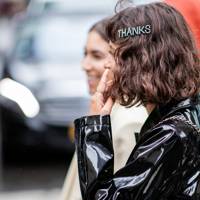 How the humble hair clip made its way back onto the fashion world's radar
While animal print, cowboy boots and shell-embellished jewellery dominated mass-market trends at the end of last year, there was another, more subtle accessory gently decorating the heads of some of the world's chicest dressers that you may not have spotted.
Once the staple uniform of five-year-olds arriving at the school gates, the humble hair clip has had somewhat of a renaissance over the last six months.
And if our Instagram feeds are anything to go by, then we predict that they're going nowhere soon.
Whether adorned with pearls, littered with beads, or a simple acrylic hair pincher, hair clips, grips and slides are one of the most pleasantly nostalgic hair trends to have resurfaced over the last few seasons.
These are the 5 bestselling hair accessories on ASOS right now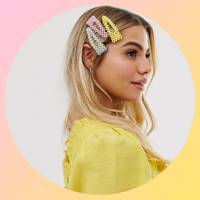 Shopping
These are the 5 bestselling hair accessories on ASOS right now
Making serious waves (especially if it's a particularly tight one), they were first re-ignited on the runways at Chanel - a blindingly-blingy double C hair pin, no less - Max Mara, Ashish, Faustine Steinmetz, Alexander Wang, Simone Rocha and Zadig & Voltaire.
Luckily for those of you unsure how to embark on the trend, there are strictly no rules. Whether you fancy a solo slide with a single pearl, or endless clips adorned with punchy slogans and diamanté - fill your boots. And your bonce...
Scroll down to shop our edit of the best to snap up right now.
Navy Faux Pearl Hair Clip, £61, Shrimps

Lime Bead Hair Slides, £12.50, Topshop

Gold-Plated Circular Hair Clip, £191, Charlotte Chesnais

Oversized Bow Hair Clip, £80, Wald Berlin

Crystal Hair Slides, £8.50, Topshop

Slim Mixed Resin Hair Slides, £10, ASOS Design

Interlocking 'G' Logo Hair Clip, £350, Gucci

Feminist Hair Slide, £38, Eshvi

Crystal-Embellished Hair Slide, £95, Simone Rocha

Lime and Grey Slides, £7.99, Mango

Green Pearl and Crystal Hair Clips, £6, ASOS Design

Mini Jaw Hair Clips, £5, Monki