Already thinking about next year? All the best celebrity Halloween costume to inspire your 2019 #lewk
Halloween may be a good few months away, but with summer's ability to come and go in what feels like a single breath, it'll be here sooner than you think. And rather than leave your Halloween costume ideas to the last minute so you're forced to don a half-arsed cat ensemble, why not start prepping now? Or at least start *thinking* about prepping...
If you're stuck for inspiration, Pinterest and Lyst.com have released their Halloween inspo report, detailing the costumes people are searching for - and it seems we're looking to our favourite celebrities for inspiration (we see you, Heidi Klum: queen of Halloween).
Last year, searches for Margot Robbie's I, Tonya character, Tonya Harding, are up a whopping 720%, while Riverdale searches are up 316%, 90s Icons are up 110% and Mamma Mia searches are up 1636%. A pop-culture fave in the GLAMOUR office is to dress as a chic assassin in a pink Villanelle designer dress à la Jodie Comer in Killing Eve.
This year, we're predicting a whole lot of Spice Girls action off the back of the tour...
How to dress like the Spice Girls now: We've translated the iconic pop group's 90s wardrobe for 2019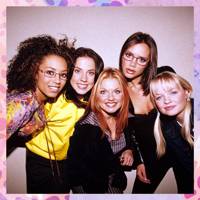 Spice Girls
How to dress like the Spice Girls now: We've translated the iconic pop group's 90s wardrobe for 2019
Whether you choose to dress up as one of the newer film stars or take your sartorial inspiration from your favourite 90s icon, we've rounded up the best A-list Halloween costumes of all time to help get your creative juices flowing well in advance.
Not quite in the mood yet? Check out these 21 scary as hell movies for Halloween to start feeling freaky.
Once you're outfit is sorted, have a peruse of our favourite Halloween makeup looks, , Halloween nail art ideas, pretty Halloween makeup ideas and makeup artists to follow for all the Halloween beauty inspo you need.
Kate Moss looked super chic as a vampire as she joined the A-list at a mega Halloween party.

Heidi Klum - aka the Queen of Halloween - pulled out all the stops as Princess Fiona from Shrek. Iconic.

Beyonce and Jay-Z paid tribute to iconic black Olympians, Florence Griffith Joyner and Tommie Smith, for Halloween.

Kourtney Kardashian transformed into Ariana Grande and the resemblance was uncanny.

Chrissy Teigen and John Legend looked royally good as Queen Elizabeth and Prince Philip.

Ahead of the Victoria's Secret show, which Kendall Jenner is walking in, the Kardashians went as Angels and were certainly catwalk-ready.

Kylie Jenner and Stormi looked absolutely adorable dressed as butterflies for Halloween; too cute.

Zoe Kravitz looked super cool, as usual, dressed as a vampire at the Casamigos Halloween Party.

Rita Ora was unrecognisable as Post Malone for her Halloween party.

Harry Styles dressed as Elton John and we're living for his lewk.

Trust Paris Hilton to pull out all the stops by dressing as a Furbee for Halloween.

Lily-Rose dressed as a ring leader and looked hot to trot.

Kendall Jenner looked sensational dressed as a fembot from Austin Powers.

Cindy Crawford took flight in a 60s-inspired flight attendant uniform, alongside her husband and George Clooney dressed as captains.

Joe Jonas just won Halloween by dressing up as as Sansa Stark - the Game Of Thrones character played by Sophie Turner, his fiancée.

In our humble opinion, Lauren Conrad is one of the chicest stars in Hollywood so, naturally, her Halloween costume followed suit. Lauren chose horror film icon Alfred Hitchcock as her inspo and dressed as Melanie Daniels from The Birds, alongside her son, Liam.

The celebrities are kicking off Halloween in the most epic way for 2018. Holly Willoughby looked sensational as she dressed up as Adams Family matriarch, Morticia, She captioned the pictured: "Morticia is out to play... thank you @mrwilliamwilde for the most perfect dress! Ring by @vickisarge shoes @ginashoesofficial".

OK, we're calling it: Perrie Edwards' Ursula look is *the* lewk of Halloween 2018 already. Just look at that purple contour!

Fearne Cotton looked absolutely epic as Uma Thurman in Kill Bill for her stint on the Halloween special of Celebrity Juice. Now THAT's how to pull off a yellow tracksuit!

Kim Kardashian

Well that's one way to accentuate your curves! Kim Kardashian broke out the latex and dressed up as Cat Woman for a Halloween bash in Miami in 2012, which we think was one of her best looks ever! Must have been warm in there!

Kim Kardashian stunned us all with Hollywood glamour as Marilyn Monroe, alongside her sister Kourtney, as Michael Jackson.

Naomi Campbell looked seriously good in an enormous gold headpiece and matching gold and black dress.

Kate Hudson donned the classic Mexican Sugar Skull makeup for Halloween 2014.

Alessandra Ambrosio gave Kim Kardashian's Halloween effort a run for its money as she also dressed up as 70s icon Cher. Those abs...

Karlie Kloss's second costume of the season payed homage to Marilyn Monroe.

Beyoncé dressing up as Lil Kim was the highlight of 2017's Halloween. And the noughties rapper agrees, reposting all of Bey's shots.

Guess who? Yup, Lady Gaga nailed Edward Scissorhands.

Kylie Jenner and her BFF Jordyn Woods dressed up as 'Fire and Ice'.

Alessandra Ambrosio dressed up as everyone's favourite mythical creature. So pretty.

Nicole Scherzinger wasn't the first to dress up as Queen Cleopatra this year. We love her take on it!

Paris Hilton went for a classic but effective Halloween costume: a bunny rabbit.

Believe it or not, this is Heidi Klum, the undisputed queen of Halloween.

Actress Heather Graham went dressed in Day Of The Dead gear.

Victoria's Secret model Grace Elizabeth went as Maleficent. Amazing!

Natalie Dormer gets an A for effort with her pirate outfit.

Ed Sheeran and his girlfriend Cherry Seaborn dressed as pimps. 👏

Claudia Schiffer decided to rock a pink Power Ranger outfit.

Maya Jama gave Nicole Scherzinger some stiff competition, also dressing up as Cleopatra.

Holly Willoughby might have nailed Halloween 2017 in a unicorn outfit.

Cardi B donned a Cruella De Vil get-up. But it doesn't stop there...

Dita Von Teese looked at home in a gothic ensemble.

Paris Hilton loves a costume doesn't she? For the Fabulous Fund Fair, Paris rocked a Princess Jasmine costume.

Ellie Goulding is that you? The singer dressed up as country music legend Dolly Parton for the party.

Kaia Gerber channeled 1970s dancing queen as she attended the (70s-themed) Casamigos Halloween party - aka the party of 2017 - wearing a chainmail top, mini skirt and blonde bob wig.

Kim Kardashian wore three Halloween costumes for 2017, with the first being this Sonny & Cher interpretation with help from friend Jonathan Cheban.

Mum Cindy Crawford also looked insanely good in a block coloured dress with a fur shawl and corkscrew curls.

Adele had a hard task topping last year's The Mask outfit. This year, she dressed as Bette Midler's character in Hocus Pocus. Look at that makeup and that Gucci dress!

For her third costume, Kim joined sister Kourtney to dress up as the King and Queen of Pop, Michael Jackson and Madonna.

Demi Lovato dressed up as late Tejano singer, Selena Quintanilla.

To the Metropolitan Museum of Art's 'All Hallows' Eve' benefit, Karlie Kloss was the ultimate glam cat. Gorgeous!

VS Angel Joan Smalls went as Minnie Mouse. 🐭

Rita Ora showed up as DC Comics super villain Poison Ivy. We quite like the red hair on you Rita.

Dua Lipa looked ACE as Lydia Deetz from Beetlejuice.

Emily Ratajkowski killed it as Cleopatra at a 2016 Halloween party.

Only Kylie Jenner would be strutting around town in a Halloween-worthy costume when it's not even Halloween. That said, we're definitely copying this space cowgirl look.

Or this one! Boy, is Kylie good at this game, we can't wait to see what she will wear when it's actually Halloween. Here's she dressed as Christina Aguilera in the music video 'Dirrty', for the singer's birthday party.

Holly Willoughby did Tinkerbell with a twist (of blood!).

Who didn't dress up as Harley Quinn in 2016? Lindsay Lohan is obviously a fan...

Perrie Edwards just nailed the whole mermaid look.

We're not sure who Stella Maxwell is dressed up as but it involved a big pair of geek chic specs and it's working.

Wow, Chanel Iman.

Yass Beyonce, Jay Z and Blue Ivy!

Kourtney Kardashian channelled her inner zombie bride for Halloween 2016.

Kendall Jenner attended Kate Hudson's Halloween party wearing a black skintight latex dress, fishnet tights, and platform heels.

Jade Thirlwall looks a bit of all white at Halloween...

For Cindy Crawford's party Alessandra Ambrosia channelled her inner Jessica Rabbit. Hot!

Perrie Edwards looked awesome as Poison Ivy. Great makeup!

Bey and Blue Ivy got grandma involved and dressed up as Salt-N-Pepa for Halloween 2016.

For Halloween 2016, Perrie Edwards looked like a femme fatale as Poison Ivy.

Cindy Crawford and family threw their annual Halloween party and host Cindy Crawford looked ace in her punk rocker ensemble. Wait until you see the family photo...

Jenna Dewan Tatum looked awesome as a unicorn as she headed to the Gerber Halloween party.

YASSSS, Bette Midler! We love that for her 2016 Halloween party she dressed up as her character from her 1993 hit movie, Hocus Pocus.

For Kate Hudson's annual Halloween bash Katy Perry dressed up as, yep, you've guessed it, Hillary Clinton. Is that Orlando Bloom by her side?

Love this! Jessica Alba and her BFF Kelly Sawyer dressed up as Patsy and Eddie for Kate Hudson's Halloween 2016 party.

Talk about amicable exes! For Kate Hudson's annual Halloween party, her ex Matt Bellamy and his new wife-to-be, Elle Evans, arrived in full spooky get-up.

Leslie Mann and husband Judd Apatow arrived at Kate Hudson's Halloween party ready to party.

Zara Larsson dressed up as a circus ringmaster and looked awesome.

Julianne Hough headed out to a Halloween party dressed as, um, we're not sure. We think she's just done the 'I'll wear a wig' thing and hoped for the best.

Emily Ratajkowski dressed up as a sexy Marge Simpson at Heidi Klum's Halloween party.

Gigi Hadid looked smoking hot as Sandy from Grease at Klum's Halloween festivities.

Nicole Scherzinger wore a S&M take on the sexy cat option.

Paloma Faith attended Jonathan Ross' party as a kinky French maid who had been shot through the head, naturally.

Jessica Lowndes dressed as a sexy circus compere for Halloween 2015.

Poppy Delevingne did a little promotion for her younger sister Cara'supcoming film Suicide Squad, dressing up as Harley Quinn, the Joker's on/off girlfriend from the DC Comic book strip that's now being turned into a movie.

All it took was a little expertly applied face paint to transform Arizona Muse's sequin leopard dress into a full-blown leopard costume. Easy peasy.

Little Mix are at it again, this time as the 70s glam rock band Kiss. It's all about the attitude with this look.

Jemima Khan always pulls a great Halloween costume out of the bag. For the Unicef Halloween Ball, she feigned being attacked by a killer clown. They are the worst.

Cindy Crawford & Rande Gerber

Tight curls, white fur, open suit, skinny scarf: Cindy and Rande absolutely killed their 70s look.

Sarah Michelle Gellar & Freddie Prinze Jr.

How dapper! The couple look incredible as Andie and Duckie from Pretty in Pink.

Lady Gaga

Yuh. Soooooo… Turns out this was just one of Lady Gaga's stage outfits but we actually think this would make a pretty great outfit for Halloween, too.

Jack Whitehall & Gemma Chan

Jack Whitehall and Gemma Chan went as a daemon and err, lobster respectively to Jonathan Ross' 2013 Halloween party.

Holly Willoughby

After the previous year's zipper face, Holly Willoughby went as something altogether less scary in 2013.

Gwen Stefani

You could be mistaken for thinking that was actually a fairytale princess - if she wasn't holding hands with a little, green alien.