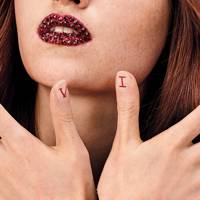 A foolproof guide to removing gel nails at home (with minimal damage!)
Gel nails are legit the best thing since sliced bread. Or ceramic hair straighteners. Or laser hair removal. Anyway, they're pretty major, allowing us to rock a fierce alternative to acrylic nails for weeks on end without worrying about them chipping, and the zero dry-time is ideal for all the busy girl bosses among us.
Yep, gel nails are just great... until it's time to take them off, at which point we all start to question why we got them in the first place. If you peel them off (and who doesn't?) you're left with weak, ridged nails underneath, but let's face it, no one is going to bother going back to the salon to get them taken off by the pros (even though it is recommended).
So, we've devised the ultimate guide to getting your gels off at-home, so you can enjoy your gels knowing your natural nail strength won't suffer for it.
These are the strengthening tools every flaky nailed gal needs in her kit
Nails
These are the strengthening tools every flaky nailed gal needs in her kit
How to remove gel nails at home
Step one: Gently buff the top of your gels
When we say gently, we mean very gently, and be careful not to scratch the cuticles and surrounding skin. Always use a buffer with a low 'grit', which measures how abrasive the buffer is (go for around the 100 to 300 mark).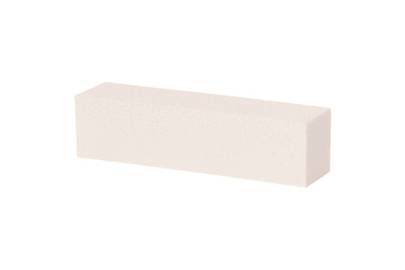 This breaks the uppermost seal of the gel formula, to allow for the nail polish remover to penetrate more effectively.
Step 2: Wrap your nails
You'll need to buy nail polish remover with acetone in it, otherwise it won't be able to break down the gel formula.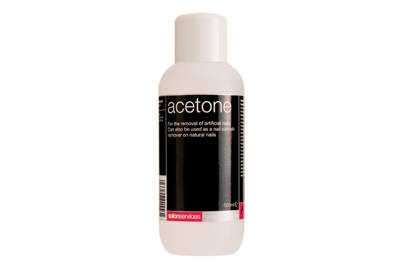 Cut your cotton pads into 10 small squares (one for each nail) and then cut ten strips of tin foil.
Soak each cotton pad in the acetone and place on top of your buffed nail. Wrap the strip of tin foil on top and twist to secure.
Repeat for all ten nails and leave for 10 - 15 minutes.
If you find this a bit of a faff, then you can buy special clips, which do the same job as the tin foil, but stay in place properly and can be reused again and again (we tried , and were seriously impressed).
Or, if time is of the essence, try these clever remover clips from with one touchscreen compatible tip so you can continue to email (or scroll) while you soak. Genius, right?
Oh, and it's a good idea to apply a generous layer of Vaseline to the cuticle area and skin around the nails to protect it from the drying effect of the acetone.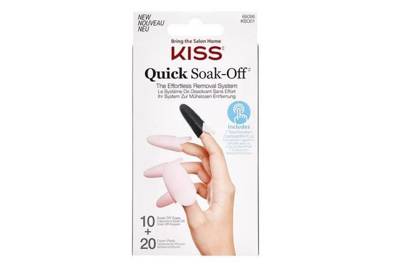 Step three: Remove the foil and cotton pads
Don't worry if your gels are still on - that's ok. They will be soft now and able to be oh-so-gently removed off using a wooden Orange Stick or cuticle pusher. If the gel is still too hard to coax off, you'll need to wrap them again. Sorry, it's the only way.
There's a nail varnish called 'LAIDback' and the colour is even more suspicious than the name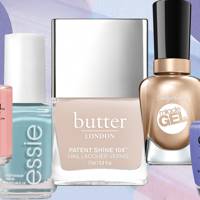 Nail Varnish
There's a nail varnish called 'LAIDback' and the colour is even more suspicious than the name
Step four: Nourish and replenish
Your nails will be feeling a little delicate from the gels and the acetone, so make sure you replenish lost moisture and support healthy growth with a rich oil.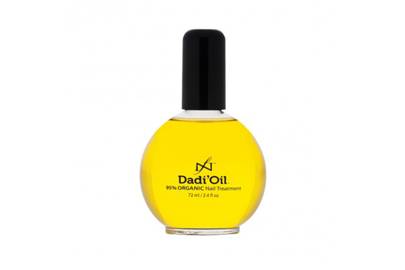 We love l (£10.49), which contains 21 nourishing natural oils and is a firm fave among the pros, or you can use anything with almond oil in it (nails *love* almond oil). Simply add a small drop to each nail and massage it into each nail bed and surrounding cuticle.
Finish off with a generous dollop of hand cream and bask in your nails' natural beauty.
Ready for your next gel mani? Check out these cleverat-home gel manicure kits to save on a trip to the salon.
This is the UK's top-selling gel nail polish with 1,000 flying off shelves a day, so you better believe the hype. There's absolutely no need for alcohol wipes, base coats or top coats - just apply & cure 2 coats for the longest-lasting at-home gel manicure of your life.

Black Convex Curing Lamp Kit w/ Gel Nail Polish Essentials, £83.99,

This kit may be more pricey than others, but it's one of the best we've used and utilises the talent of two in-salon brands. The super fast Mylee LED lamp cures in just 15 seconds and the Bluesky polishes apply like a dream.

Top That Gel System, £59.99,

This must-have gel system cleverly adds a gel-like topcoat to any nail polish so you can transform your go-to nail shades into a chip-free manicure in a matter of moments. Genius.

Professional Starter Kit, £69.95,

A bumper-sized starter kit containing ample supplies to see you through the summer, including a deeply nourishing cuticle oil and foil removal wraps (no peeling them off, please!).

Colour Dip Starter Kit, £40,

Taking gels to the next level is this dip-style system; simply prep nails and dip them into the loose powder and file down for three weeks of flawless wear (yes, you read that correctly).

Deluxe Pink Chiffon Starter Kit, £49.99,

This handy kit contains everything you'll ever need to get started; an innovative LED lamp boasting an automatic sensor and fast-curing technology, primers and cleansers, wipes and buffers, as well as the perfect everyday pinky shade of nail polish for a spring manicure that lasts for two whole weeks.

Gel Manicure Kit, £28.90,

Not only is this one of the longest-lasting at-home gel kits we've tried, but it comes with this super cute, totally travel-sized macaron-shaped LED light. Plus, the clever formula doesn't require a base coat so it's perfect for the time-poor among us.