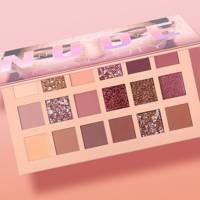 Punchy colours, high pigment and 3D glitter: Here's your guide to every single Huda Beauty eyeshadow palette
Huda Kattan is beauty personified. There's not a trend she won't try or a topic she'll shy away from, and she even did her own makeup for her 2018 GLAMOUR cover.
And who can blame her when she's created palettes of dreams, from her sell-out rose gold palette to high-bream highlighting and contouring kits, and of course, her most recent 'New Nude' eyeshadow palette, filled with blush mattes and 3D glitter shades, which quickly made it a best-seller.
But with so many to choose from, it can be difficult to navigate. Here's our rundown of every Huda palette and what they're best used for, to help you make the perfect pick...
, £56
Set to launch on November 2nd in the UK, Huda's latest palette creation is a total reinvention of 'neutral shades'. It's still a fantastic choice for everyday eyes, but the duo-chrome finishes and high-pigment power make it ideal for bold and unique looks too.

, £25 each
Adding to the Obsessions collections comes five new palettes inspired by precious stones. And boy, do they pack a punch of glitter to prove it. Use these to create a multi-dimensional eye look reminiscent of your favourite stone family; emerald, sapphire, ruby, amethyst or topaz.

Desert Dusk Eyeshadow Palette, £56
Her second and most recognisable palette, Desert Dusk was inspired by the everyday colours Huda would come across in Dubai. Think Turkish Delight, golden sands and sunsets.
Use it: To create dramatic cut-crease eye looks. The contrast of deep, dark colours and metallic golds is phenomenal.

Rose Gold Palette Remastered, £56
The revamped version of Huda's first palette, is Rose Gold Remastered. The OG is no longer available, but with improved textures and a few new shades, the lastest launch won't disappoint.
Use it: Your everyday makeup. These are the colours Huda deems as essentials.

, £25
Next to her hero palettes, comes the 'Obsessions' collections. Compact and containing nine shades, they're ideal for carting around and creating different looks.
Use it: Warm brown is very universal, but the matte browns, reds and oranges make blue eyes, in particular, look bolder by contrast.

, £25
The ultimate day to night palette, featuring light champagne and gold to dark chocolate and black, in an even spread of mattes and shimmers.
Use it: To create both an evening and staple nude smokey eye.

, £25
Loud and proud baby. This is most pop art-like palette in the Huda collection and pigment at its best.
Use it: To create striking block-colour looks. Each colour is brave enough to stand alone.

, £25
The sultry, unsung hero of Huda Beauty. Mauve couldn't get more romantic with plum mattes and shimmery rose golds.
Use it: For a smokey eye with a difference. Green eyes will look ga-ga-gorgeous.

Obsessions Palette Coral, £25
One of two new additions to the Obsessions collection, Coral was made just in time for the UK summer. The burnt orange and dusty pinks will make your holiday glow pop.
Use it: To eye-light. The duochrome finish on two of the shades will make your inner corner blinding to all the haters.

Obessions Palette Gemstone, £25
The second new addition is the only all-shimmer, all-metallic palette, appropriately named 'Gemstone'.
Use it: To try at the metallic eye trend. Appropriate for festivals, disco-techs and whenever the hell you want.

, £40
The palettes don't stop here... oh no. Highlighters are also Huda's domain, and like her eyeshadow palettes, texture plays a big part in achieving that 3D glow. Her first triumph? Golden Sands.
Use it: For a blinding light-like glow.

, £40
Regular, yawn-like shades need not apply. Summer solstice put the holographic HIGH-light on everybody's radar.
Use it: For a mermaid-like glow.

, £40
A frosted, luminous palette that knows how to bring dull winter skin to life.
Use it: To add a lively flush to the cheeks and create an icy eye look by using 'Artic' on the inner corner and brow bone.

, £40
Always one to cater to all skin tones, Pink Sands is for the lighter end of the skin spectrum, so you can achieve a glow no matter how long it's been since you saw the sun.
Use it: For a subtle, everyday flush and glow.

3D Highlighter Palette Bronze Sands, £40
The latest addition caters to medium to dark skin tones, with a bright gold for pop and a deep bronze for chiselled cheekbones. It also works great on the eyes, so win-win.
Use it: To transform into a bronze goodess.