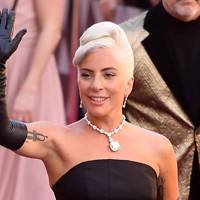 Lady Gaga arrives solo at the Oscars 2019 after breakup from her fiancé, Christian Carino
Lady Gaga took to the Oscars 2019 red carpet alone after the singer called time on her relationship with fiancé, Christian Carino.
Arguably Lady Gaga was dressed for the funeral of her relationship in a black floor length dress by Alexander McQueen - complete with black elbow length gloves. Naturally.
People magazine broke the news that the pair had split earlier this month with Sources telling the publication that the couple's relationship 'just didn't work out' just months after he proposed.
The source also said that 'relationships sometimes end' and 'there's no long dramatic story.'
Speculation about their relationship woes hit fever pitch after Lady Gaga was spotted without her engagement ring on at the Grammys and after she failed to mention her boyfriend during an acceptance speech at the Grammys.
Lady Gaga confirmed they were engaged to Christian Carino back in October.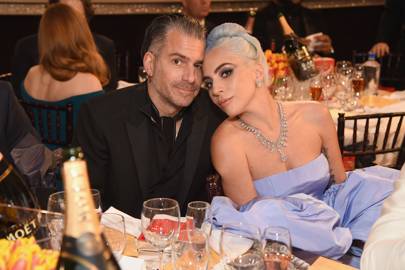 At Elle's 25th Annual Women in Hollywood Celebration at Four Seasons Hotel Los Angeles back in October, Lady Gaga confirmed the engagement rumours by thanking "my fiancé Christian" during her speech.
We were also treated to a proper look at her stunning engagement ring and we're practically reaching for our sunglasses.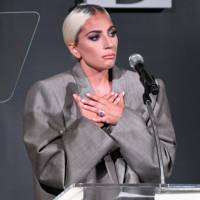 Just look at that rock!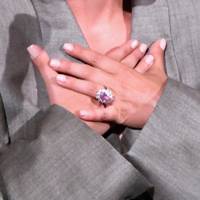 The ring is apparently a £304,000 6-7 carat pink sapphire surrounded by a diamond halo of 3-4 carat diamonds.
We found out in 2018 that Lady Gaga was engaged to her talent agent, 48-year-old Christian, and in an immense show of dedication, he had her face tattooed on to his arm.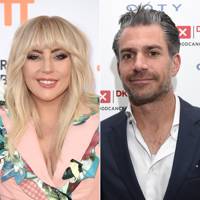 The inking was spotted by fans on some of Christian's photos with his bride-to-be. After an account pointed out that it was not a regular tattoo and actually Gaga's face, the fandom went on to find the original photo he decided to have forever imprinted on his left bicep.
The photo of a brunette Gaga in piggy-tails was from a 2011 photoshoot for V Magazine Asia.
Knowing Gaga's love for tattoos we wouldn't be surprised if she got one of Christian's face too.
The viral photos of the inking surfaced on the internet a couple weeks after it was reported that Gaga secretly got engaged in the summer. It was also reported that Carino asked Gaga's father for permission before he popped the question. He sounds like a true romantic fella.
If the dates ring true, the engagement would have been just one year after Gaga split from her ex-fiance, Taylor Kinney, back in July 2016.
Gaga and Carino were first spotted together at the Grammys afterparty and were also seen getting close before the Super Bowl and at a Kings of Leon concert.
We're sad to hear the news and we hope they stay on amicable terms.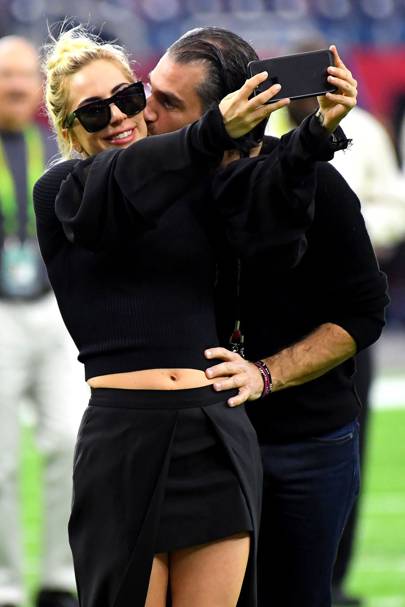 Scroll down to celebrate Lady Gaga's most weird and wonderful style moments...
Lady Gaga opted for a custom bustier dress in black silk faille by Alexander McQueen, with engineered corset seaming and black leather gloves at the 2019 Oscars, but it was the diamond hanging around her neck that stole the show. One of the world's most famous stones, the yellow diamond was first worn by Mary Sheldon Whitehouse at the 1957 Tiffany Ball in Newport, Rhode Island. Audrey Hepburn was then granted permission to wear the diamond for publicity photographs for her iconic role in Breakfast at Tiffany's.

Lady Gaga pulled out all the stops in a baby pink fairy tale gown as she was honoured by the SAG-AFTRA Foundation with the Artists Inspiration Award

She's been out and about promoting her new film, A Star Is Born, and each outfit choice is better than the last. She was a true golden girl in this epic number.

Lady Gaga dazzled at the A Star Is Born premiere in this epic Givenchy glittering gown. Talk about shining on the red carpet!

Taking yellow lens shades to the extreme. Gaga goes full glitter as she performs a tribute to Elton John at the 2018 GRAMMY Awards.

Leaving her hotel in another subtle get-up for a quiet walk around New York city.

Just a low-key metallic look for a night in New York.

Donning a SERIOUS Armani Prive number at the 2018 GRAMMYs.

Our and about in Manhattan wearing a wet-look blue trench... casual.

Leaving hotel "Palazzo Parigi" in Milan showcasing a brand new fringe. Or was it a winge?! Only time will tell...

Leaving hotel "Palazzo Parigi" and heading to the restaurant "Da Giacomo" in a v casual haute couture ensemble by Lebanese designer Ted Khoury

Leaving the Radesky Cafe in Milan after lunch so covered up that we could only see a glimpse of her face and that bold red lip.

We didn't think it was possible, but Lady Gaga's short shorts just got even shorter. She pulls it off.

For a casual outing in Manhattan, Lady Gaga's outfit was cowgirl meets Reese's Peanut Buttercups. We're confused, too.

For the 2017 Grammy Awards, Gaga wore a dramatic look composed of a spiky, structured top (made from zip-ties!) which showed off some major underboob, with some PVC shorts and thigh-high platform boots.

Lady Gaga stepped out in Tokyo ahead of the US elections wearing a crazy tulle dress with layers and layers of ruffles. The singer added a large badge saying 'VOTE' to her hat while an unpinned corset trailed behind her dress. Many have noted this as a reference to the work of feminist writer Charlotte Perkins Gilman.

Lady Gaga arrived in Japan wearing an all black outfit with *massive* black sleeves. The singer also added a cowgirl hat (which she's been favouring of late - see below).

For an outfit in New York, Lady Gaga could have been mistaken for a maid of honour wearing a baby pink dress, complete with a flower-adorned hat and matching bouquet.

Lady Gaga is really favouring the cowgirl look lately, isn't she? This time, she went for the cowgirl Barbie look in full Marc Jacobs.

Lady Gaga goes full glitter cowgirl in a sequined blue suit and a cowgirl hat, complete with sequined platforms. Gaga's back.

Lady Gaga has been favouring the bum-baring short shorts look lately (like here) and we love her for it.

We love this Gaga look - very rockabilly in her high-waisted, washed jeans, shades and studded boots.

Gaga goes Audrey Hepburn in her latest look.

Lady Gaga hits the catwalk for Marc Jacobs in an oversized check coat with a pussy bow blouse.

Lady Gaga made a departure from her usual quirky ensembles to wear this gorgeous pale pink ethereal gown. We love how the drape covers one shoulder and her low bun hairstyle is the perfect accompaniment.

Metallics are one of the biggest trends around at the moment and
Lady Gaga put her own twist on the style with this two-piece silver outfit. It might not be for everyone but it certainly shows off her toned physique.

Even for Gaga, this look is rather risqué! The singer was spotted in a bold printed red jacket, complete with a thigh-high split. She then finished off her look with some space-age-inspired sunglasses. Interesting.

Is it odd that we kind of like Gaga's latest bold ensemble? There's something about that furry jacket and satin outfit underneath that makes us smile!

Oh Gaga, you really have outdone yourself this time! The bold star stepped out on holiday in Italy in this rather interesting netted one-piece with flared sleeves... we love the sunglasses though!

Another day, another bra. Lady Gaga just can't get enough of flauting her assests at the moment... The singer later stepped out in New York sans bra and just gold blazer. Each to their own!

At the Songwriters Hall of Fame awards in New York, Lady Gaga did what she does best, an outrageous outfit! Dressed in a bra and knickers with sheer tights and a velvet jacket, no doubt the singer turned heads...

After performing at the Royal Albert Hall with her collaborator Tony Bennett, Lady Gaga hit the town dressed in little more than sequinned nipple daisies and some rather large knickers. Some how, she pulled it off.

We love this Clueless-meets-French-Riviera look from Gaga. How very demure.

Recently Lady Gaga has been keeping things unusually demure in the style stakes. Following her Oscars' Sound Of Music performance where she did Julie Andrews proud, she's now back to her daring old self. Just feast your eyes on this cobalt leather all-in-one with matching cap ensemble (note the sequinned brows).

You've got to give it to Gaga, she's not one to do things by halves. For a trip out in Paris, the Born This Way singer donned a blow-up metallic star creation to take in the sights of the city of love. Never mind what she looks like - how did she even get into the outfit? Commitment to the Haus of Gaga sartorial cause indeed.

With waves and waves of greeny-yellow hair, it would appear that Lady BraBra is well and truly back on outing in New York. Very Lady G circa Telephone... Love it!

Huh?

Boyfriend jeans and - what looks to be - a band tee is actually a pretty tame look for Gaga but those super-sized sunglasses and extra long Rapunzel hair is a nod to her signature wacky styling.

Salmon pink trousers meets floor-length skirt, a metallic bra-meets-breastplate and a bold furry shrug. It's Gaga all over.

A glitzy pink all in one with matching hat, a waist-skimming white ponytail and impossible-to-walk-in patent heels - just another day in the life of Gaga's wardrobe.

Just how does she walk in those shoes?!

Never one to make a low-key exit, Lady Gaga opts for a look-at-me embellished checkerboard jumpsuit, complete with a mane of silver plaited locks for a day out in the city.

About to head out into London town and need to find something suitable for the chilly weather? Well why not follow Lady G's lead and opt for a massive Mona Lisa-printed dress with sky-high platform heels? Added bonus points awarded for doing your make-up in a similar style to the famous painting, too.

Forget boyfriend jeans and a loose-fitting T, when you're Gaga a reptilian-inspired leather number completes an airport look.

Lady Gaga made sure her nipples were suitably duct taped away when she was this power shouldered sheer blue dress and huge back platforms to a photocall for her new album, Born This Way.

Lady Gaga tried her hand at a spot of modelling, taking to Thierry Mugler's runway in this structured white gown, huge ponytails and bowl-shaped hat during Paris Fashion Week.

There's not many people who'd make THIS kind of effort for a (very) early morning interview, but Lady Gaga's not one to let the daylight interfere with her making a huge entrance. The pop queen wore a futuristic peach latex suit, a Mugler headpiece and a visor to the show.

Of course, Lady Gaga's unique fashion sense doesn't just extend to her wardrobe - check out these prosthetic pyramid horns she wore grafted onto her skin when she appeared on The Tonight Show With Jay Leno.

Taking Christmas a little more seriously than the rest of us, Lady Gaga gifted herself to her audience at the 02 Arena in London all wrapped up like a present.

Is that chocolate smeared on the side of her face? Again, not the wackiest ensemble she's ever dared to wear, but the nun in mourning look was a particularly odd choice for the launch of Polaroid Grey Label.

While this golden dress, bee hive and round sunnies combo was one of the more sedate outfits we'd snapped Gaga in all year, it was the first time the term 'Cat Lady Chic' had been mentioned on the fashion desk.

Before she revealed her shocking 100% fresh meat dress, Gaga went for this positively regal dress choice – a stunning gown by Alexander McQueen and a magical golden feather hat as crafted by Philip Treacy.

On a scale of one to completely bonkers, Lady Gaga's now-legendary meat dress was off the charts. Made from cuts of raw meat – including bacon, steak and pork chops and coming complete with meat purse and shoes – the dress has been specially 'jerked' and preserved to stop it …well…going off, really!

A sheer lace jumpsuit is enough to send tremors down even the most fearless fashionista's spine – not GaGa, who sported hers with a huge plastic flower hat by Charlie le Mindu and matching rose petal mask.

It's all-white on the night for Lady GaGa in a Francesco Scognamiglio tiered overcoat at this year's BRIT Awards, where she scooped three awards. The finishing touch? A Philip Treacy lace mask, naturally.

More skin baring bodysuits, this time white lace and matching booties, courtesy of artist and designer Alex Noble.

Stand back! Lady GaGa accessorises her pearl-covered Terence Koh biker jacket and conductor's hat with erm, talcum powder?!

Sporting a magical, Swarovski crystal-covered 'solar system' gown and platforms, custom made for her by Giorgio Armani – topped with a banana yellow wig.

How do you solve one of fashion's biggest conundrums: what to wear to meet the Queen? With a red latex gown, of course, like Lady GaGa in her Royal Variety performance number, which was complete with Elizabethan collar and 12 metre train – and took seven people two weeks to make!

Adding that extra (possibly unnecessary!) edge to a transparent latex, custom made Rachael Barrett dress with a Mouton Collet antler hat.

The chalky stuff is back, this time dusted over a Marc Jacobs spring 2010 look, John Galliano heels and an Erickson Beamon headpiece for the ACE awards, where the Lady picked up her Stylemaker Award.

Putting her own stamp on a Jean Paul Gaultier gown, Lady GaGa adds a feathered neck brace, along with a mask and feather ring by House of Blue Eyes.

She might have one of the most bizarre wardrobes in pop, but boy, does this girl know the value of a killer heel – she matched her white basque (trimmed with locks of blonde hair, no less) with these droolworthy Raphael Young black and gold booties.

As GaGa goes, this harlequin jumpsuit is pretty low-key – we're talking minimal accessories and poker-straight hair – but that oversized ruff stays true to her out-there style.

GaGa goes back to the future in this disco ball mirrored corset and matching mask performing at Glastonbury.

A telephone? For a hat? You bet! GaGa rocks this quirky accessory by London-based designer Fred Butler for an appearance on Jonathan Ross' chat show – paired with a rather restrained trouser suit.

Nice day for a white wedding: check out bridal couture done the GaGa way, as the style maverick wears a sheer slip and veil over a sequin mini dress and globe earrings for a disco twist.

Another sheer lace jumpsuit comes out of the GaGa closet, but this time it's the halo hairpiece she's wearing that really perplexed us.

Props to Lady GaGa for being the only celebrity who could dream of pulling off this Gareth Pugh-designed winged costume for her performance on the X Factor last year.

An LBD and a pair of YSL patent pumps – surely we're not talking about Lady GaGa?! Oh wait, how could miss that sunflower hairpiece? That's more like it...

Robocop meets the lady in red as GaGa steps out in thisPam Hogg leotard, fishnet tights and the A-list essential, a pair of YSL Trib Twos.

Dressing up her Rachael Barrett silicone number with Giorgio Armani platforms and the unforgettable Philip Treacy lobster hat.

Just what a studded leather corset needs – a pyrotechnic bra. Lady GaGa puts on a real show at the Much Music Video Awards in 2009.

We're not sure which is stranger – the see-through futurism-meets-cavewoman dress, the gigantic floral hand she's wearing. Complete with magical club, of course…