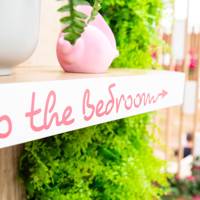 Former Love Island contest Wes Nelson just revealed why the islanders wear barely any clothes
Love Island is here and we couldn't be happier about sacrificing our social lives in favour of 8 weeks on the sofa. And it seems we're not alone; the launch night was the highest rating programme at 9pm across all channels, winning the slot with 3.3million viewers and 18.5% share, peaking with 3.7million viewers, up by 10% on the viewing figures to last year's launch.
Plus, with drama already brewing (will Lucie ditch Joe for Tommy?), we're calling it: 2019 is the best series yet.
If you're just as intrigued as we are by what goes on behind the scenes on the summer's hottest show, we have answers. We flew into the Love Island villa where we grilled the producers, Caroline Flack and new cast (including Yewande, Amy, Anna and Amber), to find out all the cast secrets and here's what we know...
Do the cast get specific instructions?

Ever wondered why the cast are constantly roaming around with little-to-no clothes on? Well, according to last year's contestant, Wes Nelson, the producers tell the male castmates to take their tops off.
He told Roman Kemp on Capital Breakfast, "Yeah, it's not coincidence [that we're always topless].
"Like, I used to try and go out in a hoodie and heavily clothed in the morning because sometimes it is a bit chilly but yeah, you'd have to take that off."
Roman asked if they would shout at him from the sideline, to which he replied: "Yeah, because obviously we'd like to be in the shade a bit of the day because it is roasting hot, so when you're in the shade it is actually quite cold.
"So me and Josh used to run out all the time in little hoodies and they'd be like, 'Wes take that off! Take that off! Take it off.'"
Do the cast get any time off?

According to Kem Cetinay, who was on the show two years ago, the reason Love Island doesn't air on a Saturday is so that the cast can 'get a day off' and head to the beach.
Speaking on This Morning, he revealed that producers take the cast out of the compound to the beach for a few hours. "They get one day off a week," he said. "What happens is it gives them a day to clean the villa and you take your mics off and normally we go to the beach and we just chill out. Not a lot of people know this. What happens is when you take your mics off, you're not allowed to talk about anything to do with the show.
"You've got to talk about home life. You're being watched by an evil hawk, by the producers because they don't want you to talk about what's going on.
"You can all sit and chat but they are quite careful about what you talk about because they want to keep it so everyone at home can see and get it on video. It's more a day off from all the intense games, all the intense dates, deciding who you like and don't like."
Interesting...
Is Love Island scripted?
The show is far from scripted. "The beauty of the format is that it allows us to do what we want," one producer told us. "We follow the way the stories lead, we don't go in with a master plan. The beauty is that we can be reactive and flexible so we follow where the islanders lead us."
How does Caroline fly out to Love Island?
Presenter Caroline Flack can be flown out with a few hours' warning. "We'll get Caroline a passport and fly her out if there's a reason for her to be here tomorrow, and none of us know when that will be as none of us know where the contestants will take us," said one. Caroline also told us that she often has to watch the show in the hotel lobby on her phone as it's the only place she can get WiFi!
Is Love Island cut chronologically?
The show isn't cut chronologically. It doesn't begin in the morning and end in the night; the producers can end a show in the middle of the night to give them time to adapt to what is happening. The evictions often happen at 3am after public votes have been counted up.
Who cleans the Love Island villa?
A cleaner comes into the villa once a week to give it a spruce up and change all the bed sheets.
How much alcohol do they drink on Love Island?
The cast are allowed around two drinks each per night to monitor their consumption.
Do the producers match-make Love Island couples?
The producers never get the match-making right. One of them told us that they all sit around and try and pair the potential couples up - and have never got it right!
Is there a psychologist for Love Island?
It can get pretty intense in the villa so there's psychological help on hand for anyone who needs it. The production team have continued to evolve their processes with each series, as the show's popularity has risen and the social and media attention on Islanders has increased. The key changes this year are – enhanced psychological support, more detailed conversations with potential Islanders regarding the impact of participation on the show, bespoke training for all Islanders on social media and financial management and a proactive aftercare package which extends support to all Islanders following their participation.
The production team clearly outlined their duty of care for series 5.
What is the security like on Love Island?
Anyone coming and going from the villa has to use hand sanitiser to keep germs out. There's also tonnes of security on site and gates to stop any trespassers sneaking in.
Who cooks for the Love Island cast?
A catering station is set up in the grounds of the villa with chefs on hand to make food for the production team and the Islanders.
Are the Love Island cast given contraception?
Love Island have their own branded range of condoms - there are over 200 in the house and they will be replenished as needed.
How many cameras are there in the Love Island villa?
There are 72 cameras dotted around the villa. They are mostly hidden so the contestants will forget they are being filmed.
Is the Love Island grass real?
The grass and flowers are all fake in the villa.
What are the Love Island slogans?
All around the villa, there are neon slogans on the wall including "Eat, sleep, crack on, repeat", "bye, Felicia" and "all the feels", and famous Love Island catchphrases from last year.
Are there cameras in the Love Island toilet?
There ARE cameras in the toilet just in case but the footage isn't monitored. They have it for health and safety reasons.
What's in the Love Island hideaway?
The Hideaway has a kingsize bed with gold sheets, a fur throw and a mirrored headboard, as well as its own private terrace with sprawling views of the hills and a hot tub. Plus, there's a new secret addition: a secret cabinet which can be filled with treats like chocolate-dripped strawberries and champagne.
Are there clocks in Love Island?
Just like Big Brother, there are no clocks in the villa meaning the Islanders never know what the time is.
Do the cast get beauty treatments?
Fans took to Twitter in their droves last year to comment on Dani Dyer's seemingly different hair colour in the final week.
As viewers may have noticed, Dani's hair appeared to transform from light brown to a deep brunette hue overnight.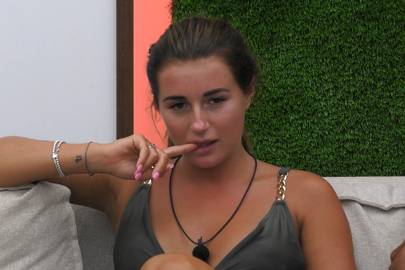 People were quick to take to social media to comment on it...
[ id="1021493400821018624"]
And it seems they were right. A spokesperson for ITV2 told GLAMOUR: "All the girls had hair and beauty treatments within the villa a few days ago. Dani's hair is the main big difference."
Love Island podcast host, Arielle Free, also told us how the girls stay so preened, including the surprising person who cuts the girls' hair.

"Waxing, they fake tan a lot too as they don't want to sunbathe too much or burn. Laura was helping cut peoples' hair (badly according to Kem's well-trained eye). Sometimes they might be able to get their nails or hair done ahead of the final."
How much gets cut?
With the islanders being filmed 24 hours a day and just 40 minutes being aired on TV, there's unsurprisingly a lot we miss out on.
Alex Miller, who was coupled up with Megan when Wes went to Casa Amor, has revealed the difference in what was shown versus what actually happened in the villa.
Speaking to about the moment Wes chose to couple up with Megan, leaving Alex single and heading home, he revealed, "Where I left, I've sort of watched it back and they showed Megan [Barton Hanson] being a little bit cold, Wes [Nelson] being a bit cold. What they didn't show was after that....Wes was in tears, Megan was in tears. And we were all sort of together.
"It was a very tough decision for Wes to make. Afterwards I went up to him and I said, 'Don't worry, don't let it get to you. I would have made the same decision. Just crack on with it.' He was a little bit in tears, and Megan was upset as well. I would have liked to have seen that go in.
"I've got no animosity... If they've found the perfect person for each other, crack on. I hope they do really well."
How do the Love Island cast communicate with each other?
Former islanders Adam Collard and Zara McDermott told how they really communicate with each other away from prying eyes and ears of the producers and other islanders.
"We used to write messages to each other when we were in bed so other people couldn't hear what we were saying," said Adam. "We deleted our messages but the producers told me that they still have them all."
Are Love Islanders allowed phones?
The Love Islanders are allowed phones, but not to communicate with the outside world. Samsung provide them with phones and they have an island chat where they can talk amongst the other Islanders and then Love Island producers can them from the control room.
Do the Love Island cast get free clothes and makeup?
There's plenty of makeup and clothes on offer for the Islanders. GHD and Dyson have supplied all of the hair styling tools (from straighteners to curling wands) in the glam room, while ISawItFirst is offering the Islanders clothes to supplement their own wardrobes and Love Burst - Love Island's own makeup range - is on offer.
Do the Love Island cast know each other?
Producers go to some seriously extreme lengths to keep the contestants from meeting before the show. They are all flown over on different days and different flights. They also stay in different parts of the Island in a plethora of hotels. They have their own personal chaperone to keep them safe and from trying to find the other Islanders and even have their phones confiscated before they jet out.
Are the Love Island cast head-hunted?
Most of the Islanders are head-hunted by producers or talent scouts via Instagram. A lot of this year's contestants have been approached several times to go on previous shows.
After a first look at the official merchandise and the new cast, the time is FINALLY upon us. That's right, people, wave goodbye to your social life for eight weeks because Love Island 2019 is finally here - but it's not too late to apply for Love Island 2019 so act fast!
Scroll down to see inside the villa...