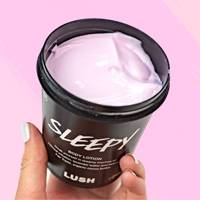 Insomniacs can't stop raving about Lush's 'miracle' Sleepy Cream
Sleep glorious sleep: it gives your skin an unrivalled glow and is the key to good health but it isn't such a godsend when you can't actually get enough of the stuff.
If, unfortunately, you're one of the many million people around the world who suffers with nodding off, this Lush cream could be the answer to your shut-eye woes.
(£9 for 95g) is going viral online thanks to its insomnia-busting abilities.
Here's what 8 hours of sleep does for your skin (in case you need another reason to hit snooze)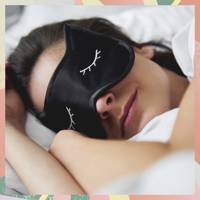 Sleep
Here's what 8 hours of sleep does for your skin (in case you need another reason to hit snooze)
According to the product's description, you'll "sleep well after dipping into this dreamy lotion", which is made with a gentle oatmeal infusion, calming lavender flower and comfortingly sweet tonka absolute.
"A rich, malty and floral perfume conjures up visions of sugar plums and hot drinks topped with whipped cream while the heavenly ministrations of creamy Fair Trade organic cocoa butter and delicate lavender water cool and enrich the skin. Blanket your body in this lovely lotion before stepping into soft pyjamas for snuggly nights beside the fire," advise the beauty giant.
'Ear seeds' are the ancient Chinese remedy for beating insomnia and anxiety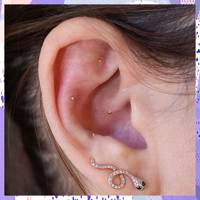 Beauty
'Ear seeds' are the ancient Chinese remedy for beating insomnia and anxiety
The sleep-inducing lotion has hundreds of 5-star reviews with one woman writing: "I absolutely swear by this at bedtime. I apply it on my arms and chest after I brush my teeth. Feels silky smooth and smells utterly gorgeous. Smells like bedtime now! My hubby uses it too!", and another adding: "I used to take anxiety medication for 11 years and had to stop recently which was pretty terrible. But I found that using and smelling Sleepy can help my anxiety not be as bad. It's such a relaxing scent and I love using it! I hope lush makes it permanent or at least brings it to the kitchen often!"
Sweet dreams!
Here's our list of top products to help you get to sleep
DermaTherapy Pillowcases

You might have heard about the glories of silk pillowcases, but this antimicrobial nylon-polyester blend has its own benefits to boast. Smoother than high thread count cotton, they absorb water 60% faster and allow you to be at optimal humidity. Say goodbye to nightsweats, this regulates your temperature perfectly throughout the night.


Deep Sleep bath soak

Yes we're banging on about ThisWorks, sorry, but it really is the gift that keeps giving. Take this bath soak, which relaxes your body and mind with therapeutic salts. Sod drying your hair, just roll straight out of the tub into bed.


'Relax' Room Fragrance

A few drops of this oil into the accompanying fragrancer (that warms it to release the scent) turns your room into a zen AF bubble of holistic heaven. MUCH safer than nodding off with a candle on too.


'Settle' Oil

Formulated to calm a restless mind, rub a bit of this into your palms and breathe it in. All the way in. Again. One more time. Asleep yet? We thought so.


Spacemasks

Ok so these masks do look a bit like a sanitary product, but trust us when we say: put this on your face. Individually sealed, they warm up when they come into with air and wrap your face in a cosy little cuddle. Stellar.


Sleeping Body Lotion

People went loco for this lotion last year, with claims that it knocked them out cold. Sign us up.