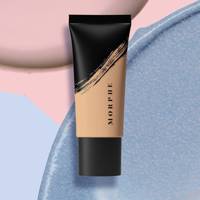 If this isn't the best new foundation, I don't know what is (and it costs less than £20 and comes in 60 shades)
THE PRODUCT:
, £16
THE HYPE:
Available in an impressive 60 shades, Morphe's Fluidity foundation makes some pretty bold claims: long wearing, full coverage, sweat-proof, water-resistant; as well as being oil, fragrance and paraben-free. Sounds like a Godsend for oily-combo skin if you ask us...
REVIEWERS:
Bandi Manzini & Samantha McMeekin
BANDI'S BEAUTY BIO:
Full coverage is the name of the game when it comes to my ideal foundation. And nothing other than a flawless matte finish will do. Having darker skin means that come winter my tired, uneven, and dull skin is the bane of my life and I need a foundation that not only tackles my somewhat oily complexion, but is also pigmented enough to camouflage everything. The foundation struggle is real.
SAM'S BEAUTY BIO:
I like medium to full coverage in a foundation. I want it to cover redness and dark circles in one swipe, but still look and feel like my skin. I usually go for a dewy finish, because I find matte ones tend to accentuate my lines and feel chalky on my skin. Colour matching is surprisingly tricky for me in winter too. Being so pale, I find most 'matches' just make my skin look dull and flat.
MORPHE FLUIDITY FULL COVERAGE FOUNDATION REVIEW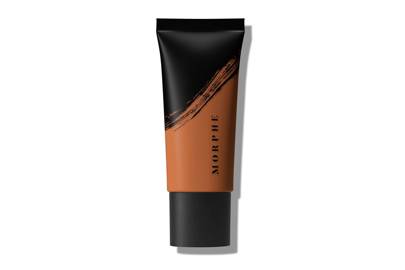 BANDI - Shade F4.100 – Neutral: Light with slight pink undertones
This could seriously be the foundation to end all foundations for me. It just ticks so many boxes *insert hand clap emoji*.
I'll start with the formula itself – it manages to be highly pigmented but also velvety smooth at the same time, meaning the application was an absolute cinch. It blended in a few light strokes for a weightless, airbrushed finish.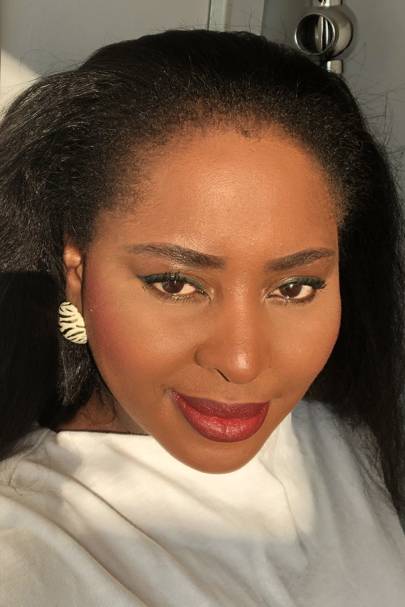 The price you sometimes have to pay for full coverage is a flaky, cakey finish and Morphe successfully avoids this pitfall. The nuance in the shades, which includes an undertone description, set this head and shoulders above other foundations: with darker skin tones, the undertone is equally as important as the shade.
Having a naturally cooler undertone myself, the slight pink undertone in my shade adds a much-needed warmth and brightness to my complexion. The richness of the undertone also negates the need for colour corrector, which means one less product needed for my daily beauty regimen.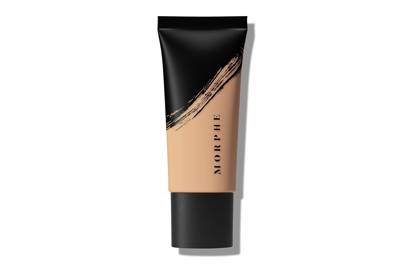 SAM - Shade F2.200 - Neutral: Light medium with neutral undertones
I've been told for years that I'm cool-toned which means a foundation with pink undertones is for me. Well, my Morphe match was one with neutral undertones and I can tell you now, it's one of the best shades I've tried. It covered all signs of redness, particularly around my nose area, and it didn't make my already washed out complexion look flatter, only better.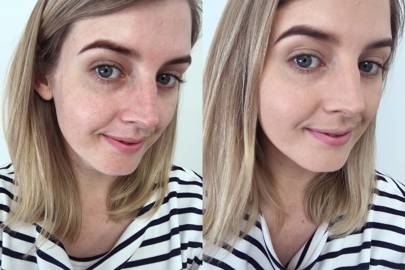 While I didn't fall in love with the look of the finish (dewy girl for life - sorry!) it felt light and breathable on my skin which I loved. It didn't feel like a paste, or leave a chalky and tightening feeling as it dried down. It's honestly as comfortable as they come and stayed this way throughout the day.
The formula itself is runnier than I'd expected from a full coverage foundation, and a little goes a really long way. It was a breeze to blend and a pleasure to use. If you love a matte finish I think you'll go ga-ga for this.
FINAL VERDICT:
BANDI:
If this isn't the best new foundation, I don't know what is. This genius formula blurred my imperfections into submission and for the first time ever, using concealer felt completely unnecessary. And for someone who is an uncompromising full coverage queen that's a huge change. And if that wasn't enough, the non-greasy formula also means that the finish looks like a powder finish, eliminating the setting step too.
SAM:
I really can't fault this foundation, it delivers on everything it claims. From the full coverage to the truly excellent shade range and long-wear (I wore it for 12 hours and it looked exactly the same at the end of the day as at the start). I think we have a new Holy Grail on our hands...
Want to know which other foundations have GLAMOUR's seal of approval? Here's our roundup...
ColorStay Foundation, £12.99,
Those of us with oily or breakout prone skin, look no further. This matte formula has been specially made with oil-reducing ingredient salicylic acid, not only controlling shine throughout the day but also helping to ward off future blemishes.

, £27, Bareminerals
As far as powder foundations go, this is one of the best buildable coverage formulas on the market. It makes skin looks airbrushed, blurring imperfections without caking and blending seamlessly with the skin. Lightweight and breathable, it's great for those who don't want to feel like they're wearing makeup and is the ideal introduction for new foundation users.

, £20, Glossier
When you want a breathable, ultra-thin formula that feels more like a moisturiser than a foundation, this is your stuff. Doesn't hide freckles or make you look too 'done' and comes in five super sheer shades.

, £32, Bobbi Brown
Very smooth and blendable, this foundation offers brilliant coverage with added glow. Plus, it controls excess oil while keeping your skin moisturised.

, £12, Avon
Many who have struggled to find the perfect colour match in foundation before, have found solice in this Avon best-seller. It not only caters to different skin tones, but undertones as well, which is pretty impressive for a £12 steal. It's often in the sale for £6 so keep an eye out and buy in bulk.


Women are going wild for this lightweight mineral foundation that they say is incredibly sweat and water resistant, doesn't cake and also helps beat fine lines. Taking to the reviews section, one woman even went as far as to say it has 'saved their appearance'.

, £34, Jouer Cosmetics
Desi Perkins knows her beauty sh*t. In a video detailing her favourite foundations of the year, she called this one 'bomb AF'. It's SUPER high coverage with a comfortable matte finish that will last you all night. A budding beauty blogger must-have.

, £14.99, Max Factor
If you're after dewy-looking skin that doesn't turn you into an oil-slick, this is the one. It contains hyaluronic acid for a glorious plumping effect, and light-reflecting pearls for a faux-dewy glow, but the formula itself stays matte all day. Yeah, we know, cray. We find it ideal for skin that's just starting to show the first signs of ageing, as it doesn't settle into crows feet or accentuate dry patches.

, £32, Lancome
If you're always out and about and need a long-wearing foundation that stays put comfortably, this is the one. Available in forty shades, this little bottle of Lancome gold offers medium to high coverage that's buildable and will get you from day to night.

£32 Becca Cosmetics
If you're after that lit-from-within glow, this is Becca's best. Luminous, dewy and medium-coverage. It's super-hydrating, making it ideal for dry winter skin.

£32 Huda Beauty

After its launch in October 2017, Huda's foundation quickly became a full coverage favourite with Youtubers all over the globe. NikkieTutorials called it out for being particularly long-wear, saying she could go at least 12 hours without powder after applying.

£34.50 Stila

This water-based foundation is ideal for thirsty skin. Containing glycerin and hyaluronic acid, the formula offers an extra hydration hit while light-reflecting pigments give a luminous finish. It's one that will enhance the good skin you have, rather than masking it.

£35 Givenchy.

Givenchy's latest addition to their foundation collection provides a light but luminous matte finish. Inspired by velvet, there are eight different shades of this new formula housed in a stylish bottle embellished with the French label's signature motif.

, £26
Rihanna blew everyone away with her new makeup line - and while beauty aficionados were eagerly waiting for the highlighter's release, they found themselves actually in love with the foundation. The coverage is full and the complexion looks air-brushed after application, with beauty vloggers calling it "Rihanna's skin in a bottle". We're particularly obsessed with the dewy finish and the selection of 40 shades. Amazing.

, £90
A weightless, creamy formula that has the most natural of finishes, La Mer's skincolour is a cult-favourite of red carpet royalty and pro-makeup artists - Kim K, Patrick Ta & our very own Alessandra Steinherr are all huge fans. It's well worth the price tag, leaving the skin ultra glowy and (most importantly) protected with SPF20.

, £35
If you love a flawless base, this is the foundation for you. YSL's new offering is available in 22 shades and gives you the perfect complexion 24/7. The liquid foundation is waterproof and transfer-resistant,and also comes with a soft-focus finish thanks to spherical-shaped silicon resin. It's incredible, you've got to try it.

, £29
Drying to a matte finish with a hint of glow, this is ideal for combination skin that needs a little of both. Long-lasting and with a flawless texture, this was always bound to make the foundation hall of fame.

, £42
Taking the beauty market by storm, you must have seen this one in makeup tutorials. With long-lasting results for those looking for full coverage, Hourglass has a great selection of colours for fair, yellow, olive and dark skin.

, £33.50
This is a must have for anyone that loves a high coverage foundation. With its stay-all-day formula and velvet finish, this foundation will leave you with a flawless complexion whilst still being lightweight and comfortable to wear.

, £40
The dreamy, light-weight formula melts into your face on application, giving a coverage that is complete but appears sheer. This, plus its super-smooth finish and glow-enhancing qualities, makes it worth the price-tag.

with brush, £35 at QVC
This full coverage formula is great for oilier skin types due to its matte texture. It is long-wearing and comes with a rather effective large foundation brush. Together, the two ensure a flawless finish within a minute flat! Read our guide to the best foundations for oily skin.

, £42
If you're a makeup junkie you've obviously already heard of this one. A Kardashian favourite, this Armani foundation delivers a seamless complexion with silky finish.

, £34
If glowing skin is your thing, this liquid foundation is for you. A little goes a long way meaning it's a great investment, and one that is ideal for dry to normal skin types. Find out which foundations for dry skin will work best for you.

, £32
5 years in the making, this high-coverage foundation succeeds in covering anything from dark circles to unwanted blemishes. It also has a great range of shades and comes in a rather pretty bottle. Put simply, Charlotte's creation really is magic.

, £29
An updated formula from the original HD Foundation, Makeup Forever's bestselling base offers the best in high coverage. Perfect for oily skins, the foundation has a semi-matte finish, with a slight glow. This is one of our all-time favourites and comes in 40 shades and is a popular choice for darker skin tones. For the best finish, apply to the centre of the face and blend outwards towards your hairline.
Read our guide to the best foundations for oily skin.

, £66
If you want to look and feel of a liquid formula with the convenience of a stick application, Tom Ford's Traceless Foundation Stick is the perfect choice. Used as a concealer it completely banishes imperfections, or it can be used all over for a flawless finish. Build from medium to full coverage.

, £33
If you want a foundation that will create a dewy finish with incredible luminosity, Sheer Glow is the one. The silky foundation enhances natural beauty rather than covering it which makes it the perfect all-day-every-day skin product.

, £8.99
If you've had less than your allotted eight hours' beauty sleep, this is our secret weapon: a cover-all formula for a fresh, dewy finish, complete with SPF15 to protect your skin. Added bonus - it smells great too.

, £25.50
Clinique's oil-free offering contains laminaria saccharina extract, which helps regulate sebum production, and willow bark extract, which absorbs oil from the skin's surface. The coverage is sheer to medium but feels light and keeps skin shine-free.

, £26
Relied on by make-up artists the world round, this water-based, water-resistant foundation provides natural coverage for face and/or body (as suggested by it's does-what-it-says-on-the-tin name). It's the perfect choice for festivals and events where you need a long-lasting finish.

, £170
At over £100 La Prairie's Skin Caviar Foundation is obviously at the very top of the price scale. But it's no ordinary foundation. Not only does it boast anti-ageing properties and an SPF-15, the concealer on top is great for masking imperfections pre or post foundation application. It gives a full, velvety skin texture that lasts all day - we'd recommend it to any bride-to-be or beauty addict looking for photo-shopped perfection.

Skin Illusion Foundation, £30,
This luxurious foundation delivers that exquisite glow while providing all the coverage you'll need. It also has pollution protection, making it perfect for any sooty city dwellers.