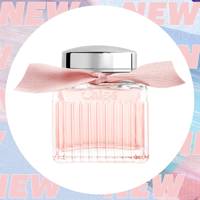 The 12 major beauty launches you need to know about this week
Calling all beauty obsessives! This week is bursting with new beauty launches that you *need* to know about, from luxurious skincare, harnessing the latest intelligent ingredients to revive skin with a new season glow, to fresh new fragrances to dive into for the warm weather, as well as plenty of cheerful makeup, including weightless foundations and believable-finish self tans and bronzers.
Plus, Kim Kardashian's dermatologist Dr Lancer has released a new breakthrough, breakout-treating skincare product, Chloé have announced a floral new fragrance, and Laura Mercier are reformulating their classic Tinted Moisturizer (don't worry - it's even more major than ever).
So go on, revel in the new scientific skincare innovations, the very best in body care, the fabulous fragrances, and the game-changing makeup products that are guaranteed to brighten your day.
Chloé L'Eau, £65, Chloé
Launching: 1st September
If you're a fan of floral perfumes, you'll love this new interpretation of Chloé's signature fragrance. It was formulated to provide a feminine but vibrant burst of jasmine, magnolia and tangy citrussy notes.

Clarifying Detox Mask, £63, Lancer
Launching: 22nd August
He's not Kimmy K's go-to dermatologist for no reason - Dr Lancer has got getting the glow on lock down. His latest creation, a Clarifying Detox Mask, is made with sulphur, green tea and clay to stop spots in their tracks, de-congesting blocked pores and restoring skin's vibrancy.

Advanced Night Repair Intense Reset Concentrate, £59, Estée Lauder
Launching: Out now!
Advanced Night Repair is one of the eponymous beauty brand's most famed franchises and millions swear on it for its wrinkle-plumping, rejuvenating benefits. Now, there's an intense version in the Reset Concentrate, able to protect from environmental aggressors while calming and hydrating the skin. *Adds to basket*.

Tinted Moisturizer, £35, Laura Mercier
Launching: September
Ok, so you're probably thinking "Laura Mercier Tinted Moisturiser? That's not new!" and you would be correct. It's a cult classic! But next month, the brand is relaunching the famed formula, and it's better than ever before. More shade options, meets more SPF and more skincare ingredients for instant and accumulative benefits.

Scrub Apaisant Soothing Scrub, £43, Kérastase
Launching: Out now!
Those of us with itchy scalps can sigh a breath of sweet relief. This new scrub alternative to shampoo removes product and oil build-up, soothing skin and also protecting from pollution.

Pro Filt'r Hydrating Longwear Foundation, £27, Fenty
Launching: 15th August
Serious staying power and lasting coverage, and yet a totally natural finish, this new innovation from Fenty comes in the same inclusive range of 50 shades, but with the added addition of Grape Seed Oil and Sodium Hyaluronate to ensure optimum hydration.

Rouge Coco Gloss in Laque Noir, £28, Chanel
Launching: Out now!
Chanel's Autumn Winter collection is a delicate play on black and white, created by makeup artist and Chanel's Global Creative Make-up and Colour Designer Lucia Pica, who was inspired by the light and shadows of Paris. This opulent gloss is surprisingly wearable, and looks as luxurious over a bold red lip as it does used alone.

Creamfoil Eyeshadows in Crystal Rose, £17, Kat Von D
Launching: Out now!
So lightweight yet so pigmented, these 100% vegan eyeshadows are the perfect mix between powder and cream, blending with ultimate ease and providing impressive payoff that doesn't crease or wear throughout the day.

Rose Sorbet Cryo-Mask, £25.00, Lancome
Launching: Out now!
Our ultimate skincare saviour for the scorching summer weather, this heaven-scent cooling sorbet-mask instantly refreshes, illuminates and hydrates while salicylic acid refines pores and rosewater soothes.

Gabrielle Chanel Essence, £86.00 for 50ml, Chanel
Launching: 29th August
Endlessly elegant and effortlessly feminine, the latest member of the Gabrielle family is a perfectly balanced blend of tuberose, jasmine, orange blossom, citrus and sandalwood.

Hyaluronic Tinted Hydra Powders, £42, By Terry
Launching: September
We all know how wondrous hyaluronic acid is when infused with our skincare - and now we can carry the wonders over to our makeup, too. This power is made of microfine silica pearls and hyaluronic acid pearls, allowing it to blur fine lines and smooth pores, while maintaining skin's moisture throughout the day.

Radiance Accelerator Serum, £98, Elequra
Launching: Out now!
Biodesigned skincare brand Elequra is known for taking naturals to new levels - and their new Radiance Accelerator Serum is a perfect example. It contains micro-encapsulated pure retinol (the wrinkle-smoothing super ingredient), two esters of Vitamin C, which activate on the skin for lasting protection from free radicals, niacinamide, which works on enlarged pores and skin tone, and finally, periwinkle - the first time the potent natural ingredient has ever been used in skincare and boasts impressive pigment correcting abilities.