These are the epic films you need to watch this year
We may still be in the midst of summer but don't let that deter you away from a leisurely afternoon at the cinema because there are a hell of a lot of epic films coming your way over the remainder of the year.
Amongst this year's offerings are the highly-anticipated arrival of Tarantino's Once Upon A Time In Hollywood, Downton Abbey's long-awaited cinematic debut and the film adaptation of Donna Tart's The Goldfinch starring Nicole Kidman. If those don't tickle your fancy then we're certain Frozen 2 or the return of Charlie's Angels will.
Oscars 2019: The winners, jaw-dropping dresses and best red carpet moments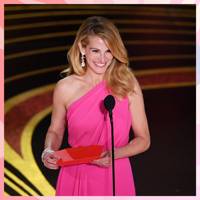 Oscars
Oscars 2019: The winners, jaw-dropping dresses and best red carpet moments
To put it simply, there's never been a better excuse to grab a large glass of vino and book in for an evening (or ten) in front of the big screen.
Here, GLAMOUR lists the must-see new movies of the year.
Once Upon A Time In Hollywood

Release Date: 26th July
What: Tarantino's latest film will see him delve deep into the notorious Manson murders, with Margot Robbie acting as Sharon Tate.

The Current War

Release Date: 26th July
What: Thomas Edison and George Westinghouse engage in a battle of technology to determine whose electrical system will power the new century.

Animals

Release Date: 2nd August 2019
What: Based on the novel by Emma Jane Unsworth, this comedy-drama explores the death of friendships, relationships and what it's really like to have an identity crisis as a thirty-something.

The Sun Is Also A Star

Release Date: 9th August
What: A romantic college student and a young woman who doesn't believe in love fall in love on a fateful day in New York. Super cute.

It: Chapter Two

Release Date: 6th September
What: Get the popcorn at the ready because Pennywise the evil clown is back, and looking creepier than ever. Eeeek!

Downton Abbey The Movie

Release Date: 13th September
What: The long-awaited cinematic debut of the nation's favourite period drama is coming to screens this autumn, hurrah. And many of the show's original cast will be making an appearance including Dame Maggie Smith, Michelle Dockery and Hugh Bonneville. Double hurrah.

The Goldfinch

Release Date: 27th September
What: One of the most hyped literary adaptations is Donna Tartt's The Goldfinch about a boy who steals a 17th century painting. Starring Nicole Kidman and Ansel Elgort, it's safe to say this is going to be a major hit.

Frozen 2

Release Date: 22nd November
What: After the extraordinary success of the original film, Frozen is back! And this time Elsa and the gang are off to explore the ancient mystery of their kingdom. Disney fans, rejoice.

Charlie's Angels

Release Date: 29th November
What: The Angels are BACK and we couldn't be anymore excited. Taking up the Charlie's mantle is none other than Kristen Stewart, Aladdin's Naomi Scott and newcomer Ella Balinska. Bring it on.