GLAMOUR's columnist, Nikki Makeup, reveals the 5 insider hacks the celebrities swear by for the glowiest skin of their lives
Healthy looking skin is at the top of most of our wish lists and there's no better way to achieve that look than adding glow in the right places.
This month on GLAMOUR UK, I am sharing my top 5 tips for the glowiest skin of your life.
1. Skincare to start

The first and most important step to your glow routine is skincare. That's where your glow begins.
If you're a low-maintenance skincare kinda gal then using makeup removing wipes is fine but as wipes tend to leave residue on the skin, it's important to follow this with a quick wash or second cleanse to ensure you have a perfectly prepped canvas for your moisturiser. I love the Evening Detox Cleansing Water by This Works. It's perfect for an easy but thorough second cleanse.
The same goes for your morning routine. Start by cleansing and then follow with your moisturiser of choice but don't underestimate the power of a little facial massage. I love to use my fingertips to really press the product I'm using into the skin and get the blood circulation going. A great recipe to start your glow ritual.
Adding a vitamin C serum to your routine is a great way to brighten and even out skin tone. I swear by it. Clinique have just launched Vitamin C booster drops that can be added to your usual skincare. Genius!
The best highlighters to give you the most incredible glow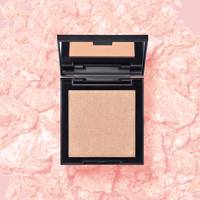 Highlighter
The best highlighters to give you the most incredible glow
2. Prime your way to perfection

Starting your makeup routine with an illuminating primer helps your base to glide on and last longer whilst creating that lit-from-within glow. I love Becca's backlight priming filter. It helps to achieve a beautiful, ethereal skin finish.
3. Keep it light

Regardless of skin type or texture, I favour a lightweight foundation to balance skin tone but maintain that 'real skin' finish. Buff your base into skin using a brush and small circular movements. The Hourglass Vanish Seamless foundation brush is currently in my personal makeup bag.
Then for all the areas that need a little extra coverage (blemishes or under eyes) go in afterwards with a concealer.
Using concealer after your foundation means you'll never apply too much as you'll see exactly where it's needed.
4. Glossy is the new glowy!

I adore glossy looking skin. That 'straight-out-of-the-spa' style skin.
Not too powdery or metallic, just reflective and gorgeously luminescent.
To achieve this, choose a liquid or cream product to highlight with. I love Becca's Shimmering Skin Perfector liquid. Use a stippling brush to apply this to all the high points of the face (and décolletage too if it's on show)
5. Finishing touches of light

Now that your perfect glowy base is on, you want it to last.
To make sure you're glowing in all the right places, apply a little setting powder to your T-zone and under eyes. Then choose a powder highlighter and with a small brush or fingertip to allow you to be precise, apply a light dusting on top of the liquid highlight you've already applied.
This will not only help to set the liquid so it stays put, but will give you a seriously reflective highlight that doesn't look powdery.
To finish, apply a little highlighter to your inner eye area, the tip of your nose and Cupid's bow. These little touches trick the eye into believing that you're super glowy all over but in the most flattering way.
Instagram's highlighting queen, Nikki Wolff, reveals how YOU can launch a beauty career online
Makeup
Instagram's highlighting queen, Nikki Wolff, reveals how YOU can launch a beauty career online
Scroll down for the best highlighters in the business...
Soleil Glow Drops, £33,
This silky fluid is the definition of 'strobe' finish. You only need the tiniest drop for an impactful, metallic sheen. If you like your skin dewy and mermaid-like, wear on its own, or layer with a golden powder to take it to Jlo-level.

Highlighter, £14,
Available in six mesmerizing shades, this finely milled highlighter is guaranteed to give a true-to-skin glow.

Twilight Radiance Palette, £30,
The creamy trio may look punchy in the pan, but they blend like a dream to leave the skin with a natural sheen of colour. More illuminator than highlighter, you can layer for a fully lit effect, or mix and match the colours depending on whether you're after a rosy glow or golden halo.

Doll Light Duo, £25,
This highlighter went viral after beauty bloggers praised its glowing prowess, catapulting it to sell-out status. The GLAMOUR team tried it and can confirm it's one-swipe of blinding light. Lucky for us, the shades are also available singularly, so snap them up now if you like your highlighter to be seen from space.

Face Illuminator, £32,
Mesmerising in the pan, and even more mesmerising on the skin, Laura Mercier's highlighter is powder in texture but dewy in finish. It's also easily buildable, so you can go from subtle to woah glow, depending on your mood.

Dew Drops Coconut Gel Highlighter, £32,
This glowy God-send is essentially dewy-skin in a bottle. It's a high-shine pearlescent liquid, and a little goes a loooooong way. Dab a small amount in a 'c' shape from the top of your cheekbone to your temple and gently buff into the skin.

Hollywood Beauty Light Wand, £29,
Super simple to use, just wave this wand (OK, obviously it has to touch the skin, but you get the point...) over cheekbones, brow bones and temples for a high gloss but glitter-free effect. Sheer and neutral, it will work on any skin tone, too.

Bronze Sands 3D Highlight Palette, £40,
We can't help but go a bit teenager-at-a-Justin-Bieber-concert giddy when Huda drops a new product, and this had us screaming. In a good way. Great for darker skin tones, use it to contour and highlight to your heart's content. And then selfie the sh*t out of it.

Custom Enhancer Drops, £34,
Formulated to mix into your skincare or foundation, or layer on top of powder, this cult product adds an extra dimension to a dull or flat base. The liquid is smooth not sticky, and doesn't clog pores or cake on the skin. There's a colour for everyone, from the subtle bronze of 'Moonlight' to the Mermaid-y, iridescent 'Halo'.

Killawatt Freestyle Highlighter, £26,
Want subtle? Natural? Just a hint of a glow? Look away now. This stuff is GOLD girl. Brilliant, buildable, long-wearing, shiny, blingy, unashamedly GOLD. Light-catching, eye-catching, mega stuff.

Nudies All Over Face Colour Glow, £30,
This creamy stick of glowing goodness is a staple in our beauty writer's makeup bag. It's available in three shades: 'Brown Sugar, Baby', 'Hey, Honey' and 'Illumi-naughty'. The latter is the silvery shade pictured, which blends into a fair complexion to add a super-dewy sheen. It's far from powdery or glittery, and looks particularly lush when applied on the cupid's bow.

Illuminating Powder, £42,
Kinda creamy, kinda powdery, this sits beautifully on the skin giving the tiniest hint of shimmer and a teeny touch of bronze, gold or pink colour. Tres chic, as you would expect from Chanel.

Magic Luminizer, £36,
Not only does this cream - loved by celebrities and beauty editors - give a flawless, luminous, seamlessly blendable finish, but it also nourishes skin with jojoba and coconut oil. A beauty boffin's must-have.

Strobe of Genius Illuminating Highlighter Palette, £16,
You can't really go wrong with 7 highlighters for the price of one, and especially when they're as good as these. Illuminating and velvety-smooth, mix-and-match them to go beaming-bronze or glistening-glow.

Copacabana Illuminator, £23,
Glide this over the cheekbones for a pop of perfectly pink and pearlescent shine. Or mix a drop into your base product for an all-over glow. Or just enjoy Barry Manilow's crowd-pleasing song which is undoubtedly now playing in your head.

Gleam, £25,
This creamy formula adds an iridescent glow rather than a blinding shine. If you've got oily skin, this one - buffed in so there's no 'slick' - is for you.

Ambient Lighting Powder, £40,
If you want to use highlighter but don't want to look like you use highlighter, give this a try. The golden-beige shade gives a sun-kissed glow, and the finely milled pigment blurs pores whilst reflecting light.

Strobe Cream, £25,
One of the first and still one of the best, brighten up dull skin with a sneaky strobe. A tiny bit - patted on with your fingertips - goes a long way, so expect the tube to last forever. And ever. And ever.

'Love Lights' Prismatic Highlighter, £25 each,
Giving us serious Polly Pocket vibes, these give radiance with a touch of shimmer. Our fave is 'Ray of Light', because we're suckers for a bit of rose gold.

'Moonstone' Shimmering Skin Perfector Best Highlighter, £32,
The ultimate in iridescent pressed powder glow, 'Moonstone' is a pale honey tone that suits both fair and darker complexions. Expect all-day highlight with a light dusting.