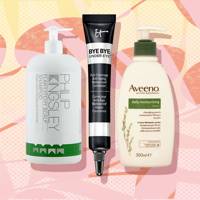 These are the best super soothing products to use if you have psoriasis
Anyone living with psoriasis (hey, Kim Kardashian West and Cara Delevingne) will know how itchy and sore it can be. On top of the physical symptoms, it can also affect self esteem and confidence due to the patches of dry skin it causes, which can often be very red and cracked.
What causes psoriasis?
The condition is caused by an overproduction of skin cells, which creates these areas of skin build up. It's most common for people with psoriasis to get these patches on elbows, knees, scalp and lower back, but they can occur anywhere on the body including fingernails.
How do you treat psoriasis?
While there's no complete cure, there are many things that help alleviate symptoms as well as offer a deeper understanding into the triggers, so it's important to check in with your doctor if you think you might be suffering.
Plus, the beauty industry has a plethora of nourishing and soothing skincare solutions, many of which have been dermatologically-approved to be suitable for even the most sensitive skins, as well as high-coverage, long-wearing body makeup should you wish to conceal any areas of concern.
Xeracalm A.D Cream, £16.50, Avène
This miracle cream contains a biotechnological innovation that took 12 years to research - but it was well worth the wait. I-modulia reduces itching due to dryness and reduces redness and irritation upon first use.

Daily Moisturising Lotion, £4.84, Aveeno
Keep this clinically-proven daily moisture fix to hand to ensure skin stays supple and hydrated at all times. It's super fast absorbing, too, so there'll be no sticky feeling after application.

DermoCapillaire Calming Urea Scalp Treatment, £9, Eucerin

Colourant-free, paraben-free, silicone-free and alkali soap-free, this scalp treatment has been specifically designed to relieve itching and dryness, making it perfect for those who get psoriasis of the scalp.

Dermexa Daily Emollient Cream, £9.99, Aveeno

Aveeno is known for their gentle, free-from and ultra-soothing formulas and their Dermexa range is ideal for anyone with a dry skin condition. It's unscented and paraben-free so there's sure to be zero irritation while the Triple Oat Complex and ceramides strengthen and repair the skin.

Oxygenating Foundation, £45, Oxygenetix
Originally formulated for those who had just undergone surgery, this foundation provides buildable coverage that is totally breathable, meaning you can cover up any areas while still allowing your skin to heal.

Skin Food, £7.95, Weleda
Loved by beauty editors and dermatologists alike, this multi-purpose balm is a skincare saviour in the extreme. The organic botanicals and beeswax base provide skin with all the nourishment it needs to thrive.

Flaky Itchy Scalp Shampoo, £60, Philip Kingsley
This specialist shampoo was originally formulated by a world-renowned trichologist and has won a throng of awards for its ability to relieve and clear irritated scalps of flakes and dry skin.

Bye Bye Under Eye Concealer, £23, IT Cosmetics
This concealer is a total must-have and we're yet to meet a makeup artist who doesn't keep it in their kit. It may say it's for under eyes but this high-coverage concealer can be used absolutely anywhere.