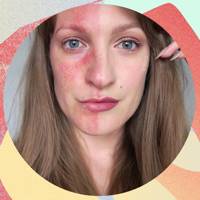 People are powerfully baring their rosacea flare-ups for the important #RosaceaNoFilter campaign to end stigma surrounding the skin condition
Anyone who has suffered with rosacea is all too familiar with the dry, sore skin, unexplained flareups and ongoing battle with skincare symptoms you have to face on a daily basis.
Hoping to raise awareness of the skin condition and remove the stigma faced by the 400 million sufferers every day, an empowering new campaign has launched across social media.
The campaign, called #RosaceaNoFilter, was launched by Galderma and sees famous Instagram faces sharing their rosacea battles to encourage people with the skin condition to speak up and share their experiences beyond the visible impact of living with this distressing skin disease.
Calm your rosacea flare-ups with these tips, tricks and products for sore skin
Rosacea
Calm your rosacea flare-ups with these tips, tricks and products for sore skin
Speaking about her involvement with the campaign, influencer and campaign ambassador Lex Gillies (@TalontedLex), said: "For many people, myself included, rosacea is more than just a visible skin disease – it is a constant daily struggle.
"The very visible nature of rosacea means that we often feel self-conscious and are aware of the judgements of others, which can feel very isolating. This is why we need to bring people together, and Rosacea Awareness Month is the perfect opportunity to connect the rosacea community and use our unified voice to raise awareness, break the stigma, and educate people about the hidden realities of this disease."
The skin disease currently affects an estimated 415 million people worldwide, so what exactly is it?
Rosacea is a common inflammatory skin disease that presents variable clinical characteristics, of which the most common are flushing, permanent erythema, and inflammatory lesions. It mainly affects the central areas of the face, such as the cheeks and nose. The disease can affect both
adult men and women, usually after the age of 30. Additionally, symptoms such as stinging, burning and increased sensitivity of the skin are common. The eyes are often affected, and might present as red, dry or itchy.
Although the cause of the disease is still under debate, various trigger factors are known, including spicy foods, alcohol, emotional stress, sun/UV-exposure, hot baths and beverages.
Here at GLAMOUR, we are all for celebrating every part of your body in all its glory and raising awareness of the skin condition is super important. Read our ultimate guide to rosacea here and scroll down for some of our go-to rosacea treatments...