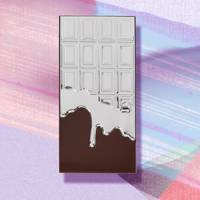 The budget beauty guide to Secret Santa gifts and stocking fillers
Who doesn't lose the plot when it comes to choosing a Secret Santa gift?
It all seems like jolly good fun at the start, but as soon as you pull that name out of a hat, cue stress and lack of sleep over what on earth you can buy your boss for a tenner. And then, to top it all off, you went and agreed to buy not one, not two, but a whole stocking full of gifts for that very close (but fussy) friend.
Well do not fear, because GLAMOUR is here, and we've hunted down the best beauty buys under £10. Prepare to please colleagues, friends and even complete strangers...
I Heart Revolution Galactic Chocolate Palette, £9
Buy it from:
For out-of-this-world makeup, the molten silver bar contains no less than 18 eye shadows in jewel tones, crushed metal shades and matte, earthy hues.

Sleek Shattered Glass Lip Topper, £5.49
Buy it from:
Move over Christmas nails, this season is all about festive lips with a side of sparkle. Add a lick of Bad Moon over nude lipstick and get the mistletoe ready.

REN Moroccan Rose Stocking Filler, £10
Buy it from:
Give the gift of relaxation with this rose-scented oil. A few drops in the bath is all it takes to melt away those seasonal stresses.

Olay Regenerist 3 Point Cream Cracker, £5
Buy it from:

Nothing says Christmas like paper hats and bad jokes, but truth be told, we'd much rather an Olay Regenerist cream.

Caudalie Vinosource Christmas Cracker, £10
Buy it from:

Everyone loves a Christmas cracker - especially when it's filled with a trio of Caudalie skincare products worth twice the price.

Lanolips Limited Edition Christmas Bauble, £7.99
Buy it from:
Dry lips can be a curse come Christmas time, and everybody need a balm to replace the one they'll lose as they hop from party to party.

Carmex Is Bae Lip Set, £5
Buy it from: &
It's double the fun with this pot and tube duo from Carmex. Plus, you can conveniently 'add to cart' as you hunt for a festive dress.

Strawberry Soft Hands Warm Kisses, £8, The Body Shop
Buy it from: in store or online
Do your research and find out if your gift receiver prefers strawberry, shea, mango or coconut. It will make this handy combo even more of a delight to receive.

Better Than Sex Ornament, £10,
Buy it from: John Lewis or Cult Beauty
Anyone with lashes will be stoked to receive this cult mascara.

Pink Credibles Gift Set, £10,
Buy it from: Boots
This gift pack features mini Soap & Glory heroes, including the Clean On Me™ Shower Gel, Scrub Of Your Life™, and The Righteous Butter™ Body Butter.

Shooting Star Shower Duo, £6,
Buy it from: Boots
You can't really go wrong when gifting someone the secret to smooth skin: Exfoliate and hydrate! The Sanctuary Spa Body Scrub & Wet Skin Moisture Miracle are two winter saviours.

Cherry Blossom Christmas Cracker, £10,
Buy it from: Online or at your nearest L'Occitane store.
Give the gift of ageless hands and a heavenly scented shower with this festive bon-bon.

The Little Luxe Lipstick, £6,
Buy it from: Feel Unique
Everyone will think you blew the budget with this one, and it's kinda true. Usually worth £12, you can nab this toffee lip gloss housed in a festive ornament for half the price, all in the name of Christmas spirit.

Bauble Gift Set in Babe Dreams, £8,
Buy it from: Missguided
Nothing beats shopping from the comfort of your couch. Next time you're treating yourself to some winter wardrobe additions, add this failsafe gift to cart.

Merrily Moringa, £10,
Buy it from: Space NK
For the friend whose passionate about good skin; this cleansing balm and cloth duo is a steal.

Vinosource Christmas Cracker, £10,
Buy if from: Space NK
Oh yes, we are so here for this festive French skincare. A generous cracker from Caudalie, containing a micellar water, serum and moisturiser.

Dream Team, £10,
Buy it from: Space NK
Everyone needs sleep after the party season and come January, your gift recipient will be beyond glad for this relaxation pack.

Right From the Get GlowHighlighter Collection, £8.50,
Buy it from: Boots
Illuminated cheeks bones aren't going anywhere come 2019, so a highlighting kit is a safe bet, especially if they're a Little Mix fan.

MakeUp Ultimatte Lips, £8.50,
Buy it from: Boots
Four statement lipsticks in the season's hottest shade? It's a no brainer.