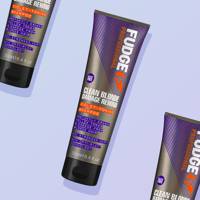 Calling all blondes! This high-tech purple shampoo will give you the softest hair of your life
Being a bleached blonde can be hard work. And even natural blondes can experience brassy tones every now and then. The answer? A damn good purple shampoo. Or silver. Whatever you want to call that magic in a bottle, it's a blonde necessity.
Not only does the opposite slice of the colour wheel neutralise all that icky yellow, but if you pick one with plenty of moisturising properties, you'll notice a huge difference in the longevity of your colour and softness of your hair.
And if you're new to the blonde game, here's a whole list to start you off...
Find your perfect shampoo for your hair type with our guide.
Clean Blonde Damage Rewind Shampoo, £14.95,
The original Clean Blonde shampoo from Fudge has been one of the best brass beaters on the market for years – and it just got even better. As bleached blondes tend suffer from damage as well as brassy tones, it now includes an Opti-Plex technology, that penetrates deeply into the hair follicle to reconstruct bonds and smooth the shiz out of your hair follicle. Two birds, one stone? Yes please.

Bright Blonde Shampoo, £41,
OK, we'll admit it's pricey but this one is definitely worth the investment. This colour-saving shampoo is free of sulphates, parabens, sodium chloride, gluten and cruelty-free, and really does keep blonde hair looking completely luscious. The violet pigments cancel out any yellow tones to make it look as if you've just come out of the salon.

Blonde Angel Wash, £20,
Infused with lavender and optical brighteners to give dull and lifeless blondes a new lease of life, this everyday use shampoo is great at maintaining your shiny locks, preventing them from ever looking brassy.

Daddy-O Shampoo, £6.75,
Not only does it smell gorgeous (it's fragranced with violet, lemon and lime), this Lush shampoo takes away any yellow tones and helps keep platinum and grey locks looking they're absolute best. Even better, it's vegan.

Color Extend Blondage Shampoo, £15.50,

A powerful purple shampoo, containing ultra-violet pigments to kick any brassiness to the curb after just one wash. Leave it on for a few minutes to achieve an even icier blonde.

Silver Shampoo, £20,

Get Elle-Woods-worthy blonde hair with this Sachajuan professional shampoo that banishes unwanted yellow and brassy tones, while boosting locks' radiance.

Sheer Blonde Tone-Correcting Shampoo, £5.99,

Some colour-correcting shampoos can leave your hair dry and limp – not this one. Locks are left soft and shiny whilst canceling out minor brassy tones. Best for blondes whose natural colour isn't far off their dyed do, and just needs a zhoosh.

Platinum Blonde Shampoo, £13.95,

One word: SHINE. Yep, not only does this bring your blonde hair to life, it also gives it a lovely sheen. Winning.

Dumb Blonde Shampoo, £17.95,

Certainly not a 'dumb' move as the name suggests. Bleached hair will pack more of a punch after one wash and the conditioning is salon-quality.

Pure Silver Shampoo, £19,

A cult product for blondes and those with grey-coloured hair. This is guaranteed stain-free and leaves hair looking shiny and silky (bonus points for the lovely lavender fragrance).

Touch Of Silver Brightening Shampoo, £3.99,

Perfect for a fortnightly hit – don't use this every day, but do use before a big night out and you'll really notice a difference. It's super reasonable, too.

Bleach Blonde Shampoo, £6.99,

Lee Stafford's violet shampoo is a cult favourite. It gently tones and refreshes your colour and says goodbye to any brassiness. The conditioner is just as important as the shampoo, so make sure you use. It also has UV protection, so great for holidays.

Silver Shampoo, £6.50,

New kins on the block, BLEACH, have stormed the alternative hair market with a huge range of hair dyes - not least this hero products that will help flatten out yellow tones - especially good if you're planning to add a colour after.

Blue Malva Shampoo, £46.50 (one litre),

Keeps iridescent, platinum blondes looking bright and combats brassiness.

Série Expert Silver, £12.50,

The pro choice for toning down brassy yellows - worth investing in.

More shampoo this way...

Best sulphate free & low shampoo

Best shampoo for thin & fine hair

Best clarifying & cleansing shampoo

Best organic & natural shampoo

Best silver and purple shampoo