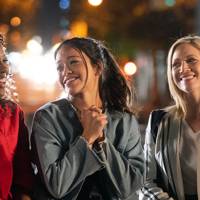 This new Netflix show is basically going to be the modern day Sex And The City
Here at GLAMOUR, we've always loved a rom-com. From The Holiday to Sweet Home Alabama, sometimes a little on-screen chemistry is all that's needed to make everything great and great in the world again.
Thanks to Netflix's recent rom-com resurgence, we've been able to indulge our habit on the regular. From Set It Up to [i]The Kissing Booth[/I], Alex Strangelove to [i]To All The Boys I've Loved Before[/I], there's no denying that the streaming giant has truly delivered in fuzzy feels in the past year.
So when we heard about the newest entry in the canon, upcoming comedy [i]Someone Great[/I] that centres the power of female friendship as well as overcoming heartbreak, we were hooked.
The film stars Jane the Virgin's Gina Rodriguez as Jenny, an aspiring music journalist living in New York City who has just landed her dream job at a magazine in San Francisco. There's just one problem: her boyfriend of nine years (played by Lakeith Stanfield), isn't prepared to leave New York nor continue their relationship long distance, so he breaks up with her.
That's where things get interesting, thanks to Jenny's best friends Erin (DeWanda Wise, star of Netflix's She's Gotta Have It remake) and Blair (Brittany Snow), who decide to take Jenny on one last epic adventure in New York City. "I leave in a week, and then, I turn 30, and then I die probably," Jenny tells Erin in the new trailer. "I need one last epic day with my girls."
Cue kitchen dance parties to Lizzo, tequila shots and all manner of debauchery in The City That Never Sleeps, as well as a empowering pep-talk from the mother of drag, Rupaul.
"It's a really cute f*cking movie and we're so proud of it," Rodriguez told . "We worked so hard on it. It has a female director, female leads, female VP—pretty bad ass. I'm pumped."
Writer-director Jennifer Kaytin Robinson, the creator of MTV's [i]Sweet/Vicious[/I], also tweeted that the film comes with a pretty empowering feminist message. "I always wanted to see a romantic comedy where a woman chooses herself," she said. "So I made one."
Check out the official trailer below and watch on Netflix from April 19.
Here's everything to watch on Netflix right now...
Glee

Netflix have dropped all six seasons of Glee and we are feeling seriously nostalgic about it. The musical-drama about a group of misfit students who join a glee club is the perfect, uplifting viewing to sing your heart out to!

Black Mirror S5

Black Mirror is back with a bang! If you haven't already watched the Miley Cyrus episode the whole world is talking about, what the hell are you waiting for? So.freakin.good.

When They See Us

Based on a true story, Ava DuVernay's new series tells the story of five teenagers of colours who were convicted of a rape they did not commit, from the first time they were questioned in 1989, to the final settlement in 2014.

What/If

A mysterious tech investor makes a lucrative but suspect offer to a pair of to cash-strapped newlyweds.

The Society

A supernatural drama about a group of teens who must learn to survive when they are mysteriously transported to a replica of their town.

Knock Down The House

Your weekend viewing is sorted by way of Knock Down The House, a compelling feature-length film about four remarkable women who ran primary campaigns in the 2018 midterm elections. Alexandria Ocasio-Cortez – the youngest woman in history to be elected into Congress at 29 – stands out as the star of the show.

Homecoming: A Film By Beyonce

Homecoming: A Film By Beyonce will celebrate Bey's historic 2018 performance at Coachella, which saw her become the first black woman to headline the California festival. Yas Queen B!

Chilling Adventures of Sabrina, S2

Kiernan Shipka is back for another series of witchy-fuelled antics and we are SO here for it!

Selling Sunset

We are OBSESSED with Netflix's mega new reality series about a bunch of catty, stiletto-wearing blondes working in real estate in Los Angeles. Created by the legend behind The Hills, this is trashy entertainment at it's finest!

The Disappearance of Madeleine McCannn

Who: Gonçalo Amaral, Sandra Felgueiras, Justine McGuinness
What: The story of Madeleine McCann who went missing on holiday in Portugal. Gripping.

Delhi Crime

Who: Swati Bhatia, Shefali Shah, Rasika Dugal
What: The shocking real-life story about a young women who was gang raped on a bus in Delhi

Turn Up Charlie

Who: Idris Elba, Piper Perabo, Frankie Hervey
What: Charlie, a struggling DJ and eternal bachelor is given a final chance at success when he reluctantly becomes a nanny to his famous best friend's problem-child daughter.

Queer Eye S3

Who: Antoni Porowski, Tan France, Karamo Brown, Bobby Berk, and Jonathan Van Ness
What: The Fab Five relocate from Atlanta, Georgia, to Kansas City, Missouri, for another instalment of show-stopping makeovers and tear-jerking lifestyle overhauls.

Amy Schumer Growing

Who: Amy Schumer
What: Amy tackles her ongoing pregnancy, the #MeToo movement and politics in this brilliant stand-up special.

Northern Rescue

After the sudden death of his wife, search and rescue commander John West relocates with his three kids to his rural hometown of Turtle Island Bay.

Dating Around

If Take Me Out is your ultimate guilty pleasure then listen up because Netflix have release their first original dating show and it is uh-mazing. The unscripted series will see one singleton go on five respective dates, before deciding who to enjoy an off-screen second date with. Prepare to be hooked!

Conversations With A Killer: The Ted Bundy Tapes

Crime documentaries junkies, listen up! Joe Berlinger's documentary series about the notorious serial killer Ted Bundy is all everyone's talking about, and for good reason. With archival footage and audio recordings from Ted himself, this chilling new show will have you on the edge of your seat…bingeing the entire series in one.

Nightflyers

Horror sci-fi based on a crew of space explorers who embark on a mission to find a mysterious alien. Prepare to be hooked.

Fyre Festival

Who: Billy McFarland, Jason Bell, Gabrielle Bluestone
What: Directed by Chris Smith, this investigative documentary tracks the infamous story of 'the greatest party that never happended'.

Sex Education

Who: Gillian Anderson, Asa Butterfield, Emma Mackey, Ncuti Gatwa, Connor Swindells, Kedar Williams-Stirling
What: The teenage son of a sex therapist sets up his own under-the-radar sex therapy clinic with his classmate at a high school in Wales.

Ellen DeGeneres Stand-Up Special

Who: Ellen DeGeneres
What: American TV host Ellen returns to stand-up comedy after a 16 year hiatus.

Roma

Who: Yalitza Aparicio, Marina de Tavira, Diego Cortina Autrey
What: Directed by Academy Award winner Alfonso Cuarón, Roma documents the life of a maid in early 1970s Mexico City.

Mowgli

Who: Christian Bale, Cate Blanchett
What: In the jungles of India, a human child raised by wolf packs must face off a fearsome tiger known as Shere Khan.

The Innocent Man

Who: Heather McPhaul, Maura Antas, J.J Arends
What: Based on John Grisham's The Innocent Man: Murder and Injustice in a Small Town, this is the story of Ron Williams who sat on death row for 11 years for a crime he didn't commit. It's the next big crime documentary since Making A Murderer.

The Big Lebowski

Who: Jeff Bridges, John Goodman
What: Jeff "The Dude" Lebowski gets caught up in a series of unfortunate events when he's mistaken for another man.

Syriana

Who: George Clooney and Matt Demon
What: A drama/thriller delves deep into the the state of the Middle Eastern oil industry

The Fault In Our Stars

Who: Shailene Woodley, Ansel Elgort
What: The tearjerker of all tearjerkers has arrived on Netflix. And we challenge you not to blub the entire way through this heartbreaking story about two teenage cancer patients. Fyi, it's impossible.

Birdbox

Who: Sandra Bullock, Trevante Rhodes, John Malkovich
What: Unless you've been living under a rock, you'll be aware of Birdbox, the horror movie that saw 45 million Netflix accounts tuning in within the first seven days of its release. The story follows a mother and her two children who are desperately trying to escape a threatening presence that draws people to commit suicide.

The Princess Switch

Who: Vanessa Hudgens, Sam Palladio
What: A Chicago baker enters a baking competition in Belgravia. Whilst there, she bumps into her lookalike who convinced her to switch places for two days.

Tidying Up With Marie Kondo

Who: Marie Kondo
What: Japanese Author and decluttering expert Marie Kondo brings her expertise to Netflix in this new series about the art of keeping your home and workspace tidy and organized.

Sex Education

Who: Emma Mackey, Gillian Anderson, Asa Butterfield
What: The new sex-therapy series from Netflix about a teenage virgin who sets up a health clinic with his classmates. The cast of this series are poised to become the breakout stars of 2019. Watch this space.

Dumplin'

Who: Danielle Macdonald, Jennifer Aniston
What: If full-on Christmas cheese isn't your cup of tea, but you're raring to get cosy on the sofa this Christmas, then Dumplin' is the one for you. The story follows a plus-size teenager who decides to follows in the footsteps of her beauty queen mother. Also, Dolly Parton recorded the soundtrack. Hellz yes!

Blue Planet 2, Season 1

Who: David Attenborough
What: The mind-blowing wildlife documentary that focuses on the deepest parts of the ocean. There is literally no one who isn't hooked on this series.

Sex and the City 2

Who: Sarah Jessica Parker, Kim Cattrall, Kristin Davis, Cynthia Nixon
What: The final instalment of Sex and the City is the ultimate girly night in movie. Get the popcorn at the ready, people.

The Christmas Prince: A Royal Wedding

Who: Rose McIver, Ben Lamb, Alice Krige
What: The sequel to the Christmas Prince will centre around Prince Richard and Amber's royal wedding. It is a truly festive affair.

The Sinner, Season 2

Who: Bill Pullman, Carrie Coon, Natalie Paul

What: The much-anticipated second season of The Sinner sees Harry Ambrose head to New York to investigate the murder of two parents by their son. Sadly no Jessica Biel this time.

Westside

Who: Alexandra Kay, Taz Zavala, Arika Gluck
What: Westside offers an unscripted and deeply personal glimpse into the journeys of nine young L.A-based musicians as they follow their dreams. Each episode sheds light on their creative processes and personal struggles, interspersing cinema verité-style documentary footage with beautifully produced music videos featuring original songs.

They'll Love Me When I'm Dead

Who: Peter Bogdanovich, Steve Ecclesine, Norman Foster
What: This engaging documentary explores Orson Welles's unfinished film, "The Other Side of the Wind," which he worked on for a decade before his death.

Death by Magic

Who: Drummond Money-Coutts
What: British magician Drummond Money-Coutts, or DMC for short, is on a mission to uncover the stories of magicians who died performing the most dangerous stunts ever attempted. He travels the world to track down where the fatal performances took place and to work out exactly what went wrong, sharing his magic with the people he meets along the way. It's a journey that spans four continents and eight cities around the world. His aim is to pay homage to the craft by creating his own updated versions of the stunts that cost these magicians their lives, from being buried alive under tons of wet concrete, to playing a game of Russian roulette, to escaping from a collision with a speeding steam train. The series will follow DMC as he recreates the stunts where others have failed, in the most extreme magic show ever attempted. To succeed he must avoid the fate that met those who came before him and paid the ultimate price: Death by Magic.

Brainchild

Who: Nate Washburn, Matthew Carter, Maggie Politi
What: From germs and emotions to social media and more, it's the science of your world explained in a way that's refreshingly relatable.

Narcos: Mexico

Who: Alyssa Diaz, Diego Luna, Michael Peña
What: See the rise of the Guadalajara Cartel as an American DEA agent learns the danger of targeting narcos in Mexico.

Outlaw King

Who: Chris Pine, Stephen Dillane, Rebecca Robin
What: This period drama follows Robert the Bruce's battle to regain control after being made an outlaw by the King of England for taking the Scottish Crown.

ReMastered: Tricky Dick & The Man in Black

Who: Pat Buchanan, John Carter Cash, Lou Robin
What: This documentary chronicles Johnny Cash's 1970 visit to the White House, where Cash's shifting ideals clashed with Richard Nixon's policies.

Prince of Peoria

Who: Gavin Lewis, Cynthia Kaye McWilliams, Shelby Simmons, Theodore Barnes
What: When an easygoing 13-year-old prince goes incognito as a U.S. exchange student, he strikes up an unlikely friendship with a fastidious overachiever.

House of Cards: Season 6

Who: Robin Wright, Michael Kelly, Campbell Scott, Patricia Clarkson
What: With Frank out of the picture, Claire Underwood steps fully into her own as the first woman president, but faces formidable threats to her legacy.

Sex and the City

Who: Sarah Jessica Parker, Cynthia Nixon, Kim Cattrall, Kristin Davis
What: Carrie Bradshaw prepares to marry her Mr. Big but things don't go quite to plan when her newly separated best friends shares her opinion on marry.

A Christmas Prince: The Royal Wedding

Who: Rose McIver, Alice Krige, Ben Lamb
What: A year after helping Richard secure the crown, Amber's getting ready to walk down the aisle with him. But she's not so sure she's cut out to be queen.

Gaga: Five Foot Two

Who: Sandra Amador, Michael Bearden, Tony Bennett
What: A behind-the-scenes documentary following pop star Lady Gaga as she releases a new album.

Along Came Polly

Who: Ben Stiller, Jennifer Aniston
What: A rom-com about Reuben Feffer, a newlywed who starts to date Polly, an old castmate after he finds out about his wife's infidelity.

Making A Murderer 2

Calling all Making A Murderer addicts, you'd better brace yourself for the highly-anticipated Making A Murderer Part 2. With a national profile and new support after the release of the original documentary, Steven Avery and Brendan Dassey continue to fight for exoneration.

Chilling Adventures of Sabrina

Oh hey, Sabrina the Teenage Witch fans! If you loved the show and comics growing up, this is definitely one to watch. As her 16th birthday nears, Sabrina must choose between the witch world of her family and the human world of her friends.

Crazy Ex-Girlfriend Season 4

Crazy Ex-Girlfriend is returning for its fourth and final season, following the story of Rebecca, a successful, driven, and possibly crazy young woman who impulsively gives up everything – her partnership at a prestigious law firm and her upscale apartment in Manhattan – in a desperate attempt to find love and happiness in that exotic hotbed of romance and adventure: West Covina, California.

The Good Place Season 3

Reincarnated and back on Earth after Michael's argument on their behalf, Eleanor and her fellow condemned souls have another chance to find the right road.

The Girl on the Train

One of THE biggest films of 2016 is FINALLY coming to Netflix. Rachel (Emily Blunt), who is devastated by her recent divorce, spends her daily commute fantasising about the seemingly perfect couple who live in a house that her train passes every day, until one morning she sees something shocking happen there and becomes entangled in the mystery that unfolds. Duvet day, anyone?

Louis Theroux Dark States: Murder in Milwaukee

Who doesn't love a good Netflix true crime documentary to relax? And more importantly, who doesn't love a LOUIS THEROUX documentary to relax? The king of reporting is taking us to Milwaukee to investigate the murder crisis the city is currently facing.

Dancing Queen

Yes, he owns a successful dance studio. But Justin Johnson also slays onstage as RuPaul's Drag Race superstar Alyssa Edwards and Dancing Queen looks like it's about to be the next Dance Moms. *Tongue pop*

Riverdale Season 3

Riverdale fans, rejoice! After a riot and a season of high-stakes political warfare, Riverdale season 3 sees the gang continue to navigate the high drama of surreal small-town life. This one is definitely going to be binge-worthy.