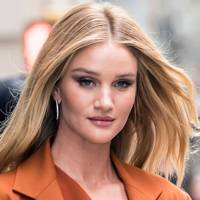 Strandlights is the hot new hair technique that Rosie Huntington-Whiteley uses to achieve her blonde
Everyone knows that summer = peak time for blondes. And whether you're bleached-up or simply rocking a subtle caramel highlight, we can all agree on one thing - blonde is SO difficult to maintain.
When you're not heading to the salon for a root touch-up, you're desperately researching which purple shampoos can banish your yellow and give you the icy locks you probably paid £100 for about two weeks before.
How do celebrities do it?
Well, aside from the fact that they have top hairdressers at their beck and call 24 hours a day, there's actually a hot new technique on the block we can ALL use to keep our hair colour fresh, and give the illusion of a recent salon visit - even if we're dragging out visiting as long as possible.
Welcome, strandlights.
Seen on the likes of Rosie Huntington-Whiteley, Karlie Kloss and Jennifer Aniston, strandlights are the youngest sibling of the coveted babylights, and the latest (and greatest) child of the classic highlight, with minimal maintenance and maximum impact.
According to freehand colour king at Smiths Salon in Soho, Adrian Paoluccio, achieving the perfect strandlight focuses on the hairline of the client by strategically placing delicate highlights - requiring less bleaching, less regrowth, and ultimately, less damage to your hair.
The highlights also don't go all the way to the root, allowing room for a natural-looking shine for your hair, and 0 panic when you get slight regrowth. It also means you can experiment with *just* how blonde you want to go, asking for the strands to start lower down to give more of a balayage feel.
Adrian also does strandlights totally freehand - meaning there's no set structure in how they're going to look, but they create a 3D-effect which makes them more natural and blendable, even if you're not a natural blonde.
Like all light shades however, he does recommend using a colour toning shampoo and conditioner to hydrate and strengthen the hair, as well as keep your colour fresh between retouches.
Want to get the A-list locks for yourself?
Adrian suggests you ask for a 'natural sun-kissed look', however, having a consultation with your stylist first is super important to ensure that you get the right colour for you (unfortunately, while we desperately want Jessica Biel's hair, it might not be the one for us!)
And what's more, as strandlights is merely the technique used, there are so many options when it comes to colours. So whether you're after a mousy lift, or looking to go full-throttle blonde, this is one we'll be turning to all summer long…
Thinking of going blonde? Find your ultimate shade inspiration below...
Honey Blonde

Amanda Seyfried's honey-toned hair has always been gloriously long and natural looking. Her secret? Saying no to heat styling. "In order to feel myself, I need to look the most natural as I can", she told Harper's Bazaar.

Dirty Blonde

After a brief stint in the platinum playground, T-Swizzle is embracing a more dirty blonde again – and we love it. The key to pulling off this more natural shade (without it looking 'mousey') is to have a seamless blend of high and lowlights. It also helps to style it sleek and glossy, over matte and textured. Try these shiny hair hacks.

Créme blonde

If you want your blonde to look as natural as possible (even once your roots start to show), Sam Burnett, Owner & Creative Director at Hare & Bone says to go for a 'créme blonde'. 'It's not as white as a platinum, but not as golden as a honey, it's more on the natural side, but still cool-toned and just really beautiful for this time of year'.

Honey Blonde

Lili Reinhart's blonde has always looked really natural, which isn't always an easy feat. To nail a 'born with it' blonde, go for more golden tones, which are better for disguising your roots when they appear.

Honey Blonde

Dark roots and a honey blonde shade are starting to steal the spotlight from ice blondes. Rosie's wavy do is the perfect example of how chic the autumnal trend looks.

Honey Blonde

Kate Bosworth is the quintessential American blonde babe. At the Toronto Film Festival, her beautiful blonde tresses were pulled into a simple half updo, proving that sometimes simplicity is key for the red carpet.

Strawberry Blonde

A Hairdresser's Tale: Elisabeth Moss is rocking strawberry blonde hair and she looks great! The actress showed up at the premiere of The Handmaid's Tale in Beverly Hills with much darker strands.