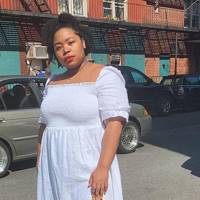 The 26 summer dresses that everyone will be talking about this year
Is anyone else bored of 'chic layers' or is that just us?
With spring having finally arrived, and warmer days (apparently) on the (very distant) horizon, we've got our eyes pointed firmly forwards and our sights set on sunnier days.
First on the to-do list? A new summer dress. 10 new summer dresses.
Whether it's a floaty beach one you're after, an office-appropriate number or something a little fancier - or all three - we've sourced the very best summer dresses available right now that we predict will be the first to sell-out...
Shirred Midi Dress, £338,

Floral Collared Midi Dress, £120,

Printed Strappy Maxi, £125,

Gingham Mini Dress, £325,

Tri-Tone Asymmetrical Dress, £250,

Wrap Textured Smock Dress, £100,

Lace-Trimmed Floral Crepe Dress, £1,605,

Floral Print Midi, £19.99,

Tiered Cotton Maxi, £335,

Midi Tea Dress, £35,

Cotton-Poplin Dress, £445,

Polka-Dot Maxi Dress, £280,

Shirred Floral-Print Linen Midi Dress, £300,

Puff-Sleeve Broderie Anglaise Maxi, £45,

Linen Wrap Midi, £99,

Silk-Groegette Maxi Dress, £489,

Asymmetric Satin Midi, £79,

Buttoned Midi Dress, £59.99,

Floral-Print Pleated Dress, £2,320,

Polka-Dot Button Back Dress, £715,

Puffed Pink Midi, £1,075,

Tangerine Midi, £59.99,

Spotted Midi, £25.99,

Strappy Grid Midi, £25.99,

Embroidered Midi Dress, £79.99,

Martha Midi Dress, £358,