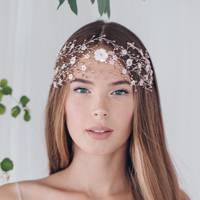 Wedding hair accessories to suit every bridal style
Choosing your wedding hairstyle can be a difficult decision. Our advice? Don't feel pressured to do something entirely different.
If your go-to hairstyle is wearing your hair down every day, or thrown into a messy bun, you can totally wear your favoured style as you walk down the aisle.
Hair accessories are a great way to make it seem more 'special', and some can even help to keep your hair in place from day to night. Here's a selection of beautiful wedding hair accessories, from delicate combs to boss bride crowns, that will work perfectly with your other bridal accessories...
Elli Hair Pins, £96,

Looking for something understated? Pins are the perfect hair accessory for the minimalistic bride, especially if you're planning on a braid or updo.

Celine Gilded Vine headpiece by Untamed Petals, £380,

Vines are versatile pieces that can be worn as headbands strewn along the back of an updo or threaded throughout a braid.

Floral and Pearl Back Hair Crown, £6,

This comb is just made for a fishtail braid.

Lucilla Jewel, £1460 + shipping,

Made to order, Viktoria Novak's crowns are tailored to every bride looking to make a bold statement. If you're looking in London, her designs can also be found at The Wedding Gallery, NW1 4AQ.

Faux Pearl-Embellished Headband, £28,

Stunning in both an updo and loose curls.

Statement Bohemian Intertwined Woven Wedding Hair Vine 'Katya', £495,

Ideal for the boho bride who wants to wear her hair loose and carefree.

Adele Circlet, £432 + shipping,

For the golden bride. Wear with a low bun, leaving a few tendrils of hair loose at the front.

Bridal Long Crystal Vine Hair Clip, £15,

With Baby's Breath as your bouquet? YES. PLEASE.